Aeroprobe is an industry leading manufacturer of flow measurement systems with a focus on multi-hole probe technology. This technology is incorporated into Aeroprobe's Micro Air Data System (µADS) to enable simultaneous measurement of airspeed, angle of attack, angle of sideslip, and barometric altitude in a single compact instrument. The µADS was originally developed for the UAV industry where small size and low weight are required.
The Micro Air Data Computer (µADC) is the heart of the µADS and incorporates a microprocessor, pressure sensors, temperature sensors, and flash memory with Aeroprobe's industry leading data processing algorithms in a lightweight rugged enclosure. The µADC streams and/or logs air data measurements in real-time at rates up to 100 Hz. The diverse selection of pressure sensor ranges allows for a broad set of indicated airspeed windows from 5 m/s through 0.95 Mach and an altitude ceiling above 60,000 ft.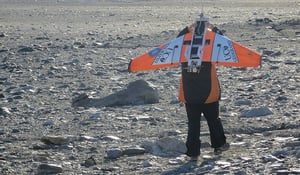 The Voyager model of the µADC includes an Xsens Technologies MTi-G-710 GNSS-aided inertial navigation system (INS) to provide a complete air data and inertial navigation solution in a package envelope of only 66 x 79 x 43 mm and a weight of just 168 grams. The addition of the MTi-G-710 enables measurement of attitude, position, velocity, and acceleration information in addition to the previously mentioned air data.
The Pegasus and Destiny µADC models were specifically designed to meet the rigors of MIL-STD 810G, MIL-STD 461F, and FAA DO-160F certification. Certification tests include low and high temperature storage and operation, acceleration, vibration, shock, combined temperature/humidity/altitude, and radiated susceptibility. The Destiny also includes an Xsens MTi-3 Attitude Heading Reference System (AHRS) to provide measurements of roll, pitch, heading, angular rates, and body accelerations in addition to the standard air data measurements.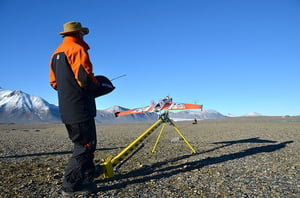 The Aeroprobe µADS with the Xsens MTi-G-710 meets the needs of an ever-growing UAV market that has expanded applications in scientific research and the commercial industry. One of these applications is for atmospheric research in Antarctica. At the Center for Atmospheric Research at the Department of Geography, University of Canterbury in New Zealand, Dr. Marwan Katurji uses the Voyager µADC to collect three-dimensional wind turbulence information and derived momentum and heat fluxes to understand the micro-climate of the Dry Valleys of Antarctica. This data will also be used to validate the performance of a numerical weather prediction model that was used to understand the inter- and intra-valley climate connectivities.
Choosing your product
Want to know the right inertial measurement unit for your application? Try our recommendation tool and find out what MTi you need by answering just 3 questions.