Mobile technology is evolving, and 5G networks are starting to roll out to deliver incredible cellular speeds the world over. It's not just a matter of serving up smoother streaming videos and faster downloads for smartphones: 5G can help revolutionize all kinds of industries, from media to medical, business, and more.
Etisalat is leading the charge for 5G deployment in Asia, the Middle East, and Africa. The company's mission is to convey the dynamism and excitement of 5G technology in a way that is easy for viewers to understand. The company tapped Universal Production Partners (UPP) Advertising, along with Big Kahuna Films and director Samuel Bennetts, to produce an advertisement that does just that.
The resulting video blends live-action footage and CGI, with a robotic presenter who dances and sings as he explains the immense potential benefits of 5G technology. He was brought to life by acclaimed dancer Ian Eastwood and the Xsens MVN Animate inertial motion capture suit, which Eastwood wore while performing his original choreography for the clip. The result seamlessly integrates Eastwood's choreography with his cyber counterpart, elevating the message of all the 5G can offer with his dazzling moves and showmanship.
Executing the vision
UPP has been in business for a quarter-century, with divisions responsible for film visual effects, production services such as editing and grading, as well as VFX for advertising and commercials. UPP Advertising works with clients the world over, from London to Los Angeles, from Zurich to Jakarta. Etisalat recruited UPP to create an advert that would skip past the techno-jargon and focus instead on the exciting potential and possibilities of 5G tech.
"The idea is to tell the audience that 5G is going to bring brand new ideas and viewpoints to many different human disciplines," explains Jan Malíř, CEO, VFX producer, and VFX supervisor of UPP Advertising. "It's not just 5G connections on the phone; it will bring up new techniques in medicine, the car industry, and everywhere. It might change the way we live."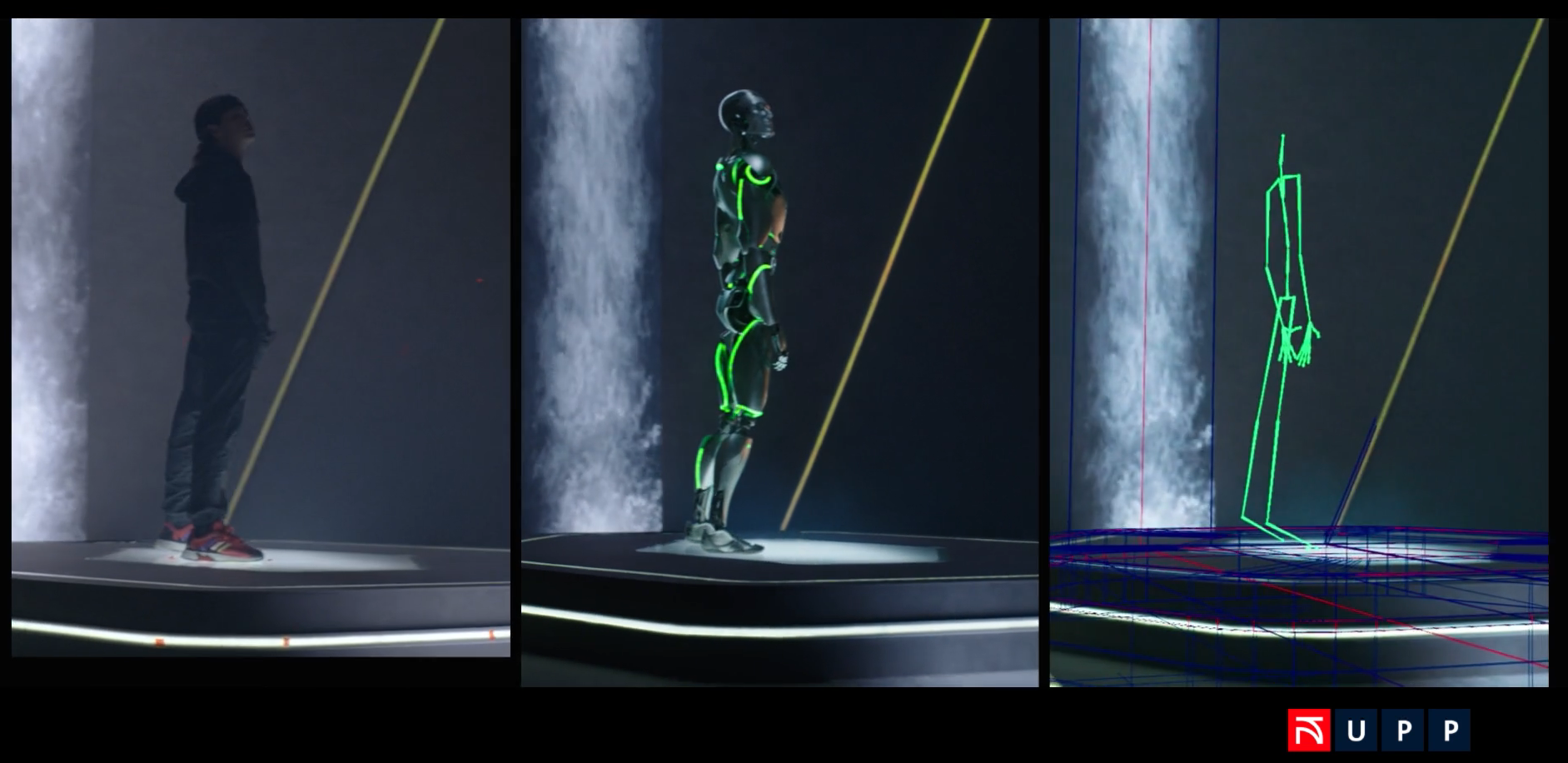 Inspired by The Greatest Showman film, Etisalat wanted an exuberant presenter who could be a futuristic "showman" for the crowd, wowing them with dance moves and singing while also sharing potential use cases for 5G tech. UPP Advertising worked closely with the client and partners to decide on a look for the robotic showman, who needed to have a soul and personality, but they ultimately decided not to do a full-CG commercial.
"We didn't want to make the whole thing in CG, because we wanted there to be some kind of cinematography and a human touch," says Malíř. "We wanted to see the faces of people and capture the atmosphere of the concert. We decided together with Samuel Bennetts, the director, that it should just be a CG robot at a real concert with real lights, real flares, and real people watching and interacting."
The benefits of Xsens
UPP Advertising turned to Xsens' motion capture technology to bring this robotic showman to life, recruiting world-renowned dancer and choreographer Ian Eastwood to perform in the motion capture suit. The shoot happened in Dubai over four days, and UPP chose Xsens thanks to its portability, ease of use, and quick setup. State-of-the-art wired sensors are built directly into the suit, which can be packed up and brought anywhere without the need of a full studio environment.
"It's quite practical to move the Xsens suit between different countries," says Malíř.
With a big, optical capture setup, you really need a studio and almost permanent installation. Instead, you can take Xsens on an airplane and fly around the globe with small teams. You can move outside, inside, and travel by plane with it.
"Also, Xsens doesn't demand too much space," he adds. "It's quite easy to take out and capture someone running, but it's not fixed to one room. You can just bring it wherever is needed."
Following extensive rehearsals for Eastwood's movements and UPP's camera work, the crew quickly shot his performance and applied Xsens' resulting motion data to the showman. Right away, they were able to see both the live shoot with crowds of people and practical lighting, alongside how the CG showman would look and move within the scene.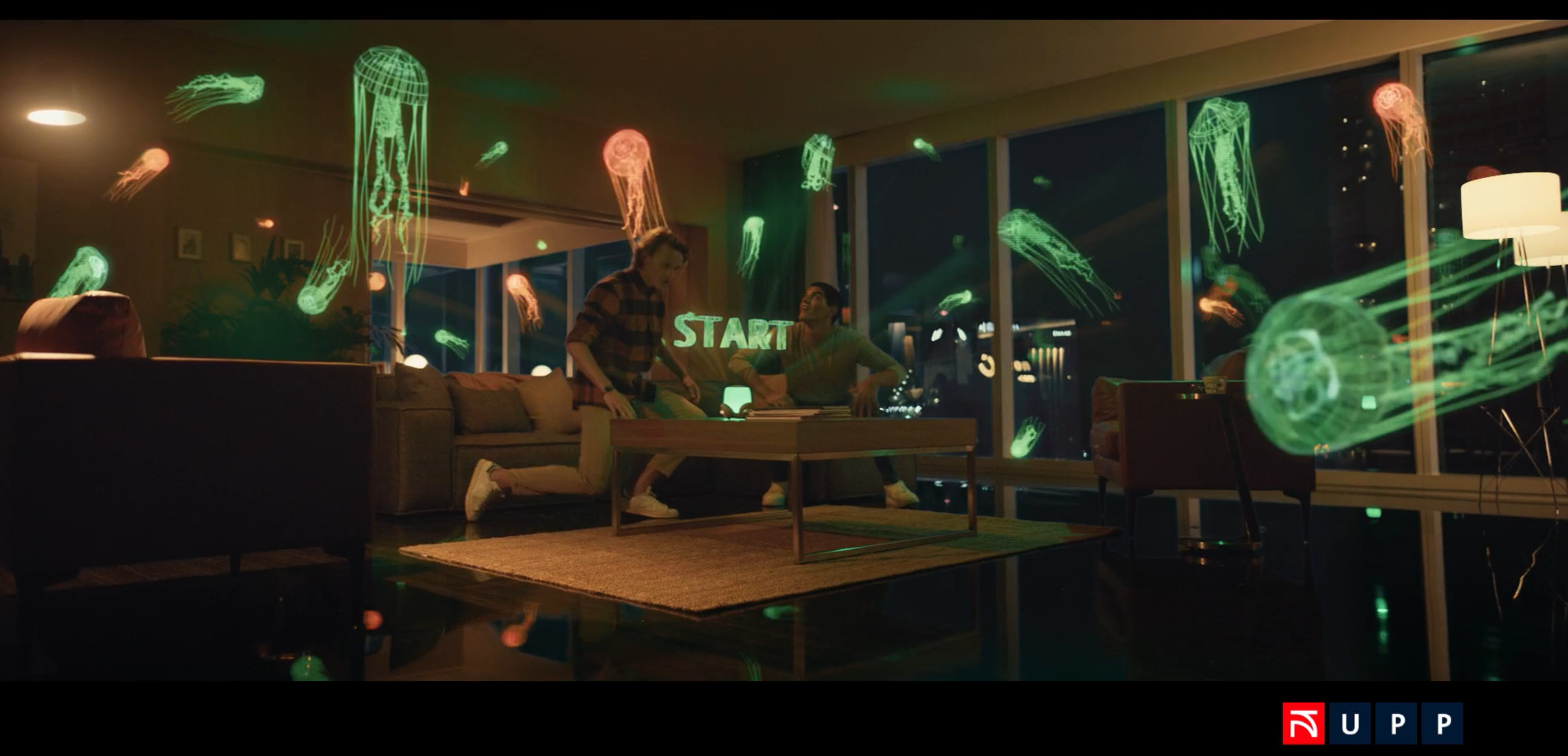 "On the first take, we captured his performance with Xsens and synced that motion data to the camera. We applied that onto the robot. We didn't have the dancer somewhere else: he was on-set and we could adjust the camera movement, angles, and lights to follow his performance," says Malíř. "It was quite interactive. It was like two different shoots: one mocap and then a real shoot, but it was actually one big shoot altogether. It was possible to see the real actor in-camera and talk about what to change, and at the same time we were capturing the data."
Capturing greatness
The end result has impressed audiences the world over, delivering the dynamic presenter that Etisalat sought as well as vivid examples of how 5G technology can have a potentially life-changing impact on society. It is a commercial and not a documentary, so some things are of course exaggerated but the idea that many industries will change significantly with true 5G connection is true UPP Advertising handled all CG work throughout production, ultimately crafting another memorable advert in a long line of prominent global projects for the long-established studio.
UPP Advertising is a big proponent of Xsens technology, having seen the benefits of human motion capture performance to save ample time in the production process. Additionally, the studio recently experimented with retargeting human performances onto animal models, working to deliver even more vibrant results for future products. Across the board, Xsens has become an essential part of the team's workflow.
"We're using the Xsens system more and more. It's quite practical for our advertising project needs" Malíř affirms. "You can record many minutes from one hour of capture, full of very good takes, and then what you bring to the client is high-quality and offers a range of choice. There's no need for blocking and improving, so motion capture makes the process much shorter."