Whether it's gaming, film, animation, TV broadcasting or live entertainment, MVN Animate will give you accurate, optical quality results every time. Its advanced inertial technology means it will do it from anywhere in the world, too. Xsens MVN is boundary pushing tech, giving you clean production ready data from anywhere, both inside and outside the studio.

Everywhere
Use Xsens motion capture in the studio, at the office or on set

Magnetic immunity
Experience full magnetic immunity in all conditions

No clean-up
Save time with clean, production quality motion capture data
Meet Xsens Motion Capture solution
Xsens Motion Capture solution for character animation includes several tiers for hardware, software and cloud processing options. You can customize and overall package and tailor it to your individual needs and requirements.
Learn about available options below or contact us and we will get in touch to support you.
The Xsens MVN product line has three hardware versions: MVN Awinda Starter, MVN Awinda and MVN Link.
Both versions of MVN Awinda use 17 wireless sensors that are fitted on the body with adjustable straps. It allows for fast, easy, and reliable motion capture. The MVN Link operates on the same 17 trackers, but they're fitted on the body with a Lycra ensuring even more accurate data recording and allows for a bigger recording range, Additionally, the MVN Link features full GNSS support.
All three hardware versions have their own specific features, compare them using the overview below, or check out the full comparison table.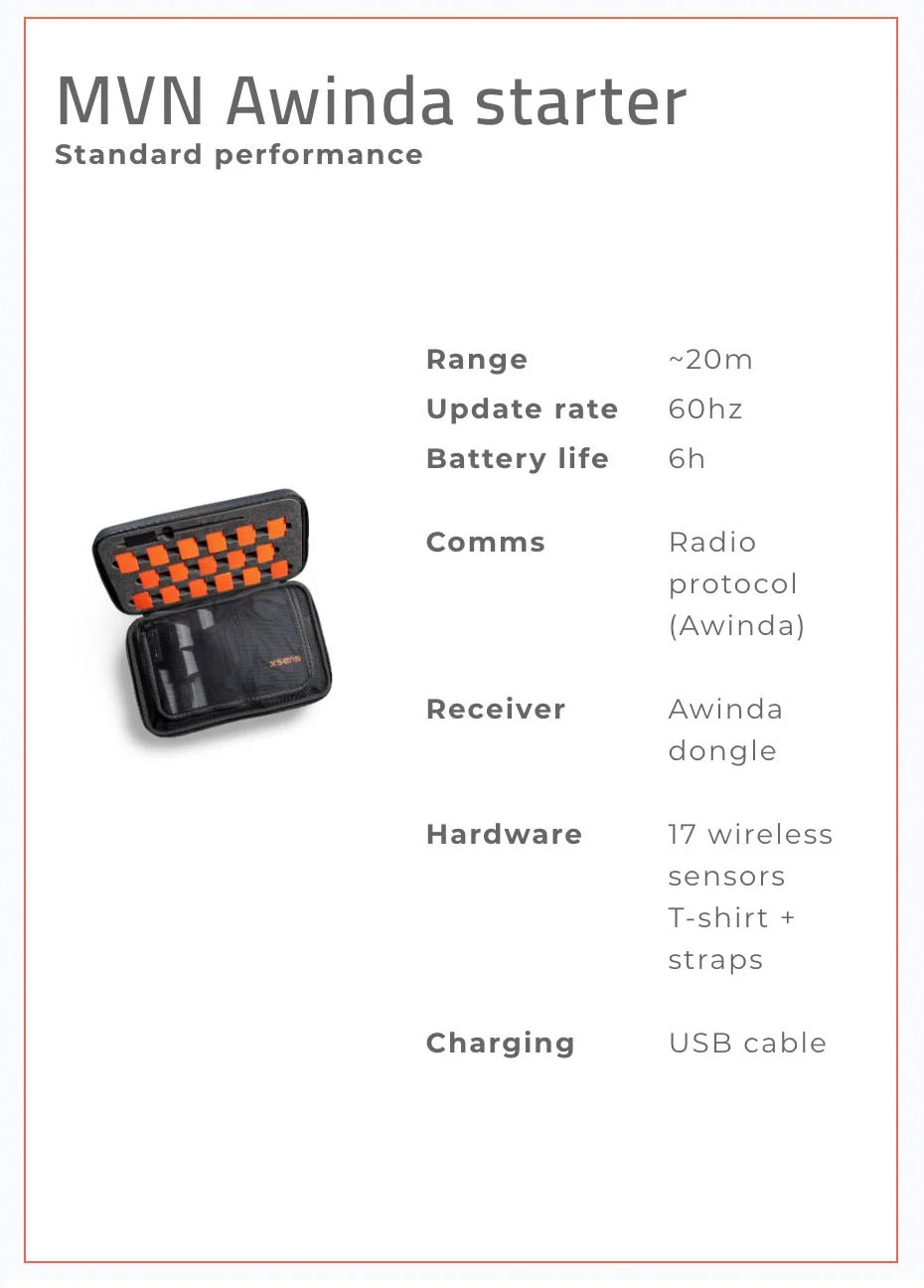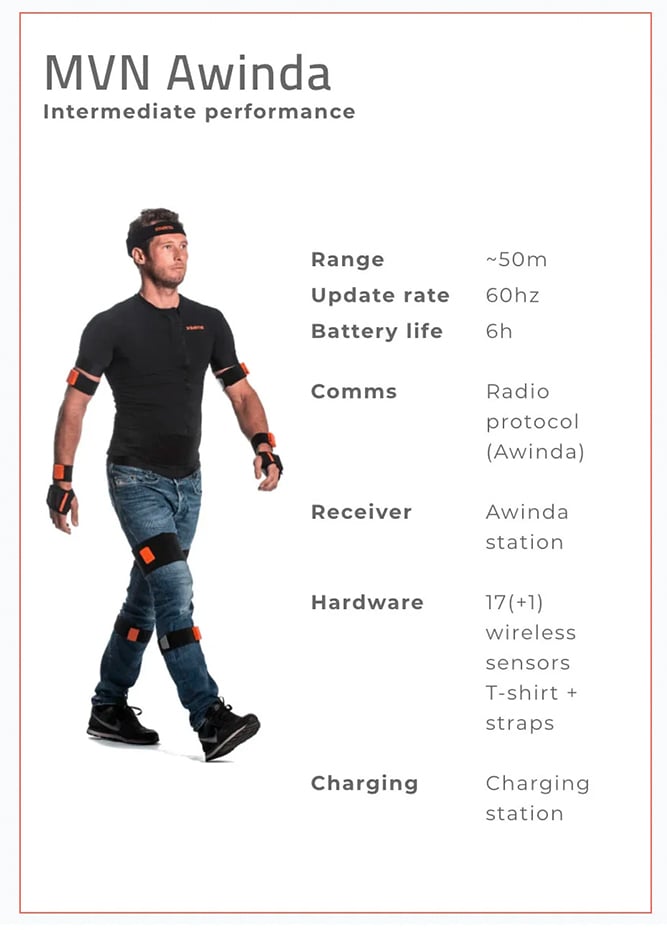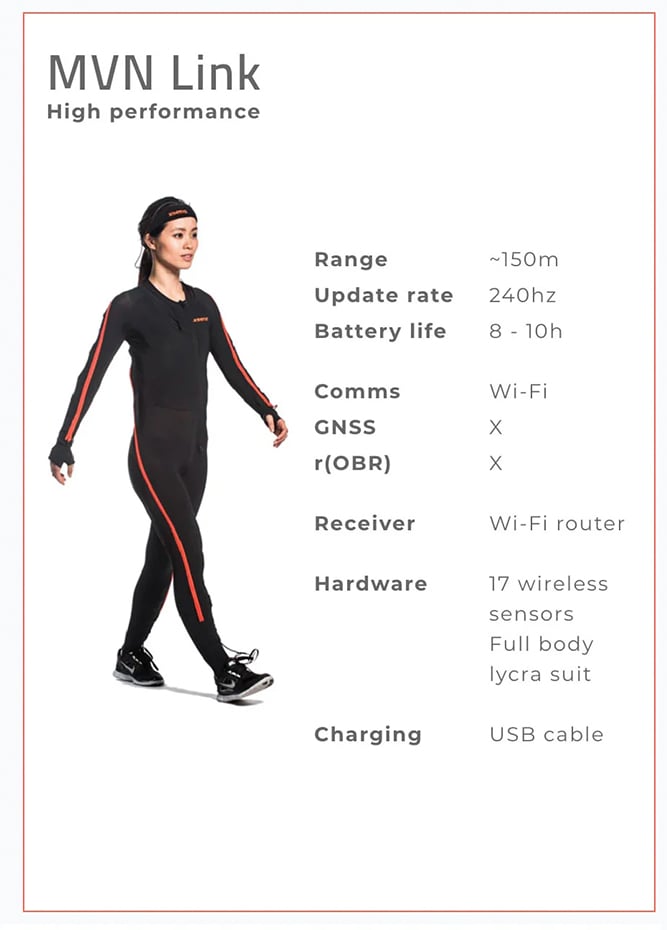 Design Highlights
Rugged design
The ultra-small trackers are rugged and designed to withstand high impact.
Perfect for rolls and stunts.

Sportive look
The motion capture suit has great sportive design and comes with matching shorts.

Fast setup
The on-body zippers enable easy access to all trackers and allow for quick setup.
Best quality mocap data with HD Reprocessing
HD Reprocessing gives you the best quality motion capture data available in the market. The data is processed using our proprietary HD Reprocessing Engine and takes the motion capture data to a whole new level of accuracy and smoothness.
HD Reprocessing is offline available in MVN Animate Pro. And With MVN Processing in Xsens MotionCloud you have the power of HD Reprocessing in the cloud giving you maximum flexibility without compromising local processing power.
Xsens Metagloves by Manus
Combine finger and body tracking using the Xsens Metagloves by Manus.
The Xsens Metagloves by Manus is the finger-tracking solution for Xsens MVN motion capture. The Xsens Metagloves are fully integrated into Xsens' MVN software, allowing users to deliver real-time finger data into their existing pipeline.
The Xsens Gloves are compatible with all Xsens Motion Capture hardware and software.
MVN Animate
Xsens MVN Animate's proprietary motion capture software streams or exports all data to your 3D package. Your work benefits from quick and easy calibration, real-time visualization, easy playback and reprocessing of your motion capture data.
Our software has three options: MVN Animate Basic, MVN Animate Plus and MVN Animate Pro to cover different needs and budgets. Its complexity grows from Basic to Pro.

MVN Animate offers real-time 3D animation, graphs, data streaming, and video. The software has built-in time code and remote control plugins, handles data rates up to 158 Mb/min, and exports to formats such as ASCII (HTML), C3D, BVH, MVNX, BX, and movie containers like AVI and M4V.
Try Xsens MVN Animate Pro by downloading a trial version and motion capture files. After the trial period ends, you can get a yearly subscription or a lifetime license.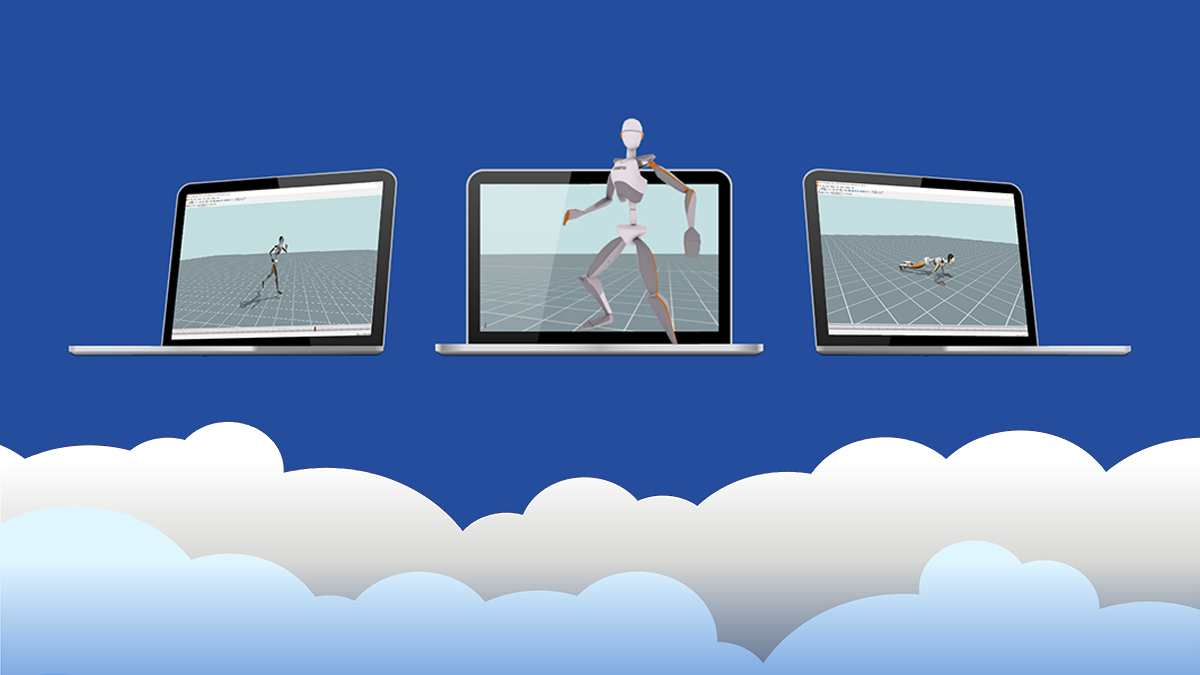 MVN Processing
On the Xsens MotionCloud platform
With Xsens' HD Reprocessing engine, you'll have access to the smoothest motion capture data at the highest level of accuracy. Minimizing time spent cleaning up data means optimizing your time spent creating. Alongside this, housed within the secure Xsens MotionCloud platform it increases your team's flexibility, empowering you to process production quality data anywhere, any time.

You can access the full power of HD Reprocessing with Xsens' MVN Processing, a cloud-based platform that brings you uncompromised motion capture data at unprecedented speeds.
Request a quote for MVN Animate
Xsens MVN delivers high-quality data in all conditions and environments.
We offer smart bundles of hardware, software and cloud processing options optimized for use in-game, film and live entertainment. We can assist you in tailoring the overall package to your individual needs.
Get in contact if you need help to configure your system, or if you like to request a quote.
Productions powered by Xsens
Xsens MVN Animate has powered many famous movies and series. On our "productions powered by Xsens" page you will find an impressive overview with blogs and cases of all the films and series where our Motion Capture System has been utilized.
Take a look and be amazed at how many you have seen.
Customer cases and stories
Studios big and small around the world have used Xsens motion capture for their projects. Many have shared their stories and experiences to give you an idea of how Xsens MVN can bring your project to the next level.
Customers such as The Mill, Trixter, THQ Nordic, CodeMiko, Corridor Digital, Double Negative and many more have utilized Xsens for their film, game and live productions.
In our explore section you can find an overview of customer cases in all application areas of motion capture throughout the world.
Integrations into your live and offline pipeline
Enjoy integration with all major 3D software packages. It can be via live connections or mocap data files, integration was never this easy!
MVN Animate can export data in standardized formats:
This full-body motion capture system integrates directly into your pipeline. Please have a look at our dedicated integration page to find out more about full-body motion capture system integrations.
I have a question
In case you have specific questions about the Xsens MVN Animate system or if you would like to discuss your application or pipeline. Please get in contact with us and we will reach out to you within a few working days.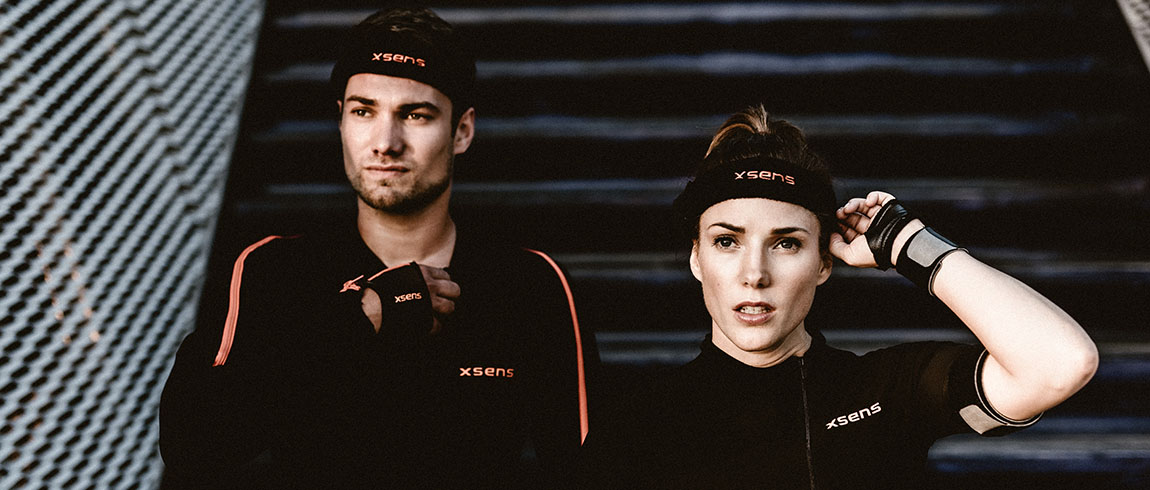 See how Xsens customers are using the MVN Animate system to benefit their pipeline. You can find the customer cases in the Explore section
Downloads & Documentation