Xsens MVN can go places other motion-capture tech can't – like Motocross
When measuring human physical performance, especially in sports, limiting observations to a laboratory setting – where there would be ample room for a traditional motion capture rig – means also limiting the scope of your study and, therefore, your results.
However, by using Xsens' inertial motion capture technology, engineers can study the actions of athletes in their natural environments, thus unlocking access to new, improved data, observations, and results.
Calgary's Sport Insight knows this well. The biomechanics company, based out of the Human Performance Laboratory at the University of Calgary, focuses on research and innovation to "improve human performance and reduce the risk of injury," says research and development engineer, Ryan Madden.
"We are very interested in understanding how athletes interact with their environment and equipment, which can be anything from footwear to playing surfaces to hockey sticks or golf clubs," he explains. "One of my favorite aspects of this type of work is the breadth of projects we can take on. Each sport and scenario offers its own unique questions and challenges, and it's exciting from both a research and design perspective."
Start your engines
Thanks to the new possibilities available via Xsens' inertial capture suits, even more insight is being discovered across these areas and more.
Sport Insight's first project using Xsens MVN suits focused on Motocross rider boot design – motion captured measurements of which couldn't be done justice in the lab. There is no practical way to capture three-dimensional movement data from riders, zipping around a dirt track in excess of 50 km/hour, using a camera-based capture approach.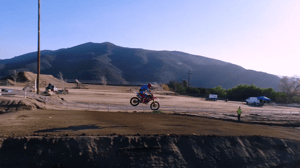 Xsens stepped in to shake things up.
"Capturing Motocross riders was our first experience with a fully developed 3D motion tracking system based purely on inertial movement units," says Madden. "It was immediately very exciting because we were essentially free of the limits of the camera based systems – we could throw the suit on any athlete, easily verify the quality of the data prior to testing, and then have them go and perform in the exact environment they would normally be in. The thought of collecting high-quality motion data on Motocross riders during an entire race would have been laughable to us with a camera-based system, but it was perfectly simple to achieve with Xsens."
This technology has dramatically changed the testing that is possible in this space. According to Madden, Motocross posture analysis in the past would have consisted of 2D video observations across many iterations and several small segments of track. Not only was this process laborious, but the resulting data was much less precise. MVN Analyze and MVN Link open up amazing new opportunities for the team.
"With the Xsens suit, we were able to get movement data that has never been collected before," Madden affirms.
Lightweight, accessible and flexible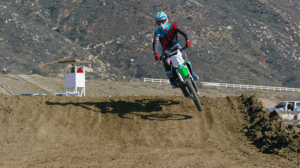 Part of what makes the Xsens motion capture suit so practicable in such environments is their lightweight design. The Xsens MVN suits are comfortable and easy to slip on, and most importantly, they don't impede wearers or impact their performance in a way that might alter usual movements and actions.
"The suit is very easy to use and wiring up the sensors is a simple process," says Madden. "One thing we really appreciated about Xsens was the care taken to ensure the wires and cables are tucked away and out of sight from the athlete. That is very important for two reasons: safety being one, and the other being that the less noticeable the suit, the more likely it is that the athlete's movements will not change when wearing the suit."
As Xsens technology has improved, Sports Insight has found the solutions even more applicable across their research. Xsens MVN Analyze 2018, for instance, has significantly reduced magnetic interference on data. Madden says that Xsens worked closely with his team to ensure that the solver engine worked properly and provided the clean data they needed no matter the situation. In this case, the Xsens suit met Sport Insight's needs – even with the sensors in such close proximity to a motorcycle engine.
"Having already used the system successfully in such a challenging environment gives us confidence that it will be able to handle anything we throw at it," says Madden.
Going full throttle
With its initial trial completed, Sports Insight has found many other ways to use Xsens' inertial capture technology to develop new and exciting data.
The team are currently using Xsens MVN suits to capture data on complex movements in dynamic agility drills, and soon plan to use the tech to collect on-field data on football players to "test the biomechanical influence of various prototype football cleats on athlete movement."
"Being free to record motion in any environment is the most exciting aspect," asserts Madden. "Regardless of the level of research, from micro to macro, the best-case scenario is always replicating the actual situation as closely as possible in an experiment. The Xsens MVN suit allows us to do just that: collect movement data on athletes in the field.
"Xsens goes a long way towards increasing the validity and applicability of the experiment results, especially when the data is collected in the same situation to which the conclusions are being applied."

Ryan Madden
Are you interested our solutions? Please click on the button below to contact us.