O2 joined up with M&C Saatchi Sport & Entertainment and Xsens' customer Happy Finish to work on a new Wear the Rose experience. The plan was to get the fans 'in' the game using VR & CGI technology, 360 cameras and motion capture.
The new Wear the Rose experience allows viewers to go up against the England Rugby team at the home of England Rugby, Twickenham. In virtual reality they can explore the stadium and test their skills against the national team combining a 360 film and interactive CGI challenges.
Happy Finish partnered up with Nokia for the virtual reality camera (the Ozo) and filmed on location with the England rugby team and coaches. The 360 camera captures everything around it, in VR you can explore the full scene in 360 as they're introduced as the new recruit. The game challenges you to test your rugby skills. These skill tests should feel as real as possible, so Happy Finish donned the Xsens MVN motion capture system to capture the movements of the England Rugby team. When Dylan Hartley comes running at you in CGI, you should believe it!
"The Xsens suit was the perfect solution for the job. Capturing the tough movements of rugby players is not easy, you need to have a robust and reliable system. Xsens survived the tackles without compromising the data, making the experience as close to reality as possible."

Julian Anderson, Head of Interactive Production at Happy Finish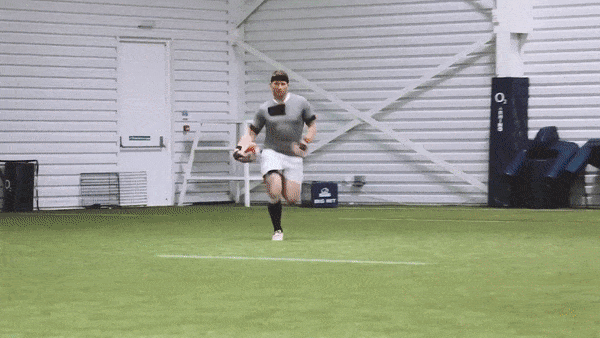 O2's Wear the Rose experience was launched at Twickenham February 2017, at the home of England Rugby.
"We believe in live, and using the latest VR technology we can showcase our live experiences to O2 customers in our stores across the country. Through a combination of world first CGI characters and unique interactive gameplay, each experience has been designed to give the user unprecedented access [...] to our relationship with the England Rugby team. We're excited to roll our new virtual reality into O2 stores nationwide, Twickenham Stadium on match days and The O2."

Gareth Griffiths, head of sponsorship at O2