GRAMMY award-winning artist, John Legend, 'stepped' onto the stage last week to perform some of his hit singles, this time to a crowd of digital fans. Hosted by the music platform Wave, the virtual concert starred a digi-double of the musician in a simulated club environment as viewers from Wave's VR platform, alongside YouTube and Twitter streamers, watched on. The performance was set up to raise money for the FREE AMERICA campaign with viewers able to donate money during the show.
While the John Legend avatar may appear unfamiliar to fans of the singer, the real John Legend was performing live as he would in any normal festival or concert and operating his digital character in real-time. This was achieved using Xsens MVN Animate, recording John Legend's movements and visualizing them through a virtual character streamed on stage.
In the bottom right corner of the full performance posted by John Legend, there's a live feed of the artist singing and dancing in a studio wearing the full Xsens suit – all of the moves are applied seamlessly to the performance seen by viewers.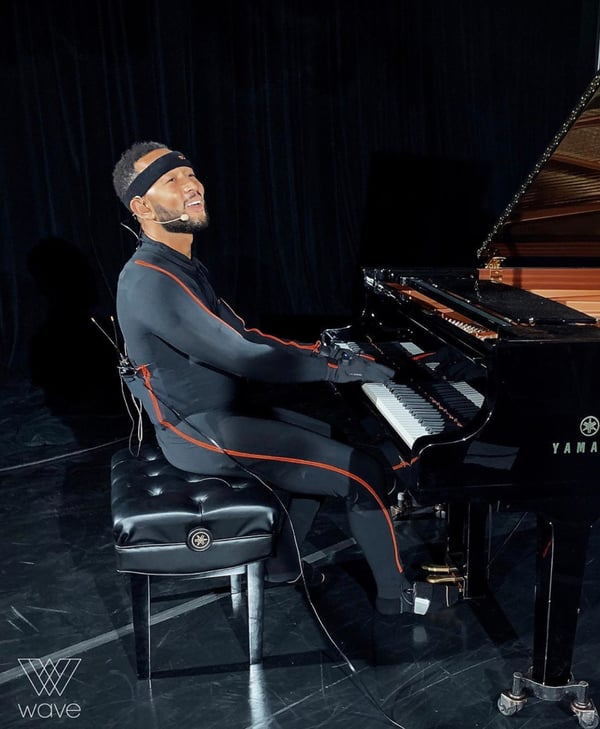 The inertial technology behind Xsens MVN Animate means accurate full-body motion can be recorded wirelessly without optical cameras. The wireless nature of the suits means users can interact with physical objects in a room and still record accurate motion data – as seen when John Legend sits down at his piano!
It was interesting to see how this virtual concert gave a future glimpse into the Metaverse, visitors were able to interact in different ways during the concert.
Like to know more?
For more information about Xsens MVN Animate, click the button below.