Add finger tracking directly into Xsens Motion Capture Software
Hardware and software go hand in hand. The Xsens Metagloves by Manus are fully integrated into Xsens' Motion capture software, allowing you to deliver real-time finger data into your existing pipeline. They are free of drift and deliver highly accurate and reliable finger capture data.
The gloves are immune to magnetic interference, similar to Xsens' motion capture solutions, giving you full flexibility to capture anywhere. Finger tracking can be added to all Xsens motion capture hardware and software.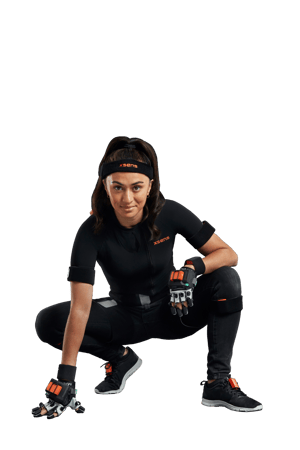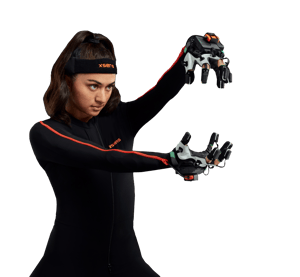 Stream combined data to a single source
Stream Xsens Metagloves finger data together with the Xsens body data as a single source into your animation pipeline. The Manus' Quantum technology creates an accurate hand skeleton by automatically calibrating your hand size. It then sends the finger data to your Xsens software, creating an accurate digital copy of your hand that can mimic even the most complex movements and poses.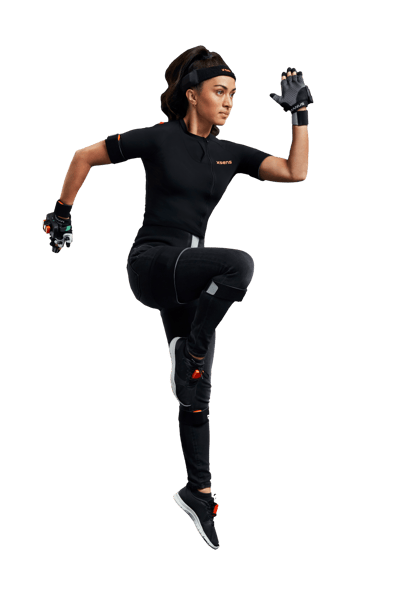 Features
The Xsens Metagloves by Manus have the following features:
Precise Finger Tracking


The only glove with absolute, millimeter precise

positional tracking in 3D-space,

drift free. Not even in fast acceleration/declaration scenarios.

Fast and Accurate Calibration


Complete 3 hand poses in a few seconds for total hand calibration.

No need to re-calibrate ever as your calibration is stored in your profile.

Multi-user calibration so you and your team can get to work the most efficient way.

Xsens Adapters
Easily mount your Xsens Link or Xsens Awinda sensors on top of the Xsens Metagloves by Manus with the provided adapters.
Interchangeable Battery
Experience up to 4 hours of uninterrupted motion capture time. Batteries of the Xsens Metagloves can be easily swapped no need to recalibrate as your calibration is safely stored. Exchange and continue recording!
Attachment methods
You can wear the glove sensors on the fingertips in multiple ways. Choose the method that fits your needs best.
Finger tapes
Wrap the finger tapes around the fingertips. The glove sensors are attached to the mounting clips on top. This method provides a very steady mounting of the sensors.
Finger sleeves
You can wear the finger sleeves by sliding them over your fingertips. The gloves sensors are attached to the mounting clips on top. This method provides a quicker way to wear the glove sensors. The finger sleeves are available in three sizes.
Software integrations
The Xsens Metagloves by Manus are natively embedded into Xsens Animate software to deliver easy integration into your software pipeline. The finger tracking data is compatible with all major 3D software packages such as:
Unreal Engine
Unity 3D
Autodesk (3DS Max, Maya, MotionBuilder)
Houdini
Cinema 4D
Blender
And more
The Xsens Metagloves by Manus is compatible with all Xsens software plug-ins and integrations into third-party software.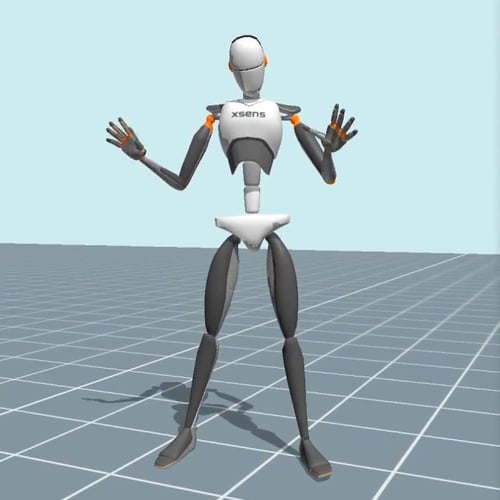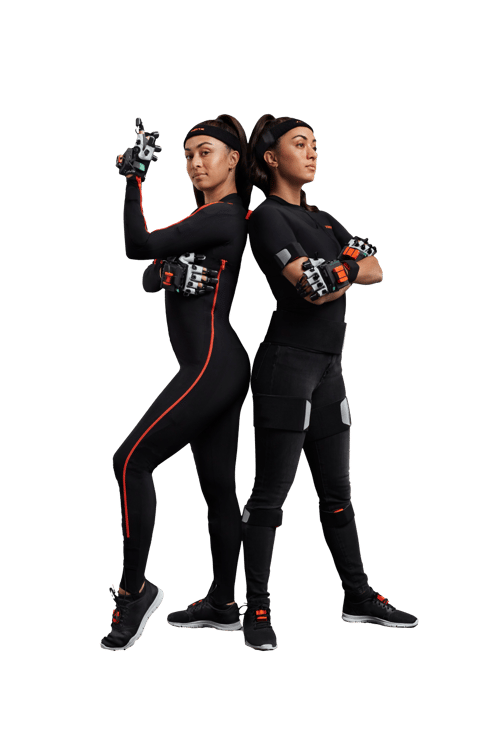 | | |
| --- | --- |
| | |
| Finger sensor type | Absolute position, 3 axis rotation |
| Signal latency | |
| Sensor sample rate | |
| Battery duration | |
| Charge time | |
| Weight | |
| Wired Communication | |
| Wireless Communication | Proprietary HP 2.4 GHz protocol |
| Wireless range | up to 50 feet (15 meters) |
| Textile information | One size fits all (washable) |
| Finger attachments | Finger tapes and finger sleeves |
Xsens Metagloves by Manus Customer Cases
I have a question
Xsens Animate is a full-body motion capture system that integrates directly into your pipeline. It enables you to mocap anywhere and everywhere, in any situation.
By adding the Xsens Metagloves by Manus, you can have full-body performance capture including finger tracking.
If you have any questions about the integration of Xsens Metagloves by Manus with Xsens motion capture, feel free to reach out to us.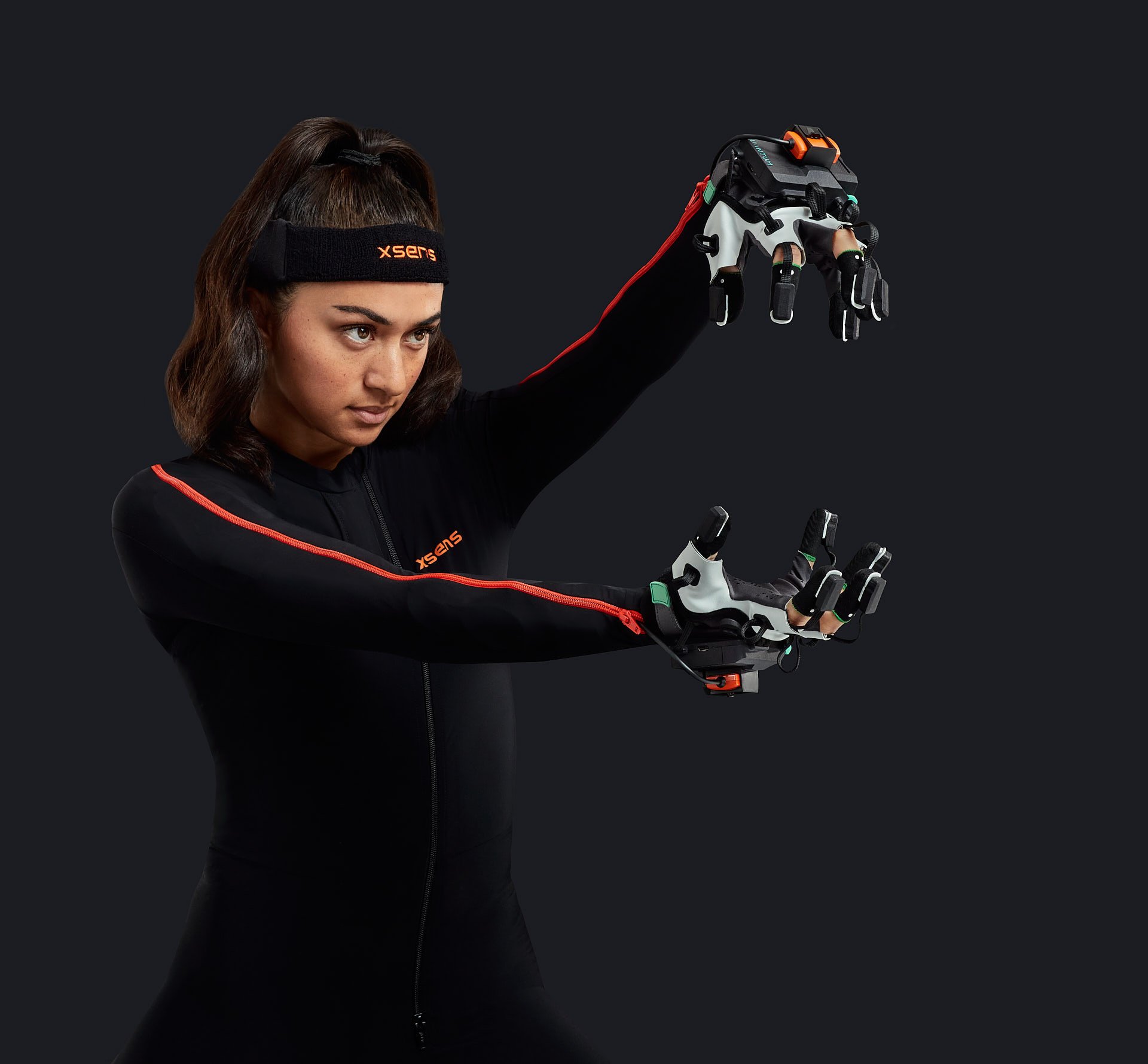 Downloads & Documentation