Blueprint Subsea are a UK manufacturer of specialist subsea equipment for the offshore, subsea and commercial diving markets. Since 2006, Blueprint have provided their customers with innovative high quality, high technology products. One of their solutions is 'SeaTrac', a combined subsea acoustic tracking and data-modem beacon solution. Using an advanced spread-spectrum acoustic communication scheme, SeaTrac is capable of simultaneous position tracking of numerous underwater assets as well as providing bi-directional data exchange. Various configurations of SeaTrac beacons can be used to cover a wide range of applications and scenarios including diver tracking, diver-to-diver communications and remote sensor interrogation.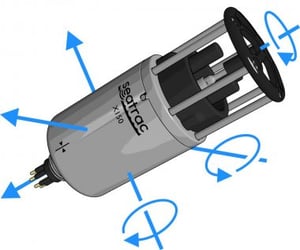 Xsens MTi-3 Module
The Xsens MTi-3 module is used within the SeaTrac beacons to provide very accurate and stable attitude reference. The Xsens module measures not only magnetic heading but combines both pitch and roll angles to provide the user with a very precise attitude report of their subsea asset. The MTi-3 module replaces an existing bespoke AHRS solution and has been fully integrated into both the embedded software and Windows configuration software.
"The integration of the Xsens module into SeaTrac was very straightforward. The performance and reliability of the MTi-3 module brings an enhanced level of confidence to the SeaTrac platform. Support from the Xsens team during the integration phase was excellent, helping to get the system up and running quickly and very smoothly."
James Barratt, Director
Visit Blueprint Subsea website for more solutions for the offshore, subsea and commercial diving markets.