Released in January 2020, the Xsens DOT is a state-of-the-art development platform, providing robust motion sensors for innovative developers and researchers looking to build original applications. Almost a year in and there have already been some remarkable cases of exciting app-based solutions, all built from the ground up with Xsens hardware. One such example is ORYX Go, a game-changing application with an inspiring backstory.
ORYX Go is an application designed to automate biomechanical analysis for elite athletes, sports trainers, and physiotherapists that may lack the required knowledge or facilities to utilize motion capture research effectively. Once downloaded on a smart device, eight Xsens DOT sensors can be placed on the body of a person to accurately record running, walking, and jumping movements. The application is designed to present the relevant data in a readable format, saving time and improving its effectiveness.
We spoke to Marjolein van Koningsveld, co-founder of ORYX Movement Solutions, about the inspiring backstory of the company and how its new ORYX Go app aims to transform athletic performance and rehabilitation.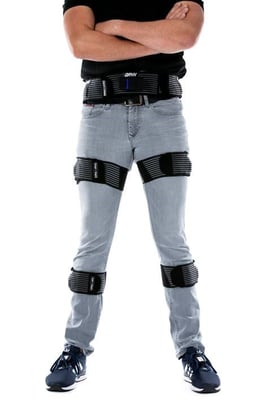 Life-changing injury
In 2014, after many years of riding horses professionally, Marjolein developed a serious recurring back injury. The injury progressed to an excruciating point, hindering her ability to walk and work as normal.
"(After the injury) I did find other jobs, but even if it was sedentary and in an office, I couldn't work for more than 6 hours at a time. Medical experts told me that they couldn't find a problem and I needed to live with it. I was in pain 24 hours a day" explained Marjolein. "I was 28 years old with my whole life ahead of me, it was devastating."
This life-changing injury had no clear resolution, but Marjolein's past experience conducting motion analysis on the movement of horses led her to a different conclusion. After Marjolein met ORYX co-founder, Marcel Tiggelman, in the gym, the pair worked together on a solution, conducting motion analysis on Marjolein. This proved to be a huge leap forward, providing the data needed for Marcel and Marjolein's physiotherapist to design an effective solution and heal the injury for good.
The Formation of ORYX Motion Services
Both Marjolein and Marcel saw motion analysis as an effective tool for an individualized approach to athletic performance, injury prevention, and rehabilitation, leading to the inception of ORYX Motion Services in 2015. It was during the development of the company that the pair became aware of Xsens' technology.
"We started as a service provider company, measuring the movement and designing rehabilitation programs for people that needed help." explained Marjolein. "After about two years, we noticed there was a greater need in the market for this sort of technology and that lots of motion capture tools, such as Xsens, were becoming more mainstream in sports analysis. After discovering Xsens DOT, we knew that we didn't need to develop our own sensor," Marjolein continued.
The release of Xsens DOT coincided perfectly with Marjolein's plan to develop an entirely new application. The app was designed to bridge the gap in knowledge and application between physiotherapists, athletes, sports trainers, and biomechanical researchers, and the Xsens DOT sensors can pick up the precise measurements of any professional sport. The team was able to build the app from the ground up seamlessly with the DOT sensors.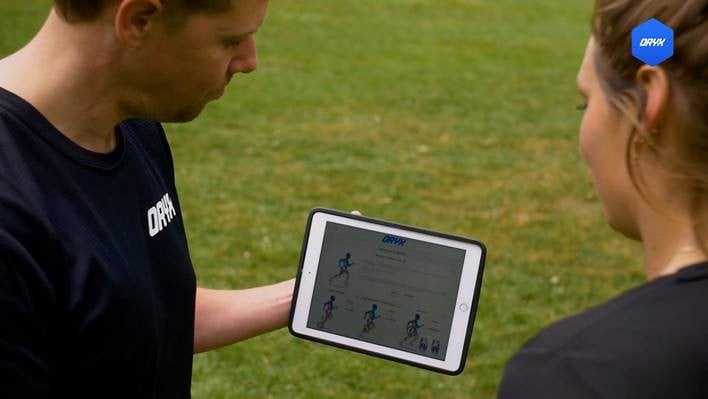 Revolutionizing Motion Analysis
Despite professional athletes possessing practical knowledge in athleticism and injury rehabilitation, translating motion data into an actionable solution usually requires an individual trained in the technology. Marjolein knew that this needed to change.
"We invented a solution that can automatically detect the type of movement, analyze, and determine the quality of it based on the recorded movement data. We knew that we had to keep our clients in mind – they don't have time to spend five hours analyzing data. It should also be affordable. Right now, we can automatically assess walking, running, and squats," said Marjolein.
Eight Xsens DOT sensors are placed on the body of an athlete. The signals are then picked up by the ORYX GO gateway, a carry-along device. This gateway provides additional steady connectivity for signal transmission from the sensors ensuring no data gets lost during long-distance running or sprinting for real time data streaming. The athlete can run or walk out of range relative to the operating device without affecting the connection. After the recording is finished, the data is processed into a file which can be uploaded to the online portal on the cloud. The Xsens DOT sensors work with precision, even during intense professional sports.
"Once the data is uploaded to a portal, in a minute or two, the portal will create a report for you. All of the angles and velocities are translated into terminology that the trainer can understand. This is an entirely unique solution," explained Marjolein.
Individual care
The core tenant found at the center of ORYX Go is individual optimization. The range of physiological differences between athletes means that a one-size-fits-all approach to rehabilitation and athletic optimization can have serious drawbacks. Using Xsens DOT sensors, ORYX Go tracks and processes data true only to the individual being studied. With clean data presented in an easy-to-understand format, athletes can work with their bodies, not against them.
"There are so many professional runners out there with shin splint and runners knees, both entirely avoidable injuries with the right approach to training. Why do people have reoccurring injuries all of the time despite having physiotherapy? Everyone is an individual. It's worth keeping this in mind when aiding in athletic performance" said Marjolein.
Wireless Xsens DOT sensors work anywhere with magnetic immunity, making them suitable for tracking full-body motion in sport-specific environments. This means precise measurements can be obtained to enhance athlete performance too. Marjolein already sees ORYX-Go as the perfect individualized training solution for elite athletes, providing fast, intricate biomechanical data that can be used to positively improve training and technique.
"With ORYX Go, you can have a tailored approach to meet your needs, it's data-driven. We want to take people from the silver medal in their sports up to gold and motion analysis can provide the in-depth data needed to achieve greater levels of performance. Even at the highest level of a sport, ORYX Go and the Xsens DOT sensors can provide accurate, in-depth data."
Xsens DOT users get access to our supportive, customer-focused team, and we're working with ORYX to continue developing the capabilities of the sensor further. The full ORYX Go setup can be purchased with a fixed setup fee that includes user training. Find out more about the app here.
Xsens DOT White Label
With Xsens DOT, the possibilities are endless. We encourage developers to build their own unique applications. Our White Label option allows you to customize a design for the Xsens DOT and have your own logo on the sensors. Visit our developer page to see what Xsens DOT can do for you.