For educators across the globe, there is a growing interest in wearable technology for in-class learning and research, enhancing the learning experience in new and immersive ways. Wearable technology offers universities and students a unique opportunity to actively try out immersive technology first-hand, improving the learning potential of the students beyond just reading theory.
Peter Shull, a professor at the Shanghai Jiao Tong University, uses Xsens DOT wearable sensors to educate Mechanical Engineering students enrolled in his Wearable Systems graduate course. The course focuses on a survey of different commercial and research prototype wearable sensors for a variety of medical, sports, and games applications. We spoke to Peter about his course, and how Xsens DOT has provided hands-on experience to his students in ways previously inaccessible.
Hands-on learning
Equipped with Xsens DOT wearable sensors, Peter took an entirely unique approach to teach his class – students could get hands-on with the Xsens DOT development platform and explore the range of possibilities available while using their own smartphones. This helped students engage with wearable technology in new and exciting ways, measuring and estimating jumping movements.
In two separate consecutive lab sessions, eight teams of four students were able to get an understanding of wearable sensor technology. The students were divided into teams with each team being provided with a set of Xsens DOT wearable sensors. In the first lab, students focused on joint angles, such as the elbow and knee joints, and lab two focused on jumping movements.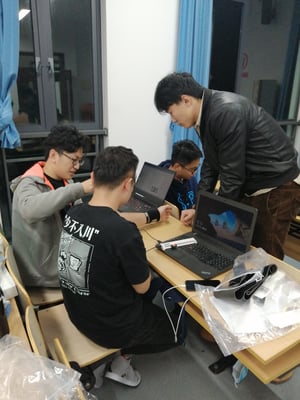 The students completed simple tasks with the Xsens DOT sensors and tracked motion data, exporting it into a Python script coded especially for the labs. The students were able to use their own smartphones to download the software and the data from the sensors.
The Xsens DOT platform is designed to make building new applications intuitive, and exporting data was seamless for the students who, in turn, could predict different movements using simple equations.
"It was nice to interface with smartphones this time. It was also great that we could easily provide code to the students and let them modify and analyze the output of the Xsens system," Peter added.
Measure with ease
Because the students could use their own mobile devices, Peter provided them with access to Xsens DOTs at home. Xsens' wearable technology is perfect for use in any setting and the students were eager to use the platform and have as much fun experimenting as possible.
The students were able to take the Xsens DOT systems home and explore, working on the pre-lab outside of class. Back in the lab, they then performed the in-class research.
Peter's wearables class provides an overview of different commercial, wearable products for the students to learn about. But getting hands-on with the products themselves hasn't been possible until now.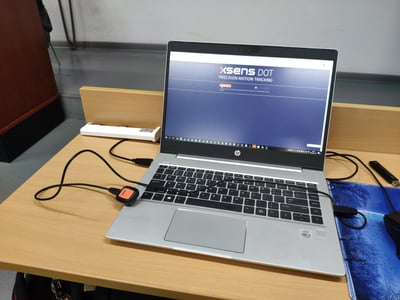 "Every student was able to get hands-on, and this is the first time we've been able to do something like this. Having raw, easy-to-understand data meant that students were able to see how basic information can still provide lots of insight. I wasn't sure how it would go but all of the students were incredibly excited and learned a lot about wearable systems and analysis, and this was our primary goal," said Peter.
"It's possible next time that we will offer an open-ended project and let the students decide on the use of the systems rather than giving specific directions. We will have a project component where they can decide what the application is and where they place the Xsens DOTs. If we gave the students at least one lab with example code, they could then modify the code and create their own apps for analysis using the Xsens DOT system," Peter added.

Use the Xsens DOT sensors for education