Update October 2013:
We congratulate Solar Team Twente for winning the third price in the World Solar Challenge!
Background
Solar Team Twente is a group of 16 students, both from Saxion University and University of Twente, participating in the World Solar Challenge for the 5th time. The challenge is to design and construct a solar vehicle capable of racing 3000 kilometers through the scorching outback of Australia. Our main focuses are aerodynamics, electrical efficiency and total mass.
Goal
To find the optimal balance between lightweight and reliable components, it is essential to know the exact load they need to sustain. Our load case mainly focuses on cattle grids, steel bars embedded in the road intended to prevent cattle from crossing. Theoretical models are available for describing these, but due the highly dynamic and 3D situation, practical validation is needed. By both stress testing and measuring forces on a mock-up vehicle this goal is achieved.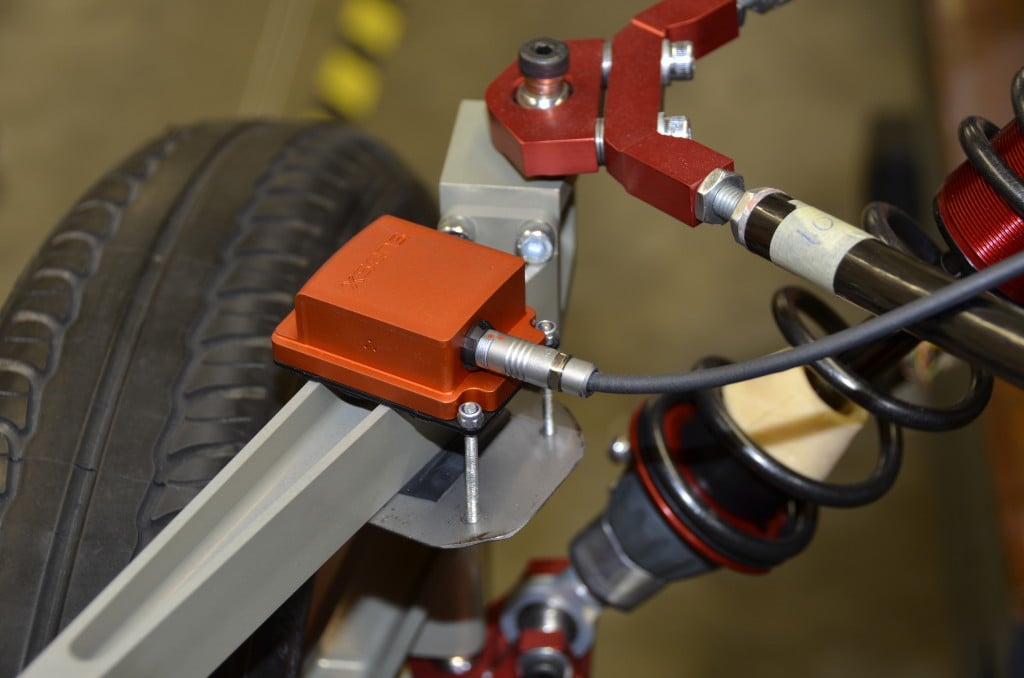 Method
An aluminum space frame fitted with carbon fiber panels is used to resemble the internal structure and interfaces of the final vehicle. The front and rear suspensions were designed and constructed by the theoretical load case. We have used several types of sensors, both digital and analog, for determining the load case. Xsens provided several MTi's that were fitted on the front suspension (2x) and rear suspension (2x). Also provided was an MTi-G, used on the frame itself.
The other sensors were linear potentiometers on the shock absorbers and strain gauges glued on each tube of the carbon fiber double wishbone suspension. We used a National Instruments CompactRIO with several modules to acquire and log the synchronized sensor data. The Xsens motion trackers were configured by using MT Manager and connected to the CompactRIO by a common, easy to use, RS232 connection. The testing environment was a private road in the Twente Region, where we constructed our very own Australian cattle grid.
Results
We do now have an accurate, field tested load case of the forces and vibrations implied by driving over a cattle grid with several velocities. The next step is to review the first iteration components used on the mock-up and apply the lessons learned to the final suspension and internal structure. We hope our corporation with Xsens will result in a light weight, robust solar vehicle, capable of taking 1st place on the World Solar Challenge 2013.
Are you interested our solutions? Please click on the button below to contact us.