How Unlimited Motion used Xsens technology to bring mixed-reality into Strictly Come Dancing
In November of last year, the phenomenon of Strictly Come Dancing was the latest major television show to take a step into the metaverse with a mixed-reality performance that wowed audiences worldwide. Unlimited Motion Ltd, who specialise in digitising performances with motion and performance capture, 3D scanning, and virtual production, were tasked with adding a digital layer to the iconic show. Using Xsens technology, they created metallic robots, built with a combination of motion graphics and motion capture, who appeared to join the dancers on stage, to the dance tracks of Kraftwerk and Yazoo. Ryan Garry, director of Unlimited Motion, and long-time collaborator of Xsens talked us through the process of creating the futuristic routine, and the unique obstacles he and the team had to overcome.
"Strictly was the quickest turnaround project I've had to work on, because the broadcast requires the footage way in advance of the rehearsals. The brief had to be executed in the same week."
Finding a dance partner
Despite being a well-established show with a celebrated format, Strictly Come Dancing is continuously looking for new ways to innovate their programming. In 2020, aspiring to push creative boundaries and pandemic-enforced restrictions, the show introduced augmented reality elements, created by their long-time collaborators Potion Pictures. Hailed as a rousing success, the producers wanted to take the technology even further in 2021, which is when Unlimited Motion waltzed into the picture.
"I worked with Potion Pictures on a project prior to Strictly, which was for a cruise ship also using motion capture, where an animated Mona Lisa would dance alongside physical dancers on the cruise ship," explains Garry. "After that, Potion introduced AR into Strictly, with motion graphics on the big screen behind the dancers and two track cameras using Mo-Sys. This year they wanted to introduce another element, which in this case was motion capture. Each year they want to do something different and build on what they did prior. So this year, they wanted to do motion capture work."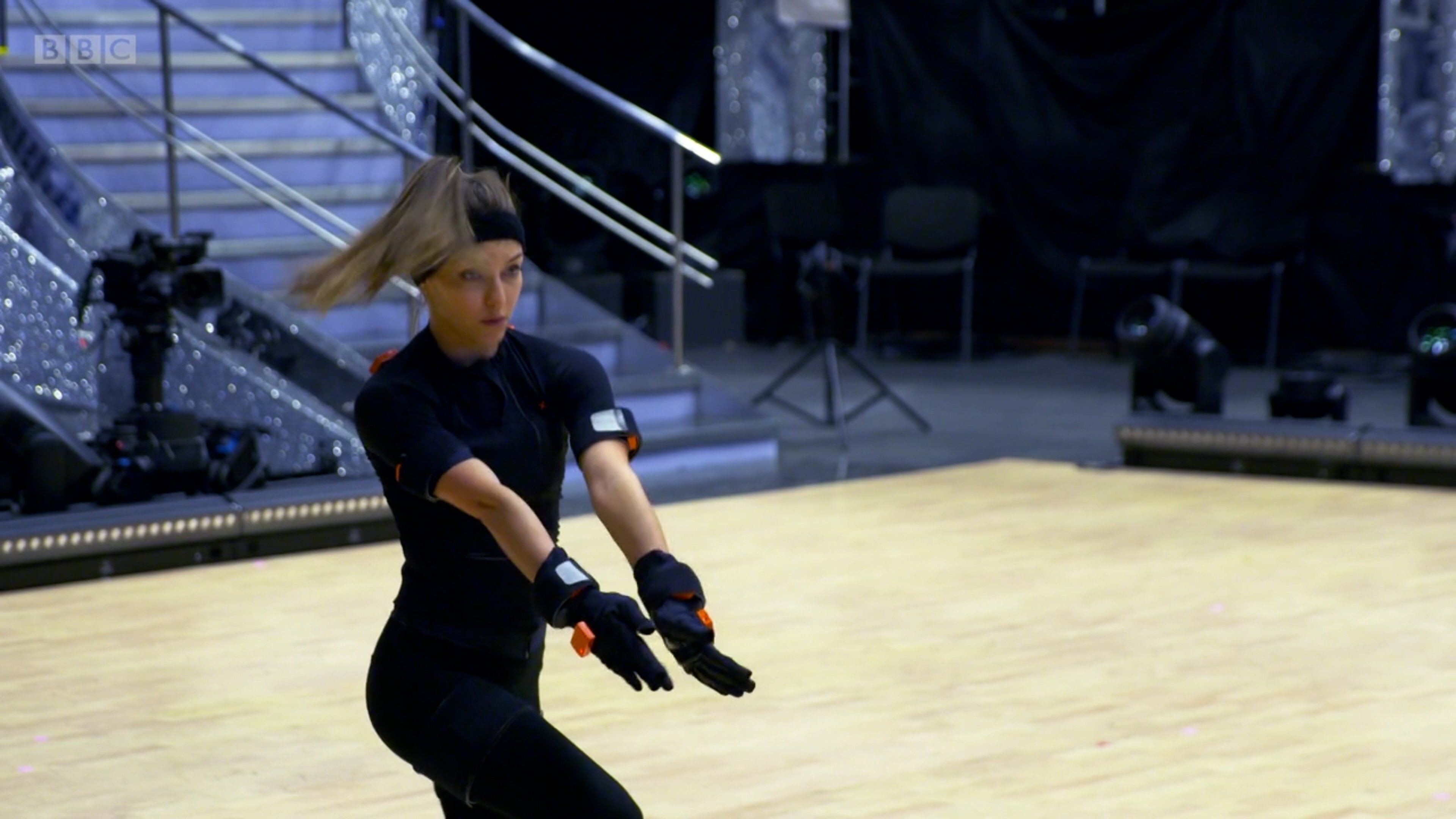 One of the major attractions that pulls viewers into Strictly Come Dancing each week is the unpredictability of the live shows, and the dramatically different themes that each episode deals with. For the production team, this often means that there is little room to experiment, which is why Ryan and the Unlimited Motion Ltd team initially had issues with communicating the capabilities of the motion-capture technology to the producers.
"We found the dancers were comfortable with using the Xsens Link Suit, as it was similar to performing with a costume, plus it was relatively low profile, so it felt invisible to them," Garry shared. "The set director and the dance choreographer hadn't used this kind of technology before, so myself and the people from Potion Pictures were trying to explain to the directors what was possible and what wasn't possible, but also that you can utilize it for any kind of movement, not necessarily for a specific dance. Previously they'd be limited to what they could do in AR, but the motion capture can be turned around rather quickly so it gives them flexibility."
As motion-capture is still relatively new to much of the broadcast industry, questions were understandably asked during production. While performers as a whole were quick to take to the technology, a shift in mindset from the directors was needed before they really came on board with the process.
Watch this behind the scenes video:
"It was just a matter of how you could see the preview of the dance in real-time. I think they had to get over the fact that what you're seeing on the preview window isn't necessarily what you'll see in the final delivery, because they were used to seeing a dance on the dance floor in front of them, live," explains Garry. "They were worried that any glitches seen in the preview would be reflected in the final performance, but we had to explain that we could clean it up afterwards. Once they understood that, they were keen to experiment with the technology."
After the success of the robot routine, Unlimited Motion Ltd carried on their collaboration with Strictly, and used the same process to create dancing penguins for the show's Christmas special.
Adoption of technology
The use of mixed-reality performances continues to grow year-on-year, and the continued development of the technology, and the increasing interest in all things metaverse, indicates that this is a trend that has no signs of slowing down. Big-budget shows like Alter Ego highlight the technology as a major selling point, while performances such as ShiGGa Shay at Global Esports Games 2021 showcase exciting innovations within the sector. For Ryan, "programmes such as Strictly Come Dancing implementing motion-capture will help open up the use of the technology throughout the industry".
"Mixed-reality is becoming more well-embedded within top-tier shows such as Strictly Come Dancing in the UK, and Alter Ego in the US. I think it's good that these type of shows are stepping into this area, as this will result in (motion-capture) technology trickling down more and more into mid-to-low level budget shows, films or any kind of entertainment properties/his will only increase further as the rendering becomes easier, quicker and cheaper."
Whilst the metaverse sounds like a futuristic vision on the horizon, mixed reality performances are already embedding themselves into the rosta of mainstream entertainment, with hybrid 'real world' and digital shows becoming commonplace. From 21 Pilots' virtual concert within the Roblox metaverse to miniature musicals in people's homes with AR and VR, the demand for - and curiosity in - digitally enhanced performances is clear. However, Ryan believes a gap in knowledge must be bridged before there is wider use of motion capture technology for live events.
"At the minute, I think there is an awareness and skills gap within the industry. There are a lot of CGI artists specialized in programmes like Maya, but not so much in games engines such as Unreal Engine, and Unity, which is able to implement this technology a lot easier. I think calling them games engines holds them back. 'Real-time' engines is a term that is starting to be used more, which is more appropriate, as they are being used for more than just games, but also for other real-time experiences such as mixed-reality and extended-reality. Plus the tools themselves are all free or relatively cheap. Most people who work in motion graphics or VFX are probably still using programmes like after effects, but in five years time, there will be more people using real-time engines."
"We found the dancers were comfortable using the Xsens Link Suit… it felt invisible to them"
Xsens Collaboration
One of the key drivers of success for Unlimited Motion's execution of the Strictly Come Dancing performance digitisation was the use of Xsens - specifically, their usability. Xsens suits used by the dancers were able to adapt to the environment of the ballroom stage: "they had Magnetic Immunity. The stage-floor had its own wi-fi, there were metals in the decorations, there was always a level of interference - it wasn't a clean environment at all. What I found from using previous suits was that there was too much time spent cleaning up data versus doing creative work. This was essentially one of the reasons I chose to use Xsens in the first place. I think it's paying off now with the fact that I can operate on such a quick turnaround."
The exploration and experimentation of motion capture in mixed reality performance will pave the way for more creativity and connection. Unlimited Motion's Strictly shows that when you have access to tools, such as the Xsens Suit, that can be swiftly adopted within production, then less time is spent explaining and more time creating. Motion capture opens up a new form of creation for artists and digitising performance is another expression of art that captures the attention and imagination of both viewers and performers.
To learn more about Unlimited Motion Ltd, visit their website.
Xsens MVN Animate
Actor Capture used Xsens MVN Animate as their solution. It enables you to mocap anywhere, at any time. Want to know what we can do for you? Get in touch!
Experience the quality of Xsens' Motion Capture data
Are you actively looking for a motion capture system and want to compare data? Download Xsens motion capture data files to convince you about the quality of our data.