MVN is used to capture the real motion of a professional figure skater in her 'natural environment', an ice rink. The purpose was to create an animated billboard for the Swedish television show 'stars on ice'.
Computer graphics specialist, and owner of a MVN system, CG Sweden, was asked to create an animated billboard as the introduction for the popular Swedish TV show 'Stars on Ice'. The TV publisher (TV4) wanted a figure skater made of clear ice.
"Historically we would have approached such task using elaborated key frame animation. With MVN, however, we were able to capture the real motion of a professional figure skater in her 'natural environment', an ice rink. Once again, MVN proved its capabilities and it confirmed our choice to use Xsens' motion capture system for this project. I believe the results emphasize the true freedom of movement qualities of the MVN system."

Peter Karlsson, Founder of CG Sweden
The first episode of the show was broadcast on Saturday 4th October 2008, with nearly 20% of all Swedish citizens watching the show!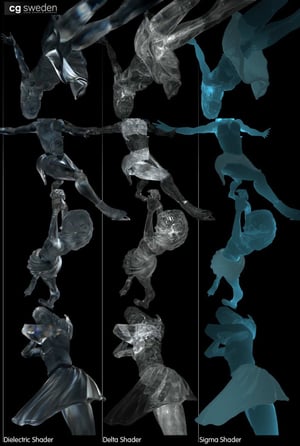 Tools used
MVN Studio for motion capture, AE for compositing, Lightwave3D for rendering, ZBrush & Lightwave for modelling, XSI7 for re-targeting/generating displacement maps/additional ani
mation/cloth simulation.
CG Sweden produced 2 x 24 sec and 2 x 10 sec in total, Peter Karlsson: "I had no idea if doing motion capture on an ice skating rink would work, but it did. I also didn't have time to dig too deep into shaders, so I used pretty much what comes out of the box in Lightwave. The dielectric shader did most of the work, but took ages to render (compared to the total length of the project)...".
The picture to the right shows some of the used shaders.
To see what's 'behind the scenes', please take a look at the next footage of the motion capture. It's interesting to see a 'different' motion capture studio since it's an ordinary ice rink. The director picked the final six out of about 60 different takes and we could do a rough cut the day after the Mocap session, to ensure he got what he wanted. It's a 25MB Quicktime. Click on the image to the right to see the movie.
Final result
Are you interested our solutions? Please click on the button below to contact us.