How Psyop brought two 3D cartoon characters into a room with Mario Lopez to answer live viewer questions.
The adorable Dusty and Rose CG characters have been mascots and advertising personalities for US mobile carrier Cricket Wireless (which is owned by AT&T) for nearly half a decade.
In late 2018, Cricket wanted to bring their characters to life for a live Q&A ahead of the launch of their short seasonal movie Four For The Holidays. To make this Q&A feel real, the 3D characters would need to be reactive… and the only way to make that possible would be to work with their voice actors and motion capture to drive the characters in real-time. That's where Psyop stepped in.
Psyop, a creative studio that specializes in impactful commercials, short films, and games used Xsens MVN Animate to drive the characters for the interview hosted by Mario Lopez. In doing so, Psyop was able to create an interactive activation that not only pulled in millions of viewers, comments and shares, but also elevated Cricket's brand and its original characters in the process.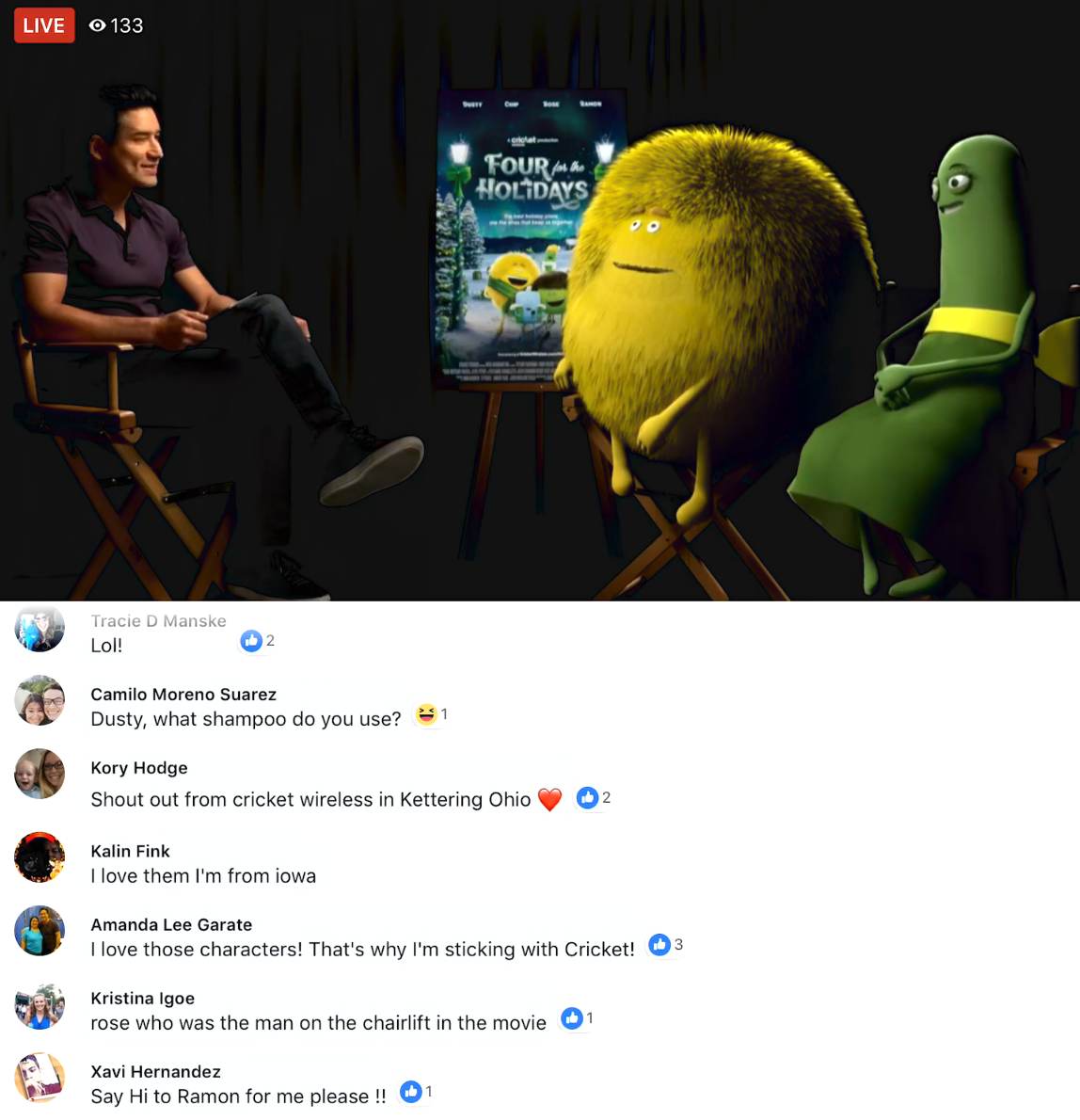 Click image to watch live stream
Psyop's clever start
Working with Cricket, as well as clients such as Honda, game developer Supercell, and consumer brands like Coca-Cola—for which it designed an acclaimed animated Super Bowl ad this year—Psyop has established a great reputation for itself. "Psyop is kind of known as the Pixar of television commercials," says Matthew Seymour, executive producer of Psyop's The Lab division. "We do very high-end, often character-driven, design-heavy commercials for brands and agencies, that blur the line between advertising and entertainment"
The Lab handles all software-driven activations for the company—things like virtual and augmented reality, along with Instagram and Facebook Messenger campaigns. For Cricket Wireless, Psyop produced a live stream that was simulcast across both Facebook and Twitter to some 4.5 million total viewers.
Psyop's ingenuity shines through in the finished product, but it was also there from the very start—before they'd even landed the job. For a conference call with Cricket's agency, Argonaut, Psyop outfitted one of the voice actors with an Xsens MVN suit and other hardware (such as a Faceware headcam) and patched the CG character into the call to chat with the agency.
"We brought in the Cricket Wireless character and surprised them," says Seymour. "They were blown away, and they thought we were kind of faking it—like it was pre-rendered. But then he started asking them questions and going off. We had a fantastic half-hour show, and Argonaut was sold on the technology from then on. It was super cool."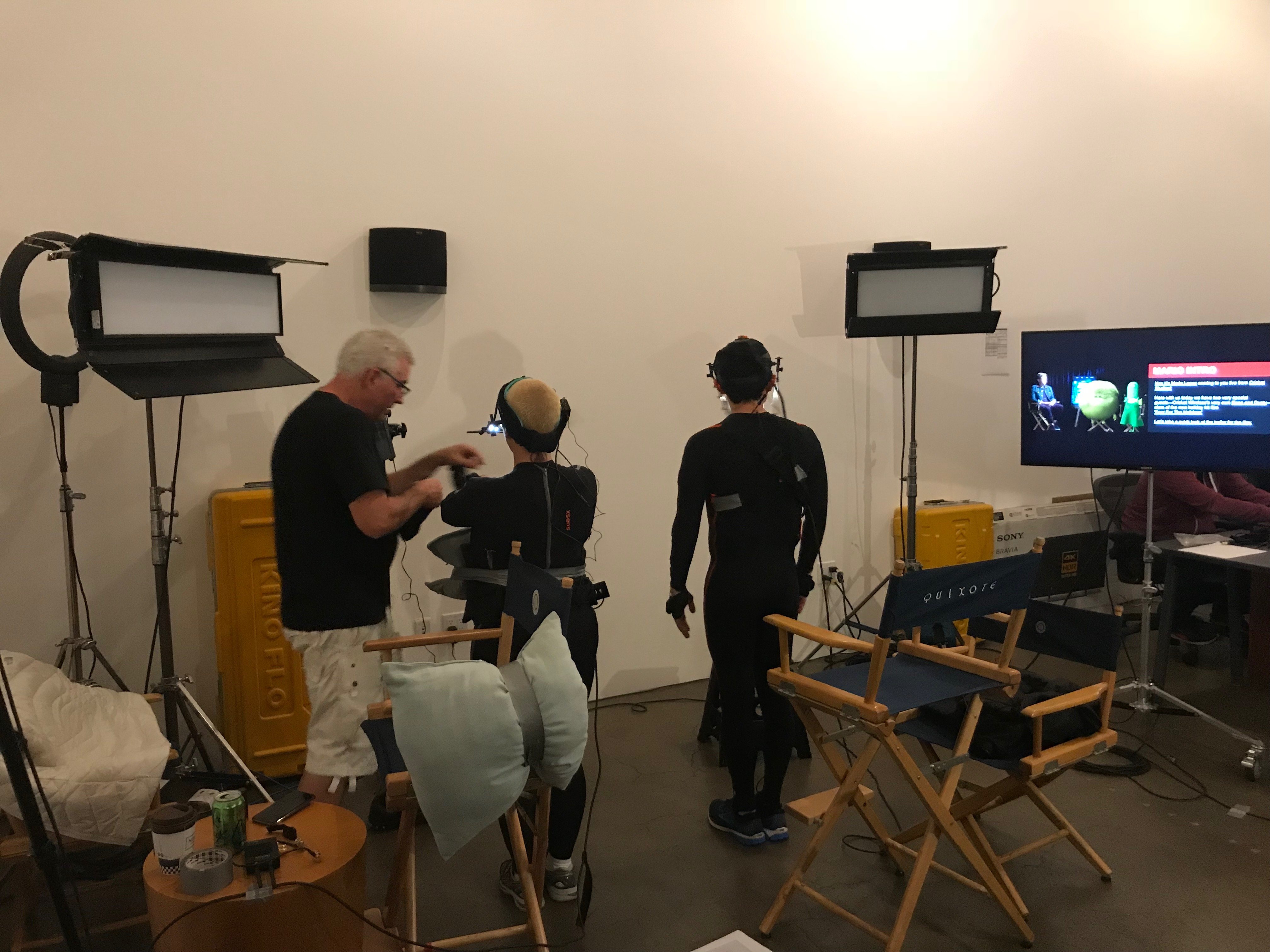 Live and alive
The Xsens MVN suits are incredibly easy to calibrate, and after set up – movement can be tracked with a laptop, plus they're usable literally anywhere and are comfortable to wear without impeding movement. Psyop found the whole process to be very easy to understand, from the hardware down to the software.
"I was impressed by how quickly we were up and running with the technology," says director Jack Anderson. "It wasn't difficult for our team to quickly adapt to the technology. It was amazing that in less than a day, we already had our characters up and running in real-time."
According to Seymour, who has used Xsens technology for the better part of a decade thanks to his previous life as a game developer, camera-based motion capture technology wouldn't have been a good fit for this live-streaming need. "We're also using the Xsens suits for fully-rendered stuff, but the fact that it supports live capture is obviously a huge thing when we're doing these kinds of live-streaming things," he says. "A traditional motion capture system doesn't lend itself to that."
For the Cricket Wireless live stream, the voice actors donned the Xsens MVN suits in the studio and answered questions while interacting with the live host Mario Lopez, who posed questions from Facebook and Twitter viewers as they came to his tablet. Psyop retargeted the body movements and facial animations to the characters to create a seamless end result: a human and two cartoon characters in natural conversation, responding live to viewer queries.
"The idea of having our characters animated in real-time was certainly a daunting task, considering we usually spend months animating and rendering a commercial," says Anderson. "I don't think we could have done it without Xsens. Not only did it work great for our tech team, but it was something the actors felt really comfortable with. They're used to just providing the voice for our characters, so giving them the opportunity to literally become the characters was a creative treat."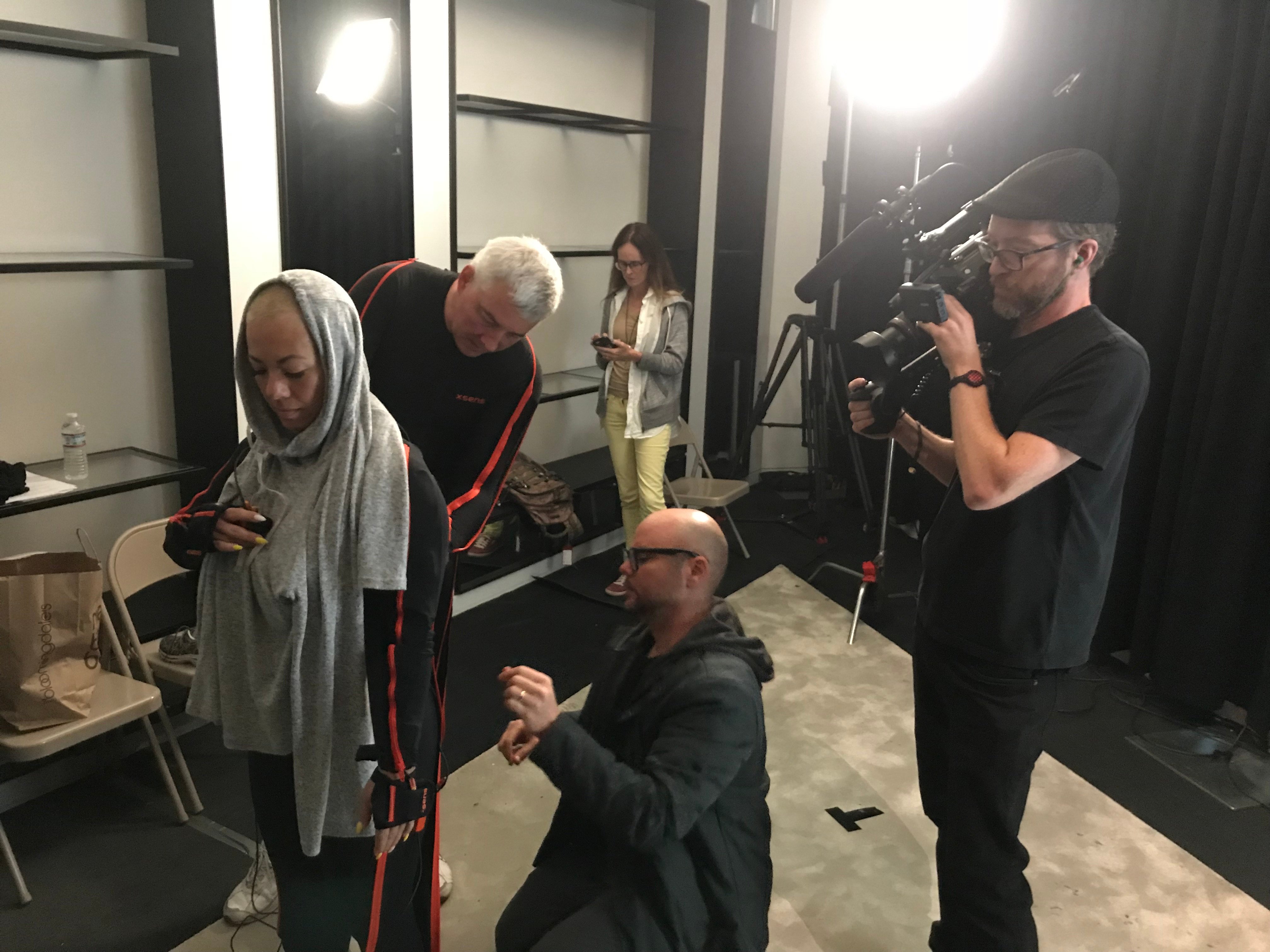 Much more ahead
The resulting live stream was a viral success, not only humanizing the familiar mascots but driving significant awareness for Cricket Wireless in the process. It was also a technical milestone for Psyop and live performance capture in general.
"That was the first time that that had ever been done—real-time, mixed reality, and simulcast together," says Seymour. "We're excited that we were the first ones there. We continue to push on real-time capture. We have lots of clients and brands that are interested in this kind of technology and looking forward to seeing more."
Psyop is using Xsens suits for previs, mock-up and test animations, along with fully-rendered CG characters. The studio is also building out a separate real-time pipeline and workflow for future projects, and Xsens will remain a key part of that approach. For Anderson, the Xsens motion capture technology sparks so many more creative possibilities for the future ahead.
"What gets me most excited about Xsens technology is that it opens up the door to long-form or fast-turnaround animation," he said. "I love keyframe animation, but it unavoidably takes a ton of time and a lot of talent to pull off. That's made the idea of creating animations longer than a couple of minutes unrealistic for our clients. With the Xsens technology, the idea of creating long-form content like web series is a real possibility."
Are you interested in MVN Animate? Please click on the button below to contact us.