How Xsens and OCON helped Team Sunweb cyclists get their best bike fits
The Tour de France's Herculean competitors are avoiding injury and maximizing performance thanks to OCON Sports Medical Clinic and Xsens inertial motion capture.
The Tour de France is not just the pinnacle of professional cycling, it is also one of the most grueling sports challenges in the world. The 21 stages, spread out over three weeks, put a huge strain on the human body. Therefore, the teams involved continually seek new ways to ensure that riders are better prepared.
Team Sunweb now has a unique advantage: astonishingly precise bike fitings performed by OCON using Xsens MVN Analyze, which fit exactly to their riders' physiology. This helps riders avoid injuries and achieve world-beating speeds in the process.
Watch part of Tom Dumoulain's bike fitting below!
Finding the fit
The innovative bike fitting process was created together with OCON Sports Medical Clinic in Hengelo, The Netherlands. Here, technical physician Carmen van den Hoven developed a method that combines Xsens motion capture technology with muscle activity trackers.
Between the two tools, Van den Hoven can provide accurate, real-time feedback to riders. This could be used to adjust both the configuration of the bike and how the rider sits on it. The changes are often minute, and may constitute adjustments of a matter of millimeters. However, the impact in the end can be huge, resulting in a more comfortable, injury-free ride, as well as increased speed.
Van den Hoven was already using Xsens motion capture to help patients recovering from ACL ruptures, but when Team Sunweb asked if the technology could help assess cycling injuries, she saw potential.
Although a cycling fan herself, Van den Hoven had never performed a professional bike fitting prior to that point. "It was my knowledge of human physics, combined with the technique, that allowed for these measurements," she explains.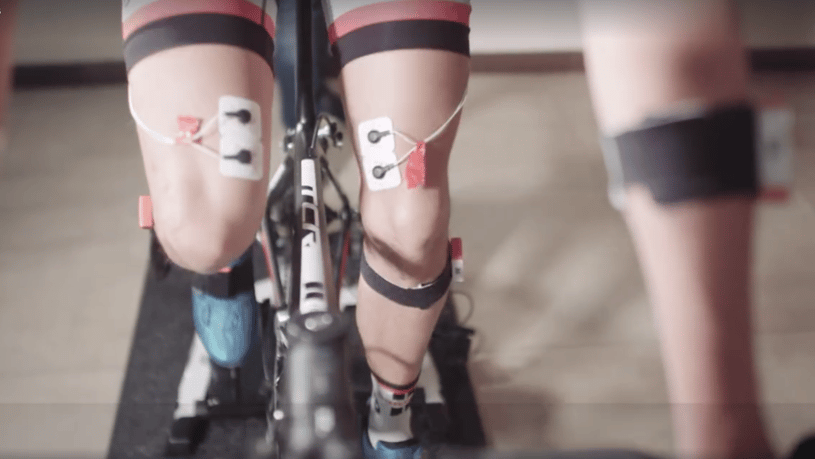 From one rider to many
Team Sunweb originally came to van den Hoven when one of their riders was struggling with persistent knee pain. This would keep coming back after several hours of continuous cycling. Routine medical scans could not diagnose the problem. Van den Hoven worked with Team Sunweb to develop and perfect the method. Now, motion capture, along with the muscle activation trackers, are used to measure the activity of the rider.
Ultimately, the detailed data provided insight into the specific issue plaguing the rider. Following an intensive recovery program, the cyclist is now pain-free. Team Sunweb saw the potential and benefits of OCON's Xsens-aided system. They therefore asked Van den Hoven's team to perform bike fittings for the entire Sunweb roster. The men, women, and developmental riders make a total of 48 riders.
Instant Xsens feedback
Van den Hoven accompanied the Sunweb team to their training camp in Spain. There, she spent two to three hours with each rider to ensure proper fits. "They all have two bikes, a road bike and a time trial bike, and we fit them all – so it's almost 100 bike fittings," she continues. None of the Team Sunweb cyclists thought of motion-capture suits for a bike fiting in the past, but they all enjoyed the experience.
The benefits are immediately clear to cyclists: real-time feedback from the Xsens' software allows Van den Hoven to visually demonstrate the benefits realized via seemingly tiny adjustments. The 3D angles of the ankles, knees, hips, and back are all analyzed with great accuracy and explained to the cyclists, who are naturally intrigued by the findings and potential benefits.
The riders are smart and curious, so they really want to know the how and the why of the process. With this type of bike fitting, you can really explain to them why you're doing certain adjustments to their bike. That's really attractive to them," says Van den Hoven. "Most of them have had previous bike fittings, but not all of them – and not like this."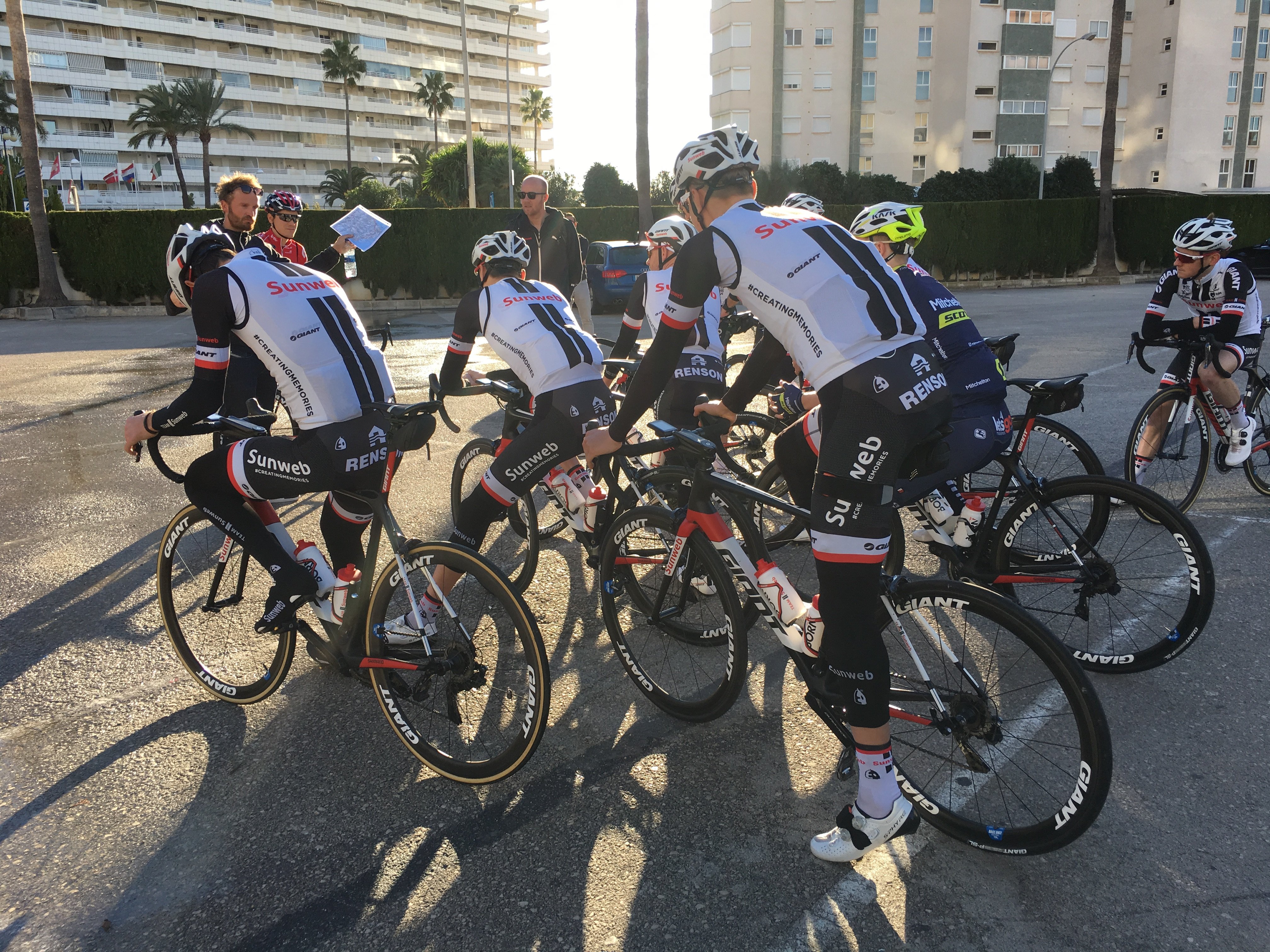 Beating back pain
OCON's method has notable advantages over established systems, such as the well-known Retül bike fit; the Xsens-driven approach provides bilateral data of the rider and also tracks hip movement. Additionally, the Xsens wireless suits and muscle activation trackers can be used for longer-duration measurements outside on natural terrain.
The Xsens-aided bike fittings are now offered to non-professional cyclists as well, although Van den Hoven suggests that more significant adjustments are often needed. However, even some proffesional riders need a big helping hand to find their ideal form and fit.
"One young Team Sunweb rider was sitting on the bike with a lot of back pain, and the motion capture data told us that he was sitting way too far to the back," she explains. Adjustments are often a matter of millimeters for professional cyclists, but not in this case: "With him, it was a change of 2.5 centimeters. He had accepted that his biking career would be marked by a lot of back pain, but thanks to Xsens, he finally got to ride without it."
Xsens motion capture pays off
"We started doing these bike fittings nearly two years ago. When Team Sunweb won the Giro d'Italia in 2017, that was the first year that we did the bike fittings," Van den Hoven says.
One session with OCON's bike fitting technique using Xsens technology can radically improve a professional cycling career. Additionally, Team Sunweb has been on the rise since adopting the method with OCON in 2016. The women's and men's team both hold the 2017 World Champion time trial title at the UCI Road World Championships. This year, Team Sunweb also won the team classification of the Ride London Classique with sprinter Coryn Rivera. Earlier this year Team Sunweb's Ruth Winder won the fifth stage of the Giro Rosa and Michael Matthews won the prologue of the Tour de Romandie. The most notable achievement this year was the second place for Team Sunweb's Tom Dumoulin in the Tour de France. And this was right after a great result in the Giro d'Italia for Team Sunweb with second and ninth place!
Are you interested in our solutions? Please click on the button below to contact us.