The University of Zagreb's Department, "Kinesiology of Sport," has been using motion capture as a means of obtaining expert sport-diagnostic analysis, tracking the movement of professional sports players in the field. We spoke to Dr. Tomislav Rupčić, Assistant Professor at the University's Faculty for Kinesiology, to discuss research conducted on alpine skiing and the advantages of taking motion analysis out of the lab, and onto the slopes. As one of the Heads of Laboratory, Tomislav has a laudable scientific background, having published over 40 papers and taken project lead on a scientific study researching the effects of the physiological load within kinematic parameters performed in basketball. With such a breadth of knowledge at his disposal, Dr. Rupčić deploys an expert insight into movement analysis.
Tomislav's initial project came as a result of a collaboration between the Croatian Basketball Federation and the Laboratory for Sports Games, Zagreb University. The data collected with Xsens MVN helped determine correct and incorrect patterns whilst players produced specific basketball movements. The research conducted allowed Dr. Rupčić to become more granular in his analysis.
"At first, we started with the MVN Awinda performing field-testing in basketball to determine which variables and data we can research and measure with the kinematic system. Later on, our research moved towards field-testing in specific conditions."
Exploring specific movements in basketball analysis opened up wider possibilities for kinematic measurements in other sports, with Dr. Rupčić's next endeavour focusing on skiing. Titled "Optimisation of motor knowledge learning processes in alpine skiing," Dr. Rupčić researched differences in kinematic parameters between the left and right ski turn on the slope, as well as a comparative study of a ski simulator and sharp turns in specific conditions.
"We first started a standardisation process of ski slopes for slalom and giant slalom races. All the tests were performed by the Olympic medal winner and former World Cup alpine ski racer, Ivica Kostelić. As a result of this project, we were able to create a biomechanical model of top-level skiers in slalom and giant slalom races."
By conducting research on different slalom turns during specific situations on the slope and via simulation in the laboratory, Dr. Rupčić was able to accurately measure angle values in the lower exertional range, including impact to the knees, ankles, and hips; key components to all turns on the slopes. This data can then be used as an essential component of injury prevention.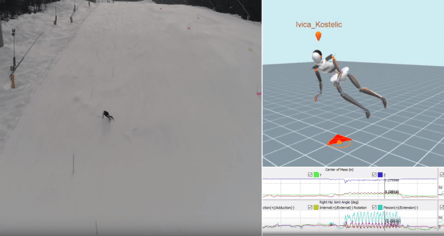 "On-body recording and non-invasive sensors provide the possibility to measure the kinematic parameters in situational conditions, whether on the ski slope or in a laboratory. The measured data is available for analysis immediately after the testing which speeds up our processes significantly."
Dr. Rupčić's research is set to expand beyond skiing and into other sports, using his findings as the groundwork for an improved kinematic analysis.
"We plan to continue developing specific tests and protocols in different sports, both individual and team based. Our next big project is a cooperation between the Laboratory for Sports Games and the Croatian Olympic Committee which is aimed at creating a specific battery of tests for each sport."
With Dr. Rupčić's venture reaching Olympic heights, motion capture research has the potential to grow within an even larger body of sports, reinforcing the technology's integral contribution to professional athlete performance.
Interested in our solutions? Please click on the button below to contact us.