MTi 100-series IMU helps Racelogic to achieve breakthrough with new VIPS system for tracking cars' motion accurately with no satellite signals.
The development and validation of new road vehicles and equipment calls for the precise testing of dynamic behavior including velocity, acceleration, deceleration and attitude. Tests of the safety and performance of new models are generally carried out on dedicated outdoor test tracks. Here, parameters such as acceleration, cornering speed and braking distances can be measured accurately under varied driving conditions.
Nearly all the world's top manufacturers of cars, and of components such as tires, include data acquisition systems supplied by UK technology pioneer Racelogic in their array of vehicle testing equipment. Racelogic's VBOX is the automotive industry's preferred data acquisition system for vehicle testing because of its outstanding performance: it logs at a frequency of 100 times a second the exact position of a test vehicle on the road to an accuracy of ±2cm. It achieves this remarkable accuracy by combining signals from multiple GNSS constellations, such as GPS and GLONASS, with inertial measurements and wheel speed data from the vehicle itself.
The inertial data – measurements in three dimensions of acceleration and of rate-of-turn – are obtained from the high-accuracy Xsens IMU (inertial measurement unit). Racelogic, a long-time customer of Xsens, relies on the MTi series of IMUs because they offer the very high accuracy that Racelogic requires, while being small, light, and easy to integrate into the sensor/receiver unit mounted on the roof of the vehicle under test.
Using sophisticated algorithms developed by Racelogic, the VBOX Data Logger base unit performs post-processing on the measurements recorded during a test run. The outputs from a VBOX IMU enable the VBOX data logger to apply error correction to the raw satellite positioning signals: it is the Racelogic software backed by the MTi series IMU's measurements which allow the system to achieve ±2cm position accuracy and help it to maintain the accuracy in GPS denied environments.
When a car manufacturer announces that a new model goes from 0mph to 60mph more quickly than its closest competitor, it relies on measurements from the VBOX to validate its claim. In the same way, when it tests the limits of a car's high-speed cornering, and the speed at which its tires lose grip, it is the VBOX which detects the first few centimeters of deviation as the rear wheels begin to slide. This is why the VBOX system's accuracy is so highly prized by the automotive industry.
Positioning with no satellite signal
The primary use case for the VBOX system is to support vehicle testing on outdoor test tracks. But some tests that car manufacturers want to perform are either difficult or impossible on an open, outdoor test track. Examples include:
Testing dynamic behavior when driving through a tunnel, or in other zones which have limited reception of satellite signals, such as urban canyons and in dense forest.
Testing the operation of park assist and other driver assistance systems in a multi-story car park or indoor test chamber
Tire testing on an ice rink
To meet this demand, Racelogic has developed a new indoor positioning system which enables the testing and validation of ADAS sensors, autonomous vehicles and vehicle dynamics indoors. Called the VBOX Indoor Positioning System (VIPS), the equipment achieves the same positional accuracy – ±2cm – as the standard VBOX system, without any satellite signal input. This accuracy is unprecedented in the high-precision world of automotive testing: even the best competing indoor positioning products on the market are only able to achieve accuracy of ±5cm.
As well as supporting any indoor test use case, the VIPS product also enables Racelogic to provide an integrated indoor/outdoor system for VBOX users. It is the world's first indoor positioning system to provide a seamless transition between GPS-based and indoor position measurement systems with no loss of accuracy.
IMU data ensure high accuracy
The technology which enables Racelogic to achieve such high positional accuracy when out of range of satellite positioning signals is similar in its operation to the outdoor system. But the VIPS system relies on an array of six or more Ultra-Wideband (UWB) static radio beacons mounted at intervals of around 50m to provide the raw position information. A 'Rover' sensor unit mounted on the roof of the vehicle under test receives the UWB signals from multiple beacons simultaneously. The Rover unit also contains an MTi-100 series IMU module from Xsens: this provides extremely accurate, synchronized acceleration and rate-of-turn measurements at an output data rate of up to 2kHz.
And as with satellite positioning signals, the VBOX Indoor Positioning System software uses the MTi 100-series module's acceleration and rate-of-turn data to perform error correction on the UWB signals. The combination of UWB data, IMU data and Racelogic's unique software produces the VIPS product's ±2cm accuracy on which automotive manufacturers rely.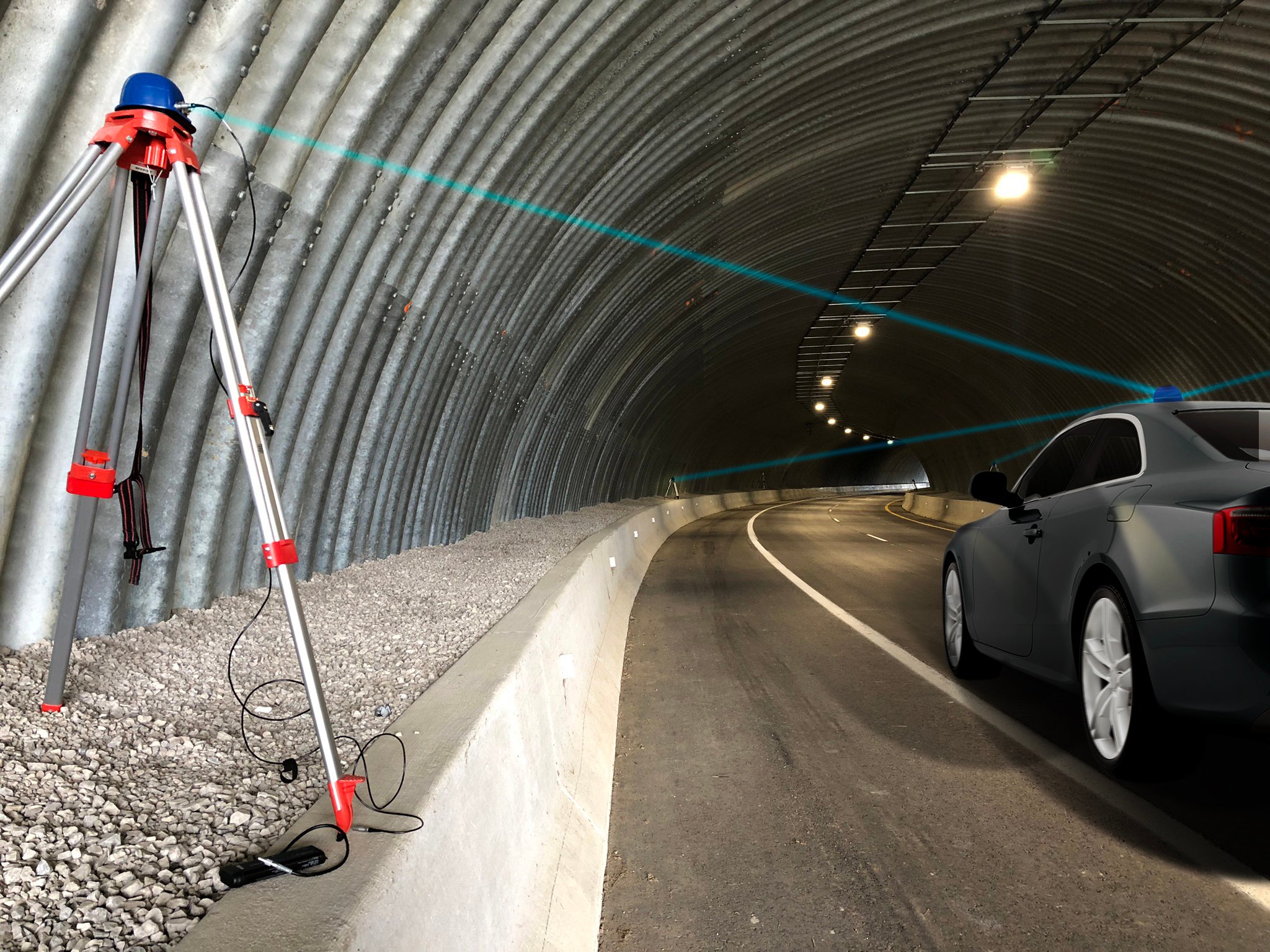 Flexible and scalable system
The UWB beacons used in the VIPS product may be battery-powered to allow for positioning on any surface. An installation can include up to 250 beacons, making the system scalable for coverage of a wide surface area. This scalability is particularly useful in applications such as underground mines or construction sites.
The VIPS equipment can measure vehicle velocity up to 270km/h. The accuracy of velocity measurements is ±0.1km/h.
Julian Thomas, Founder and Managing Director of Racelogic, said: 'The top priority for Racelogic in developing the VIPS solution was to achieve the industry's best guaranteed accuracy indoors, in any terrain and any driving conditions – customers have relied on Racelogic for superior accuracy ever since the launch of the VBOX data acquisition system in 2001.
'That's why we chose the MTi 100-series IMU from Xsens. Our evaluation showed it provided the most accurate inertial sensor data of any module in its class, enabling our VIPS solution to maintain guaranteed accuracy across the entire measured area.'
For more information about the Racelogic VIPS system, go to the VBOX Indoor Positioning website.