Mr. Go is a South Korean movie based on the comic "7th Baseball Club" by Heo Young-Man (1985). It's about a 15-year-old girl named Weiwei who is left all alone with her gorilla Ling Ling after her grandfather passes away in China. The gorilla Ling Ling was trained to play baseball and has developed remarkable hitting skills. A baseball agent from South Korea signs Ling Ling to play in the professional South Korean baseball league. Ling Ling quickly becomes a superstar in the baseball league.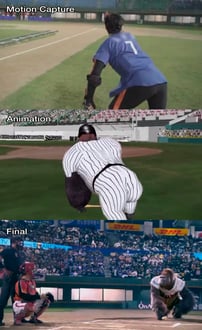 Xsens distributor Motion Technologies provided the motion capture services for Mr. Go. They used the Xsens MVN mocap suit for the movements of the gorilla Ling Ling. The MVN motion capture data was combined with key frame animation in the production fase. Professional dancer Heungrae Kim was the mocap actor for Mr. Go, he studied the movements of gorillas so he could do a live like performance on the set.
Making of Mr. Go
A co-production between South Korea and China and took 4 years of production, it was released simultaneously in both countries and later in the whole of Asia in 2013. Mr. Go is South Korea's first ever fully shot stereographic 3D film.