The Istituto Italiano di Tecnologia (IIT) HRI2 laboratory builds extensive research within the field of human-robot interaction and collaboration, analyzing the mechanics behind machines, people, and how the two can successfully operate in workplace environments. The laboratory's research program can be divided into two broad categories: modelling and analysis of human physical interaction behaviour, and human-robot planning and control.
The first line of research sets out to engineer robotic interfaces that operate practically with human motor-functions – the aim being to create a succinct balance between operators and robotics. The second focuses on enhancing human-robot environment interactions – improving the performance of physical tasks.
We spoke with Arash Ajoudani, Principal Investigator at IIT, to find out more about the laboratory's use of motion capture to enhance research into robotics.
Sharing space
To truly bridge the gap between humans and robots, HRI2 uses Xsens MVN Analyze to obtain the most intricate of human biomechanical behaviour: anticipate people's intentions and gather information from sensory systems such as gestures and forces performed during tasks.
"We use Xsens to get the kinematic data of posture and the movement of a person – the data feeds the processes behind the robot's behaviour. Using Xsens for robotic engineering can not only improve productivity, but also ergonomics and the comfort of an individual. If people can work more comfortably, their productivity will likely increase too. However, improving an individual's health and well-being is our main focus," exclaimed Arash.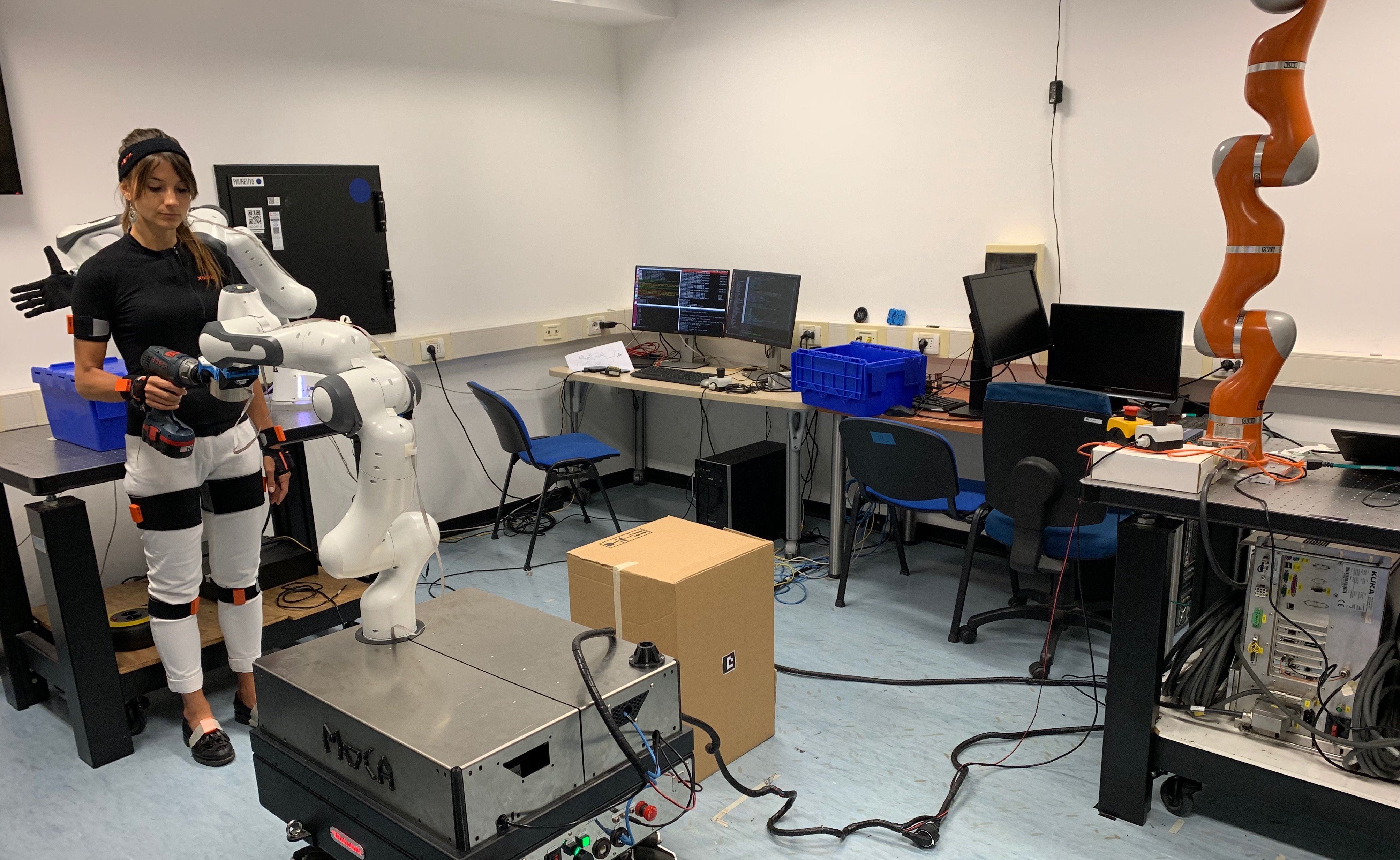 The laboratory has a strong focus on collaborative robotics: a generation of robotics designed to safely interact with humans. For instance, the robotics can be used to complete physically repetitive aspects of a job, with a human used for the roles that require higher complexity.
"We have redesigned robotics to make them lighter, understand impacts, and of course, not harm the human counterpart. A robot might be right next to you or in front of you whilst cooperating and sharing the space. They sometimes need to engage physically with hands and legs – it can range from humanoids to a single arm on a fixed table."
Human touch
When HRI2 develops collaborative robotic frameworks for use in industrial settings, the goal is efficiency. This differs from the requirements of a robot that's designed to support care for the elderly. For example, research has suggested that in this instance, robotics require a feeling of human expression that engages with an individual, all without reinforcing its mechanical nature. When producing robotics like this, HRI2 engineers the mechanics to be anthropomorphic in an attempt to avoid any shock or discomfort in the user. This may include slowing down the motion of the robot so that it moves cohesively with robot behaviour that can be perceived as sympathetic by humans.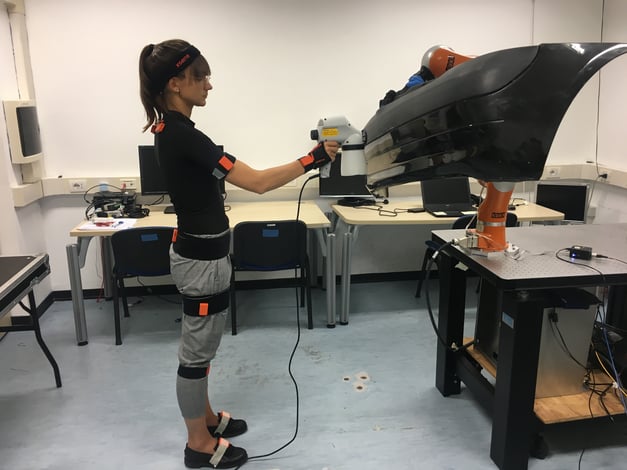 It's for this reason that inertial motion capture becomes invaluable to IIT with its out-of-lab versatility and accurate measurement of human exertion. The HRI2 Laboratory uses sensors that can be placed inside shoes to detect the levels of force. The team can then use AI algorithms to expand upon the levels of biomechanical data recorded, resulting in smart robotics systems that can be applied in a multitude of different situations.
"Xsens provides the means of getting kinematic information from joints and general human movements. It's very wearable, picks up subtleties in movement, it's portable, and it provides accurate posture information. We're approaching ergonomics from a dynamics point of view. Our algorithm might detect a high load on a shoulder, for instance, and then collaborative robots can help you improve your posture to complete tasks better and in a healthier way," said Arash.
Having previously used marker-based suits, the laboratory is well aware of the downsides of working with camera-based motion capture systems and the subsequent benefits inertial solutions can offer.
"You can't put cameras everywhere. Xsens has a low number of sensors needed and you don't have to wear the complete suit. From the moment we wear or setup to the moment we complete calibration, we're incredibly happy because it's fast – the data is there instantly."
Technological Growth
Having begun their research in 2016, the laboratory is still relatively young – however, they've seen sharp progress in technological innovation which can foster the wide-spread of collaborative robotic systems in industry.
"Back when I was completing my PhD and started working with collaboration robotics, the cost for machinery was as much as €100,000 – the same technology now can cost as little as €15,000. This is due to an increased understanding, reducing the cost needed to design both the software and hardware," exclaimed Arash.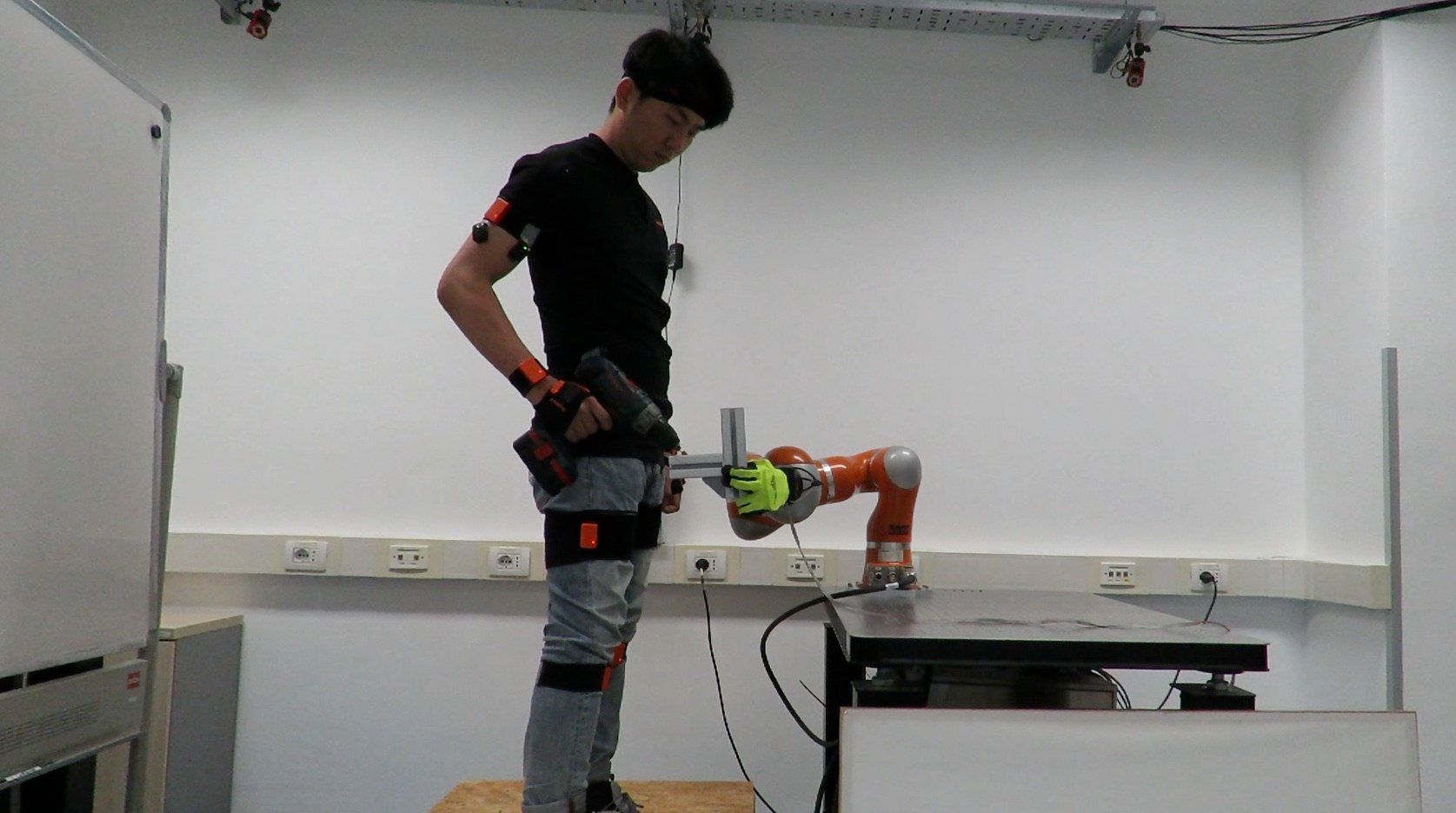 The rapid expansion in the availability of the technology has opened up a breadth of opportunities for the Laboratory to apply its expertise.
"We are working on several European and an Amazon Research projects to bring our solutions to a higher technology readiness level. We aim at integrating a new generation of mobile collaborative robotic systems in various industrial applications that range from agile production to logistics."
With a growing demand for ergonomically friendly work environments, the IIT HRI2 Lab has its eyes set on transforming collaboration robotics in the workplace, improving its technology with a fine-tuned set of biomechanical data.
Are you interested in our solutions? Please click on the button below to contact us.