Suppose you have ever been staying in a room on the upper floor of a hotel and felt like indulging in a late-night snack or drink, but resisted the urge because you could not face trailing all the way down to the vending machine in the lobby. In that case, you will appreciate the new JEEVES® room service robot from Germany-based Robotise.
The fully autonomous service robot, called JEEVES, is the world's first to comply with the European Union's safety regulations governing the operation of robots in public spaces. And to navigate its way around complex, crowded multi-storey buildings such as hotels and hospitals, it needs highly accurate, reliable 3D motion tracking data – a requirement met by the compact MTi-610 sensor from Movella.
Totally automated room service
The JEEVES service robot can move on-demand to any location in a building accessible by elevator. Its modular design is based on an efficient motor base, on which a custom combination of materials-handling containers is mounted. In a hotel scenario, the JEEVES platform can be stocked at its loading station with snacks, sweets, and drinks. In a hospital, it might carry medical consumables such as bandages, disinfectant wipes, and sterile gloves. In an office, the JEEVES robot can be loaded with items such as printer paper, pens, staples, and so on.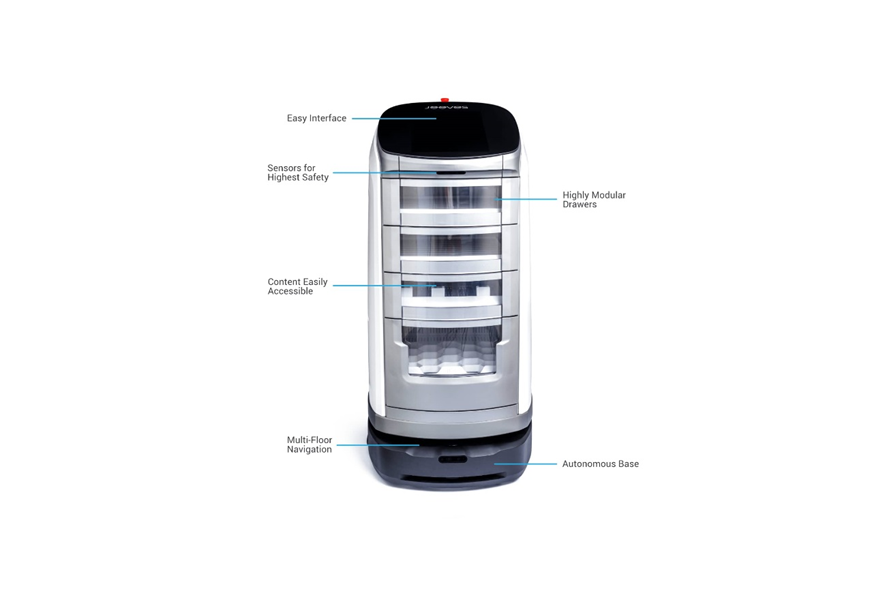 The JEEVES robot platform can be adapted for use in many different types of public spaces
Robotise's smart and innovative technology enables fully autonomous delivery of service orders –JEEVES navigates from the loading station to any programmed location on any floor. Its capabilities include summoning an elevator via the Robotise Operations Center (ROC), a cloud service that gives users the 24/7 remote monitoring capability of a fleet of JEEVES robots.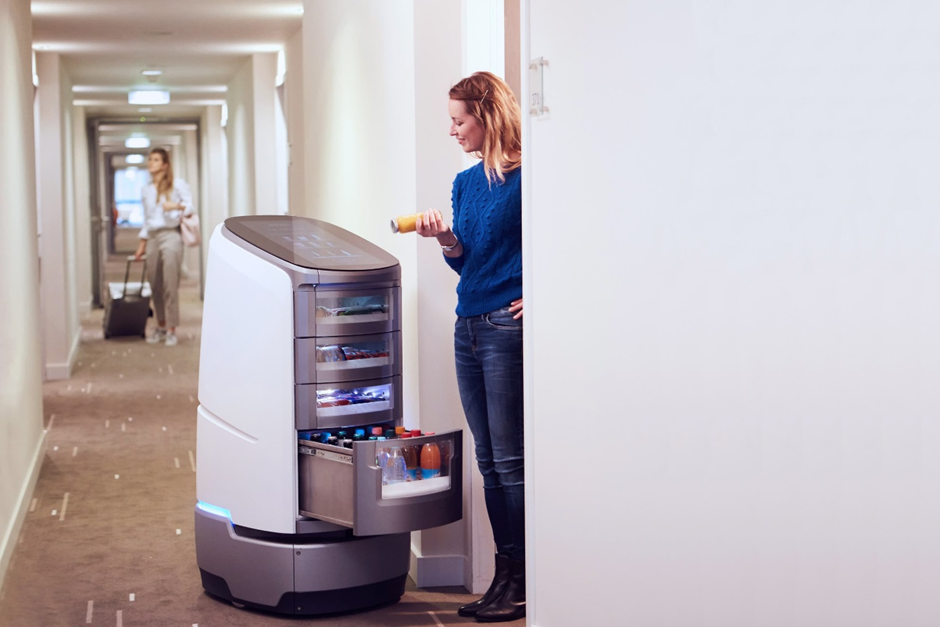 Fully automated room service, courtesy of the JEEVES robot
In the hospitality sector, automation with the JEEVES robot enables a hotel to provide 24/7 room service, even though night when a single member of staff might run the front desk. In a hospital, the JEEVES robot frees valuable medical staff from the time-consuming task of answering service, rather than medical, calls from the wards, allowing them to focus their time on direct patient care.
All of this is possible because of Robotise innovations which ensure that the JEEVES robot can navigate through complex, unstructured environments and detect obstacles and avoid collisions with people in its immediate environment.
Reliable navigation in 3D space
The key to the reliability of the JEEVES robot's fully autonomous navigation is a multi-mode sensor system, in which errors in one mode can be detected and corrected by another.
The primary method of navigation is a 3D 'depth map' derived from detailed LiDAR (infrared laser) scans of the entire building. These scans are tagged with essential location data such as room numbers and elevator doors.
The robot's LiDAR sensors scan the environment as it moves around, matching the scene to the reference database of depth maps to establish the location and to plot a route to the destination. The LiDAR sensors also detect objects such as people so that they can be safely avoided. In a multi-storey building, the ROC system connects to the elevator control software, telling the robot which floor it is on.
These systems, however, can on occasion provide faulty or no information – for instance, inside an elevator the robot might lose its Wi-Fi® connection to the ROC cloud, and so miss the elevator's signal telling it which floor it is on. In addition, some locations appear very similar – long, uniform hotel corridors are an example – which means the robot could potentially match its sensor data to the wrong map location on rare occasions. In crowded areas such as a hotel lobby, the LiDAR sensors' view of the area can be so obstructed that the robot cannot match any known location on equally rare occasions.
This is where the alternative navigation mode kicks in, using precise motion data from a Movella MTi-610 series inertial measurement unit (IMU). The IMU produces an accurate stream of acceleration and rate-of-turn data in real-time. Through a process of dead reckoning, the robot uses the MTi-610 sensor's outputs to calculate its movement in three dimensions from a known starting point.
By measuring vertical motion in this way, the JEEVES robot can accurately determine which floor it is on, even without a connection to the ROC cloud. And by measuring motion in the horizontal plane, the robot can track its approximate location continuously. This enables the robot to override an apparent LiDAR map match that is not consistent with the MTi-610 sensor's data and move temporarily by dead reckoning until it can match to the LiDAR depth map with a high degree of confidence.
A compact, low-power IMU
Robotise selected the Movella MTi-610 series because its features are particularly well suited to fully autonomous operation on battery power. Compact – the unit has a footprint of just 28mm x 31.5mm and weighs less than 10g – the MTi-610 enables accurate dead reckoning calculations thanks to its low noise density and low drift. Typical power consumption of less than 500mW also helps the JEEVES robot to maintain day-long operation on battery power.
Tobias Riphaus, the Robotic Engineer at Robotise, says that the MTi-610 is a fail-safe back-up to the sophisticated LiDAR system of indoor navigation. 'I have total confidence that the location information derived from the MTi-610 IMU is always going to be available to the JEEVES robot, and is going to be accurate enough to perform error correction on the LiDAR sensor. Robotise has tested the JEEVES platform exhaustively, in many different types of environments, and the MTi-610 sensor has never once let us down.'
Curious about our product?
You can get to know our products in the product selector.