For a detailed account of this work, see:
Carson, H.J., Collins, D., & Richards, J. (2014)
Intra-individual movement variability during skill transitions: a useful marker? European Journal of Sport Science. 14(4), 327-336. - Link
Introduction
At the University of Central Lancashire, Preston, United Kingdom, we proposed and investigated an association between a highly-skilled performer's psychological state and the amount of movement variability measured across trials when executing a motor skill. Specifically, we were interested in the variability as a consequence of performers focusing their attention on an individual component of a complex skill, compared to when performing automatically and, therefore, applying a low-level of conscious control. We predicted that when performing a skill automatically, there would be functional amount of movement variability demonstrated across each of the joints (although unique to each individual). However, when performers focus their attention on one aspect in isolation, that aspect would be constrained and reduce in variability across trials. Concurrently, we predicted the levels of variability across other non-related aspects of movement to the one being consciously controlled, would subsequently increase across trials.
This method of analysis can be used to identify what and how much a performer is consciously thinking about their skilled movement, therefore providing quantitative and graphical evidence to assess the extent of automaticity. The application of this work is crucial in domains whereby performers require subconscious control of motor skills (e.g., sport), or, when a practitioner is intentionally seeking to raise the awareness of a movement component to a performer.
Methods
To investigate this hypothesis, three golf professionals performed 10 full golf swings with a 7-iron under two different conditions (20 swings in total). The first condition required the execution of a "natural" technique and shot type (straight shot, draw shot (right to left ball flight curvature), or fade shot (left to right ball flight curvature) with the aim of hitting a target with maximum accuracy. This technique was confirmed by all as requiring little conscious control. In the second condition, golfers executed with an "unnatural" technique; the shot type found most challenging. In contrast to the previous condition, golfers were asked to identify a single aspect of technique (target variable) to be consciously controlled during the backswing, related to either the left or right upper-limbs, resulting in achievement of the different shot type. Once a kinaesthetic awareness for this "new move" was established, trials were performed with a heightened level of conscious control for this target variable. Immediately following each condition, golfers rated their overall level of conscious control during shot executions using the Rating Scale for Mental Effort (Zijlstra, 1993). The scale ranged from 0 (not at all effortful), to 75 (moderately effortful), and 150 (very effortful). For the second condition, this reflected the level of awareness directed towards the kinaesthetic cue (target variable).
To determine joint angle variability of the left and right upper-limbs (target and non-target variables), the Xsens MVN Analyze suit was used with a sampling rate of 120 Hz. Raw data were exported into c3d file format and analysed using six degrees of freedom modelling with Visual3D™ v4.89.0 software (C-Motion®Inc, Germantown, MD, USA).
Results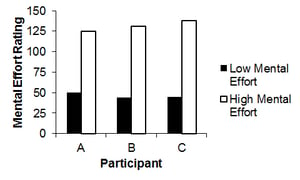 Mental effort ratings increased for all participants between the two conditions (low and high conscious control); results are presented in Figure 1. Movement variability showed a decrease in the right elbow (target variable) for all participants during the second condition, where there was an explicit focus on the kinaesthesia of the right arm (see Figure 2 left column). In association with directing attention to this unilateral target variable, and as predicted, movement variability increased for left upper-limb joints (see Figure 2 right column). Changes in kinematic joint angles are presented in Figure 3, evidencing that changes intended in the second condition were actually achieved.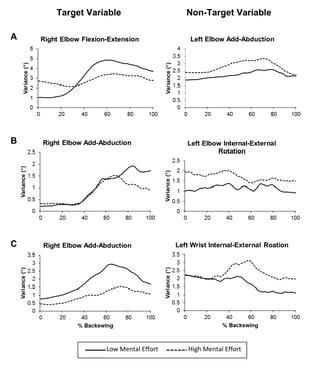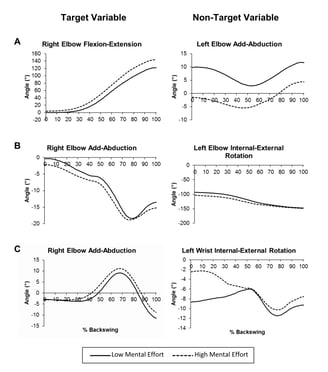 Conclusions
The intra-individual data provide strong evidence for an association between movement variability and the intensity and direction of attentional focus when executing goal-directed behaviours. Therefore, when measured in tandem, a practitioner may be better informed about a performer's level of automaticity and readiness to perform under conditions of pressure. In addition, such a "tool" could augment our ability to evaluate different learning and practice environments. Of particular interest to our current research, is the ability to monitor cognition and motor skill stability during the processes of technical refinement to an already well-established, long practised, and automatic skill (cf. Carson & Collins, 2011).
References
Carson, H.J., & Collins, D. (2011). Refining and regaining skills in fixation/diversification stage performers: The Five-A Model. International Review of Sport & Exercise Psychology, 4(2), 146-167.
Zijlstra, F. R. H. (1993). Efficiency in work behaviour: A design approach for modern tools. Delft: Delft University Press.
Team
Howie Carson (lead researcher)
Institute of Coaching and Performance
University of Central Lancashire
Preston
England
E: hcarson1@uclan.ac.uk
Professor Dave Collins
Institute of Coaching and Performance
University of Central Lancashire
Preston
England
E: djcollins@uclan.ac.uk
Professor Jim Richards
School of Sport, Tourism & the Outdoors
University of Central Lancashire
Preston
England
E: jrichards@uclan.ac.uk
Are you interested our solutions? Please click on the button below to contact us.