EA's upcoming FIFA 22 has taken the video game world by storm with the announcement of a revolutionary new animation system called Hypermotion. Tapping into the power of Xsens MVN Animate, Hypermotion uses highly accurate motion data captured from a real 11 v 11 football match, processing that information with EA's proprietary machine learning algorithms and driving the animation of the in-game players.
Xsens' precise motion capture technology, already used by professional football clubs to analyze player performance, is now breathing life into realistic, playable football stars in EA Sports' latest installment of the FIFA franchise. Some of the game's key developers went in-depth on Hypermotion and Xsens motion capture in this recent video:
Hypermotion – next-gen football animation
To obtain the most realistic movements and data possible, the developers at EA had 22 global superstar players wear Xsens motion capture suits to conduct a full-scale 11 a side football match. In previous FIFA installments, motion capture data was obtained inside dedicated performance capture studios at a smaller scale, focusing on individual skills and specific phases of play. But with unrealistic scenarios set in an artificial environment, the data captured wasn't representative of a professional player's intricate movements.
Gabe Zaro, FIFA Global Community Manager, said "When you're in a studio with multiple cameras on one person, it's much harder to be natural when compared to a field with 22 people."
Xsens' motion sensors are designed to work anywhere with precision, negating the need for a dedicated studio space or optical camera setup. This made them perfect for capturing full-body motion data outside on a football field., with both teams tracked simultaneously – this was the first time FIFA had completed realistic motion capture at this scale, capturing the intricate movements of some of the most well-known players on the planet.
The flexibility of the Xsens suits allowed the players to move freely and unencumbered, relaxing into the different phases of play as if they were training in regular football clothing. This means all of the captured movements were both accurate and completely natural, providing a 'pitch' perfect representation. It's the smaller details that often go unnoticed and are difficult to choreograph, such as the physical hand signals between players and the subtle changes in direction and speed.
With Xsens' suits tracking every movement, the realistic environment resulted in data that matched the fluidity and physicality of a professional football match, as well as an accurate representation of the players' emotions as they became truly invested in the game.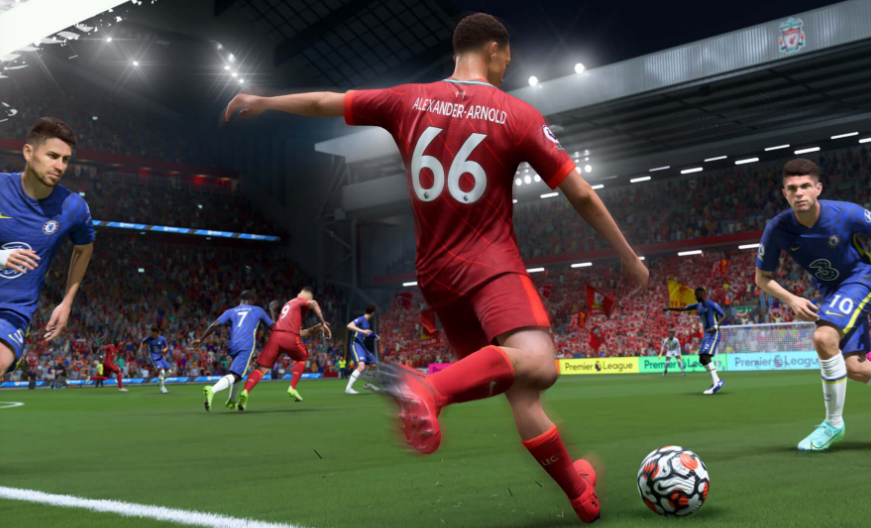 Ball control and A.I. intelligence
The body of motion data captured by Xsens and used by the machine learning algorithms also contributed to overall team and individual intelligence built into the video game – there were 8.7 million frames captured from the 11 a side mocap shoot. This high level of data helped to generate in-game animations in real-time as an in-game match progresses, drawing from a much larger pool of potential animations. For example, while two players are in a kinetic air battle over the ball, their movements are synchronized while colliding to create a fully natural animation, enhancing the gaming experience for the player.
In total, 4000 new animations have been added to FIFA 22, three times more than the previous installments, with 400 of these designed just for controlling the ball alone.
Sam Rivera, Lead Gameplay Producer, said, "Players can be seen alternating between long steps and short steps to get into the correct position for a pass, shot, or ball control." He continued, "You (players) can control the ball on your chest and then onto your foot in one fluid animation. Any time the ball is in the air or bouncing, there can be a soft touch and turn and another touch."
FIFA 22 has also introduced Tactical A.I., allowing groups of players to act cooperatively when attacking and defending. While attacking, the A.I. players can make six times more movement decisions than has been possible in previous FIFA games, tapping into the large body of motion capture data with machine learning processing. Real-life tactics, such as zonal marking during defending, can now also be seen in-game, making it even more realistic than ever before.
Local positioning system for motion capture (LPS)
Additionally, EA integrated a local positioning system using LPS beacons placed around the stadium. These linked with motion sensors attached to each player's chest, providing the exact positioning of each player while Xsens was capturing their motion. This is a great example of the adaptability of Xsens' system, showing how easily developers can combine the precise, motion data with other streams of data capture in real environments.
Xsens suits capture the most realistic and precise motion data possible in real environments, taking next-gen video game animation to a new level of realism. Get in touch with our team of experts motion capture today and discover how you can use Xsens MVN Animate for your in-game animation.
Experience the quality of Xsens' Motion Capture data
Are you actively looking for a motion capture system and want to compare data? Download Xsens motion capture data files to convince you about the quality of our data.