Pro-F is a professional performance center providing expert physical care to general patients and athletes across a wide range of sports. The center houses an incredible team of physical practitioners and applies cutting-edge technology and techniques to enhance its practice.
Pro-F has been using Xsens' precise motion capture technology to track the accurate full-body movements of its patients, radically improving the depth of analysis possible and transforming the performance and rehabilitation of athletes. Recently, Pro-F implemented our newly released MVN Reports. This new feature is made possible with Xsens' motion capture platform, Xsens MotionCloud, and provides Xsens users with the ability to see different analysis results presented in user-friendly graphs and tables.
We spoke with Ralph Speerstra, Sports Physical Therapist at Pro-F, to find out how MVN Reports has transformed the center's approach to patient care.
Watch the MVN Reports customer case with Pro-F:
Patient-centered care
Pro-F's practice is situated firmly around the care of its patients. To ensure this philosophy is carried out to its fullest, Pro-F continually adapts its practice by applying new methods and technologies that enhance rehabilitation and performance. This is why Pro-F started using MVN Analyze and Xsens suits in 2020 to conduct gait analysis and HOP testing.
But with a patient-led ethos driving Pro-F's practice, time spent analyzing data is time lost on direct care. This all changed with the introduction of MVN Reports, offering Ralph and Pro-F an opportunity to improve both the accuracy of their analysis and the speed at which they can provide patient feedback.
Xsens MVN Reports instantly processes and presents data from the analysis in easy-to-read tables, graphs, and spreadsheets, as well as in the form of an Xsens avatar performing the exact movements of the patient. This allows Ralph and his colleagues to provide a patient with instant feedback during a session, using the visual aids and data to explain their movement patterns in-depth.
Ralph said, "When patients are using Xsens, they are enthusiastic and it's incredible for them to see themselves as an avatar on the screen. And that's the fun part of it, but they also show enthusiasm because of the fact that they can see tangible insights into how they are walking. If they see a flaw, they see it on the screen, and this acknowledgment helps to set up goals and get motivated in order to retest and spot the improvement."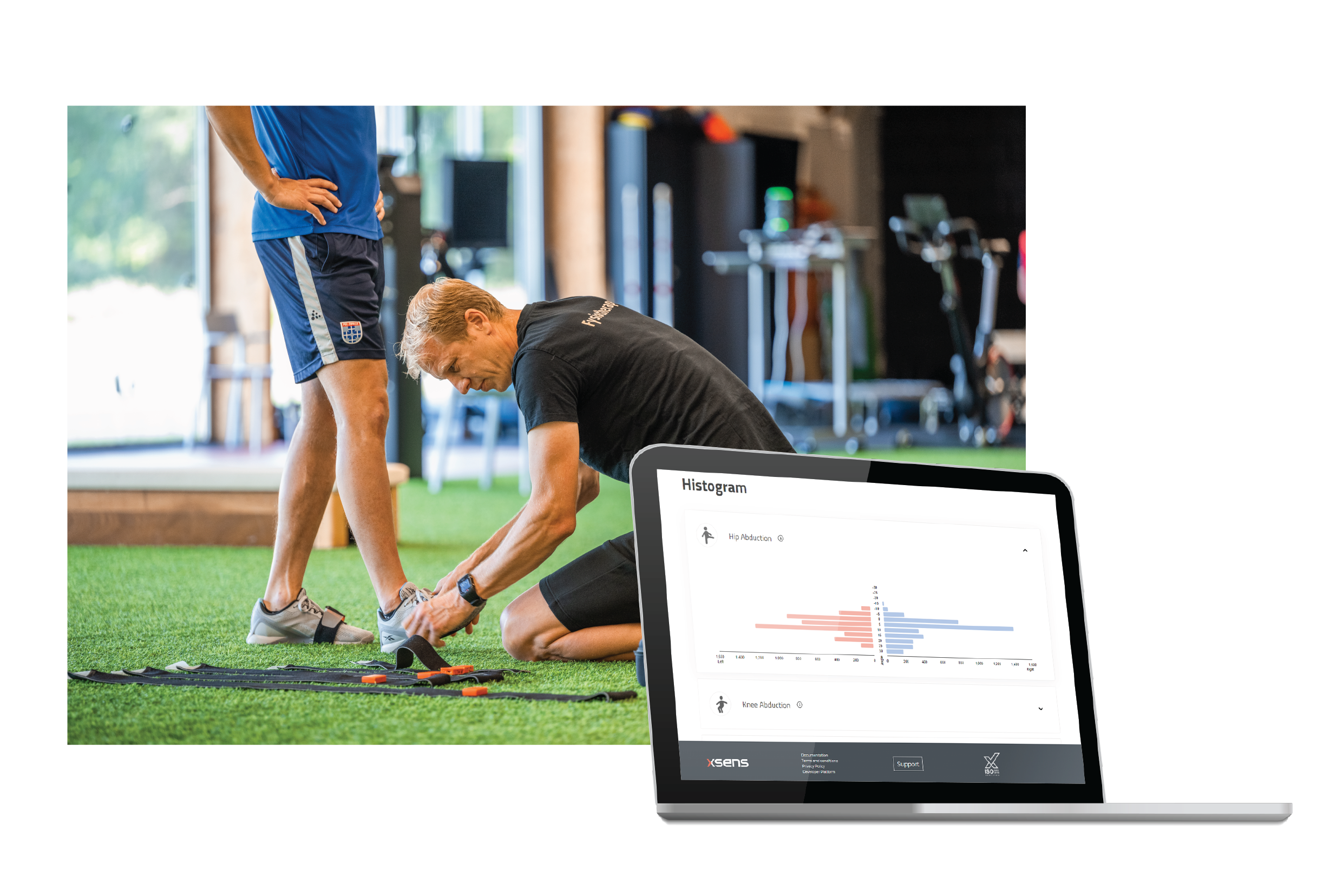 Easy to use
Until now, completing a gait analysis required technical expertise in data scripting and reporting, often unavailable to specialists in physical health care due to time. The setup of the MVN Awinda system with MVN Reports is fast and easy.
Ralph said, "You don't have to have a master's degree in order to set up the system. It's quite straightforward, with just a couple of tutorials."
Speed and accuracy
After the patient has put on the sensors, Ralph has them set up instantly, completing a Gait Analysis Report using Xsens MotionCloud in as little as 15 minutes. MotionCloud is Xsens' new motion capture platform, processing large bodies of motion data without the need for a powerful on-premises computer or laptop. This significantly speeds up the analysis process but doesn't compromise on data quality – an integral factor in Pro-F's adoption of MVN Reports.
By looking at the Gait Analysis Report, Ralph can select different angles and see the different planes – such as the frontal or sagittal plane – and observe how a knee or an ankle moves. With such an intricate body of data available so quickly, Ralph is able to provide a high level of feedback that isn't possible through observation alone.
By seeing and analyzing a patient consistently across multiple appointments, Ralph can then harvest this set of data as a benchmark, setting long-term goals for a patient's health and fitness goals. Both improvements in physical health and potential deterioration through injury can be tracked and logged to improve the lasting quality of the physical care provided by Pro-F. This approach to care is a perfect solution for athletes and patients recovering from injury and looking to enhance their performance capabilities.
All of this is made possible by the clear and careful presentation of the data from Xsens MVN in a format accessible to professionals working in physical health and sports. It works so well that Ralph and Pro-F have retired video analysis and now rely solely on the accurate information presented in Xsens MVN Reports.


Book an MVN Reports Demo
With MVN Reports you can easily generate automated reports for Health, Ergonomics, and Sports. Powered by the new Xsens MotionCloud platform, MVN Reports instantly present complex movement data in an accessible, easy-to-read report. Book a demo with one of our specialists to get a better understanding of what MVN Reports can mean for you.