Leo Stam, managing director of marine technology manufacturer Hydrosta of Zwartsluis in The Netherlands, is proof that a combination of a sense of curiosity and profound knowledge of customer needs can lead to exciting innovations. The profound knowledge is born of decades of service to the thriving Dutch boat manufacturing and servicing industry. Hydrosta was actually founded in 1976 by Leo Stam's father, who put part of his family name into the name of his new marine propulsion systems company.
Hydrosta grew to become The Netherlands' leading supplier of hydraulics propulsion and steering systems to boatyards in its own country and beyond, its success buoyed by the company's willingness to share with all customers its engineering expertise and its experience of implementing hydraulics technology in marine applications.
Leo Stam's work supporting boatyards in hundreds of builds led him to a new insight. Semiconductor technology had already transformed the computing industry: data processing capability which was once found only in huge mainframes run by large organizations was by the 1990s on desks in offices and in homes throughout the world in small personal computers. Leo Stam's curiosity was piqued: could the auto-pilot systems found only in huge commercial ships such as cruise liners and oil tankers be miniaturized as well as made affordable if they were based on semiconductor technology, he wondered?
His research led him to the Xsens range of solid-state (semiconductor-based) motion sensors, which are now at the heart of Hydrosta's NAVIO Autopilot product, a Dynamic Positioning System (DPS) for small and medium-sized boats.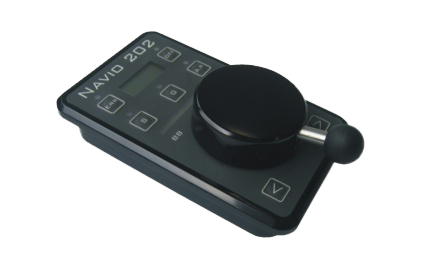 The NAVIO Autopilot control switch
Tiny sensor produces accurate heading and inertial measurements
When Leo Stam started developing the NAVIO product, the auto-pilot feature was only found in large, normally sea-going vessels. It depended on a mechanical gyroscope, the main element of which was a large flywheel. This type of device was far too large and heavy to be used in the 10m-25m boats which Hydrosta's customers build.
The Xsens family of industrial Motion Trackers (MTis) offered the perfect alternative. Xsens MTis integrate a three-axis accelerometer, gyroscope and magnetometer plus a barometer into a single small, light package. Today, Hydrosta uses the MTi-670 in its NAVIO Auto-Pilot: the MTi-670, an Inertial Navigation System (INS) with an interface to an external GNSS satellite positioning receiver, measures just 32mm x 28mm x 13mm (L x W x H).
In the NAVIO Autopilot DPS, the MTi-670 provides a stream of accurate data about the vessel's heading and velocity, as well as position data that is generated by the external GNSS receiver and filtered through sensor fusion with the IMU data. The MTi-670's outputs are used by the intelligent NAVIO controller for error correction and stabilization of the GNSS receiver's outputs, and particularly to smooth and correct the heading information derived from the satellite positioning signals.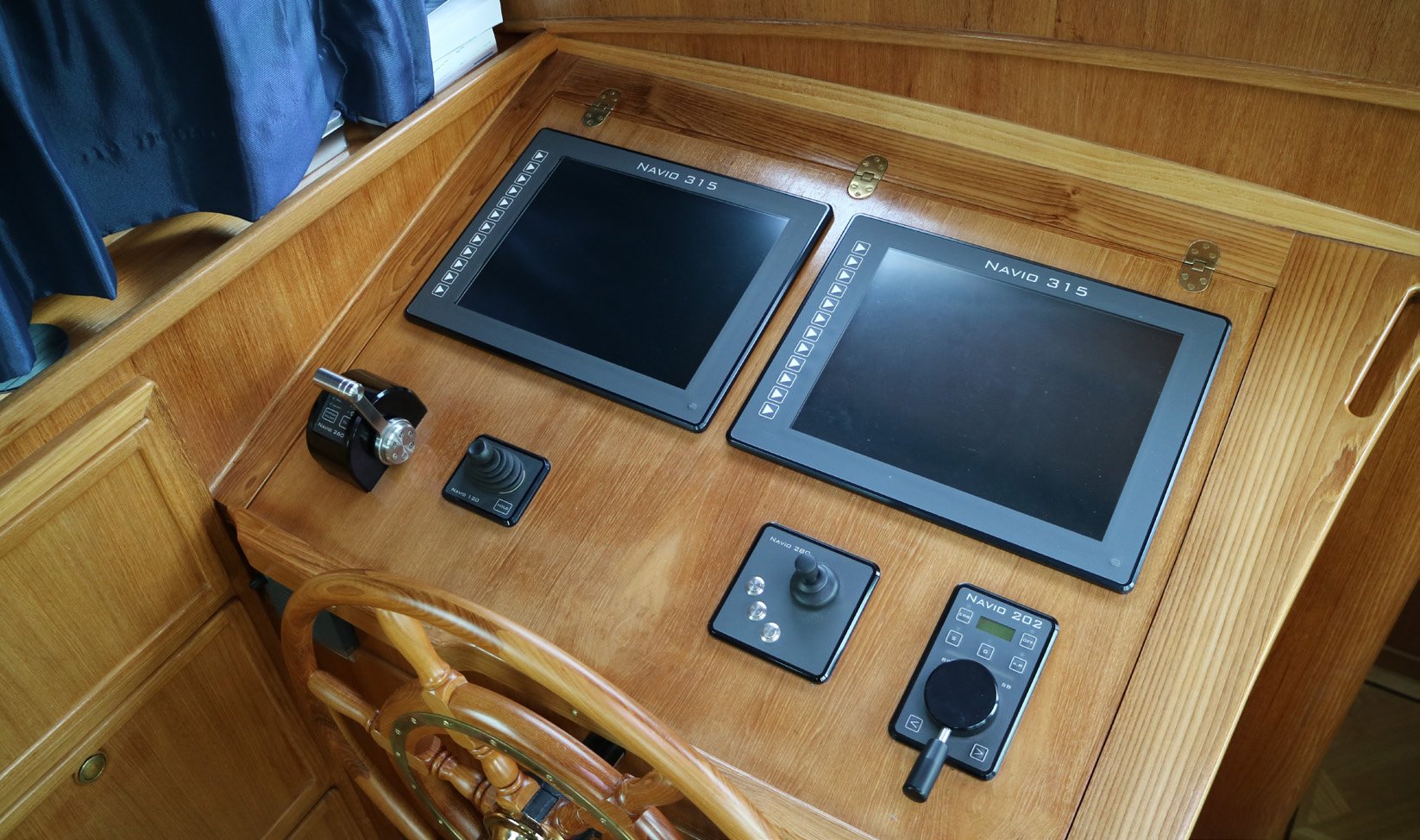 The NAVIO Autopilot unit mounted in a cockpit
Because the MTi-670 also provides inertial navigation outputs, the NAVIO Auto-Pilot system can use it to maintain steering by dead reckoning when a GNSS signal is unavailable, for instance when sailing under a bridge.
Finally, the MTi-670's accurate accelerometer and gyroscope outputs enable precise stabilization of the vessel when the NAVIO is operated in station-keeping mode.
Leo Stam says: 'The skipper of a small patrol boat is no different to the captain of a huge supertanker: they want navigation and steering of the boat to be easy, convenient and accurate. Before we created the NAVIO system, that was not possible in patrol boats, leisure boats and the other types of smaller vessels that were already using Hydrosta propulsion systems. The NAVIO system of intelligent controls really revolutionized the market for smaller vessels, and it was only possible because orientation and speed could for the first time be measured by a tiny electronic sensor. So it is thanks to Xsens and its MTi-Series of motion sensors that we were able to create this new market for auto-pilot systems in small boats. And I'm happy to say that still, years after the first NAVIO Autopilot product was introduced, we are using an Xsens MTi-Series motion sensor to provide the vital pitch, roll, yaw and velocity data which the navigation system relies on.'
To find out more about Hydrosta's NAVIO range of intelligent controls for boats, go to www.hydrosta.nl.
Choosing your product
Want to know the right inertial measurement unit for your application? Try our recommendation tool and find out what MTi you need by answering just 3 questions.