Congratulations to the team of The Illusionist on winning the ACE of M.I.C.E. award for the 'Best use of Technology' and two Platinum Awards: Use of Technology and Interactive Brand Experience - from the Hermes Creative Awards 2018.
The Illusionist is a new generation event agency, gathering young professionals of design, production and operation in one multi-disciplinary body. They work on a wide range of projects from corporate events to concerts and from video mapping shows to films and animations. When it comes to motion capture, Xsens MVN is their system of choice.
Timeaware offers comprehensive services for short term virtual production by combining motion capture services with modelling, rigging and developer capabilities. They have a lot of experience using the Xsens MVN motion capture system. An on-demand motion capture team can have far-reaching applications. Timeaware is called in to tackle anything from advertisements, to film, live shows and often virtual reality. Their clients range from small startups, to big VFX houses, and even high profile sporting institutions; including work for The Mill, Psyop, National Geographic and the NFL.
The Illusionist
In fact, the applications for inertial technology can be so far-reaching and futuristic that The Illusionist event agency recently tackled the capability for holographic projection, in partnership with Timeaware.
Called out to the buzzing Istanbul, Timeaware got to work for a live event of Arçelik, a well known household appliances brand from Turkey. They were tasked with driving a character live on stage, to speak with a famous Turkish comedian and the CEO of Arcelik, as if the hologram were an actual person. All this was achieved by combining Xsens' real-time tracking with Dynamixyz's facial capture headset – on an extremely tight deadline.
Provided with a few videos to work from and a character model, Timeaware quickly got to work. The three-man team needed to rig, skin and integrate this character into Unity, all to make it move for the live performance, in less than a week.
"The challenging part was it all had to be ready just four or five days after the initial contact," recalls Ivo Slivkov, managing partner at Timeaware. "There was no formal brief – the client wasn't even sure if it was possible at first!"
"Working with the MVN system was a life-saver. If you know what you're doing with Xsens, then you can get results very, very, very fast."

Ivo Slivkov
Real-time motion capture demos are a high-risk, high-reward venture. When driving a character live, especially a holographic projection, there can be no mistakes. Long battery life was crucial in this case, as the character was brought in on stage between other parts of the show. The comfortable and non-obtrusive lycra design as well as the small size of the trackers was also a huge factor for the top performance of the actor, who had to endure prolonged periods of waiting with all the gear on him. Impressed with Xsens' capability for smooth real-time feedback, the client decided to purchase two MVN systems, to be kept on-hand for future events.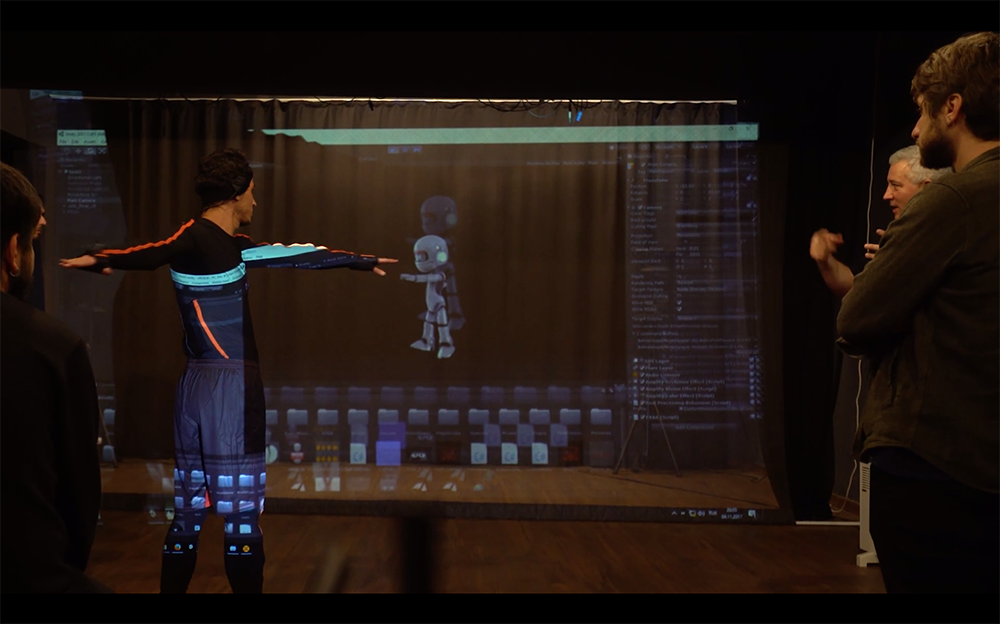 "We're actively pushing clients to get the MVN system if they create lots of animations in-house," says Ivo. "It's easy to learn, with a fast turnaround and you can go everywhere – you're not limited to a confined space. The resulting data is incredibly clean. Part of my job these days is setting up connections with the Xsens team and helping clients learn."
Mocap on-demand
Timeaware provides clients with a full arsenal of mocap tools and manpower, tackling standalone or short-term projects, without the client having to invest in expensive technologies or train dedicated personnel.
"We do not rent hardware. We rent our knowledge and experience with Xsens technology," says Ivo. "We know the Xsens MVN system back-to-front and take it everywhere, allowing us to record motion data on-location, all around the world."
There is a definite demand for ad hoc motion capture, especially as the creative production industry becomes more and more globalised. As pipelines move through previs, shoots, post and demos, any single project could be passed from country to country.
"We see the benefit of working with inertial systems, like Xsens, because it's portable and very fast at acquiring data," confirms Ivo. "There are no complicated setups, that take hours to achieve, confined stages or transportation hassle."
For low budget clients, Timeaware have even introduced a new service called 'Remote Mocap'. Motion data is streamed wirelessly from the Timeaware office to a client's computer, no matter where they are based. Clients can then watch the performance in real time and direct actors during the shoot, eliminating investment in plane tickets, hotels and time on set. Yet, the client still has full control over the shoot and creative direction.
"A lot of our work is based around remote mocap now – I sometimes feel sorry that I cannot stay for another few days on-location," says Ivo.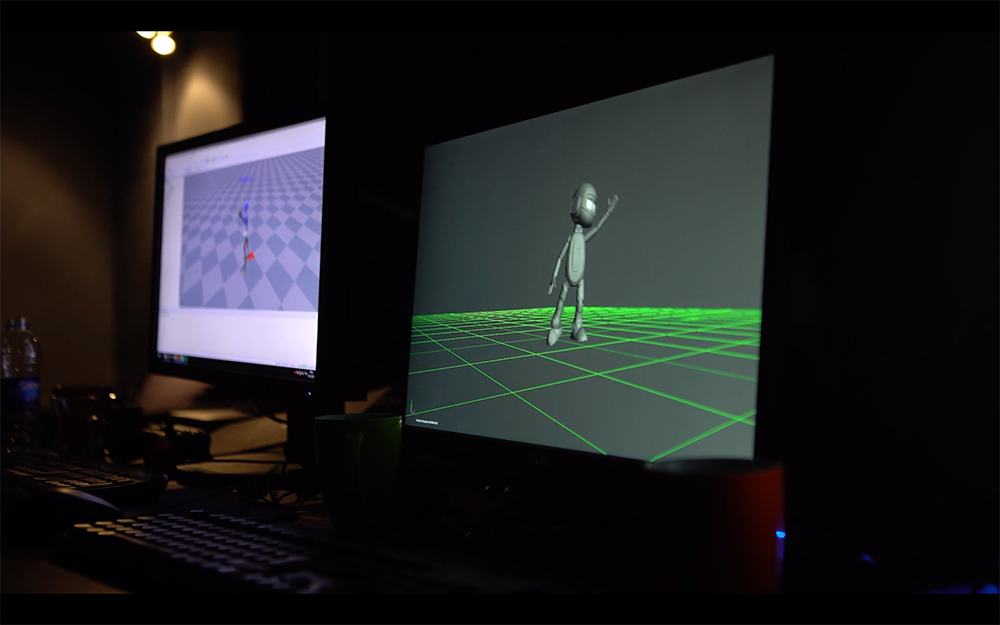 A self-reliant toolkit
In general, Xsens' MVN software has one of the best human body solvers in the industry. The FBX export has a 23 segment joint hierarchy clean of gimbal locks, ready to be loaded on the character. FBX goes into most modern 3D packages available on the market today.
"Sometimes, a client will ask for different formats like BVH or even C3D – the optical marker cloud. Xsens' MVN software exports these natively as well. It's just a few clicks away," says Ivo.
Timeaware itself has developed a number of in-house tools to automate their exporting and retargeting process. Usually files are delivered to the client a couple of hours after the mocap session.
"In the end, everything needs to be fast," concludes Ivo. "We're working to tighter and tighter turnovers, especially in the advertising industry. Xsens is a huge help with speed, both on set and in post."
Where do we go from here?
Inertial motion capture systems continue to advance. In November 2017, Xsens released their new software MVN Animate and Analyze. It remedies several industry-wide issues, such as magnetic distortion, that has restricted virtual production setups for a long time. Studios can now enjoy movement capture in any environment – from skydiving to cycling, and beyond.
"Xsens is a company that innovates and doesn't stop – so things will only get better," says Ivo. "It's one thing talking with Xsens and discussing upcoming changes, suggesting what can be improved. It's a whole different experience when you can work with the new system under pressure. Everything is getting easier and more accurate – the software was completely reset from scratch."
Are you interested our solutions? Please click on the button below to contact us.