Aerial gyrostabilized gimbals are extremely complex and costly pieces of gear.
Gyron Systems International, Ltd was formed over 30 years ago by renowned Aerial Director Dan Wolfe, specifically to build the finest, most robust and user friendly aerial gimbal on the planet. You can read about the full history of this quest here). Dan Wolfe is a creative guy, not an engineer. He set out to bring together the most talented engineers and technical problem solvers the industry had to offer. Almost a decade into the process the team accomplished their initial goal and gave birth to the Gyron Model 935.
After introducing the Gyron Model 935, aerial services provider 'Goodyear blimp operations' soon upgraded to Gyron's for their entire fleet of airships. Many competitors have come and gone, but to this day nothing even comes close to matching the quality, reliability, stability, extreme long-lens capability and creative latitude of Gyron.
To enable maximum creative latitude Dan Wolfe pushed the engineers for a full 176 degrees of ultra-smooth, unobstructed horizon roll capability. Because of this virtually unlimited gyrostabilized roll capability the only missing control element was being able to capture a dead locked-off perfectly level horizon. This was frustrating, especially to the high-end DP's making those magnificent images for the "Big Screen". That's where the Xsens MTi-G-700 came in.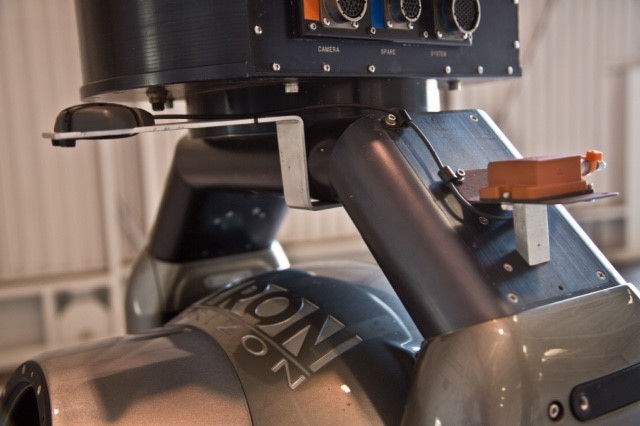 Now the Motion Picture Industry gets the absolute best of the best. Gyron, joined by Controlled Dynamics, developed the industry acknowledged best horizon lock feature of any gyrostabilized gimbal. Now the Gyron is capable of rolling extremely smoothly, in it's complete 176 degrees of freedom and then, with the push of a button on the control desk, the Xsens MTi-G-700 delivers it's powerful electronic wizardry to instantly hold a rock solid perfect horizon no matter what the helicopter, airplane (or whatever platform) does in the sky or on the ground or water. The new gimbal is so good that we decided to re-brand the new Xsens equipped unit - The Gyron "HORIZON."
Check out the latest Vectorvision Digital Cinema Demo reel here:
See more "Demo Reels" for examples of the Gyron at work.
See some of Wolfe Air's in-house aerial platforms including Learjet, Twin-Cessna and Helicopters.