Fast and easy to use, Kaarta products open up hundreds of new uses for indoor and outdoor surveys

That most traditional of surveying instruments, the tripod-mount theodolite, had its first recorded use in the 16th century. It is remarkable that surveyors still use theodolites for indoor and outdoor topographical surveys. They do so because of the precision and accuracy of the mapping data that a skilled surveyor can capture with the instrument.
As in so many other fields, however, digital technology promises to provide a faster, easier, more flexible way to create 3D maps of spaces such as buildings, roadways or forests. And at the forefront of the digital technology revolution in 3D mapping is US-based Kaarta.
Ideal for capturing indoor and tight, complex spaces, Kaarta Contour handheld 3D scanner is based on a sophisticated combination of high-grade sensors, including lidar (light detection and ranging), a high-resolution color camera, a feature tracking camera and an MTi-600 series inertial measurement unit from Xsens. At Contour's heart is Kaarta's proprietary data-processing software: Kaarta Engine is a set of patent-pending mapping and localization algorithms which transform the discrete sensor inputs into highly accurate and robust 3D maps.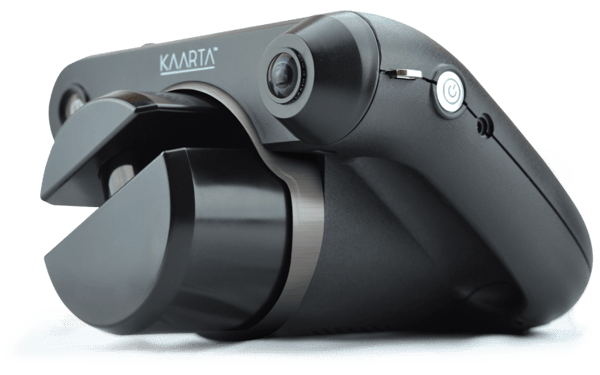 Kaarta Contour handheld 3D scanner
Thanks to this sophisticated mobile technology, users can capture detailed, accurate 3D scans of spaces such as commercial office spaces or construction projects in a small fraction of the time it would take when using conventional stationary scanning equipment. Performing a scan is as simple as walking around the space with the guidance of the scanner itself, providing far greater coverage of all angles of the space, with no special surveying skills required.
Kaarta Engine also provides the software intelligence at the heart of Stencil, another 3D mapping instrument from Kaarta, which also includes an MTi-600 Series module from Xsens. Featuring a longer range, higher density, and suitable for mounting on a vehicle, drone or robot, Stencil produces even more detailed and accurate 3D maps than Contour, and is used for capturing a broad range of environments such as roadways, large construction sites, mines, forests, archaeological sites and more.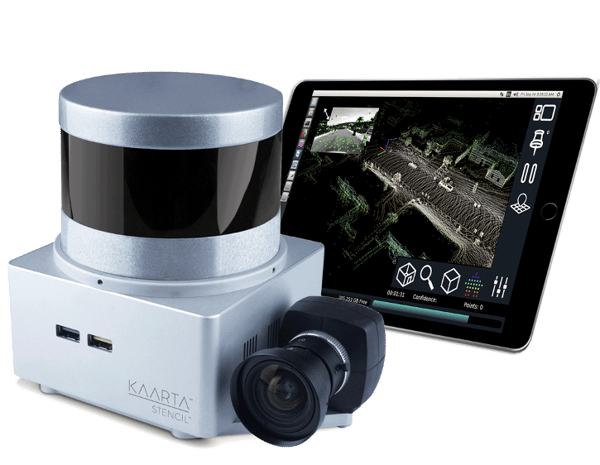 Kaarta Stencil 3D scanning system
Solving the SLAM problem
The key to the successful implementation of a design for a handheld scanner is a resolution of the simultaneous localization and mapping (SLAM) problem: put simply, the scanner needs to know what is around it in the environment (mapping) while at the same time knowing where it is in relation to this environment (localization).
Kaarta Engine solves this problem successfully by applying highly sophisticated algorithms to the multiple, synchronized inputs from the lidar scanner, cameras and an MTi-630 Attitude and Heading Reference System (AHRS) – a type of inertial measurement unit which tracks an object's 3D acceleration, rate-of-turn, and position, and produces accurate measurements of roll, pitch, and yaw relative to True North.
Inputs and outputs of Kaarta Engine's real time processing
With Kaarta systems, the operator starts a scan from an unknown location. From that point, the instrument tracks its own motion to accurately position in space all the objects scanned by the sensors. It maintains accurate localization because its drift – the accumulated positioning error over time – is an order of magnitude less than that of any other digital 3D scanner on the market. It achieves this in part because of the low drift of the MTi-630 sensor itself. Fusing the accurate inputs from the MTi-630 with visual odometry and the lidar sensor, Kaarta can achieve accuracy within a typical room of ± 10 mm.
Faster, easier, more useful
For comparison, the accuracy of each scan position captured with a modern tripod-mounted stationary laser scanner is no better than ±5mm. The process using conventional scanners is slow, requires considerable technical expertise, and even so is still prone to operator error.
The graphical user interface of the Contour 3D scanner
By contrast, Kaarta 3D scanners are:
Very fast – with no cumbersome equipment to set up, a detailed, accurate scan of an office, warehouse or house can be performed in the amount of time it takes to walk or drive through the space.
Highly flexible – Kaarta's output consists of a registered point cloud in standard .ply and .las file formats, pose (orientation) data, and ROS (Robot Operating System) topics. These outputs are readily used in a wide variety of means from many popular design and visualization tools including the Autodesk Suite to sophisticated robotics applications.
Full coverage – mobility gives the user the freedom to walk around a space to obtain the full dimensionality of objects within the environment.
In fact, so fast and easy are 3D scans made with Kaarta that users are finding new applications for it which were never before possible because of the slow speed, cumbersome workflow and high cost of conventional laser scanning. These use cases include health and safety site surveys, fire risk assessments, construction project monitoring, and pre-visit site surveys by VIP protection squads.
Render of 3D point cloud of exterior environs of Nissan Stadium, Nashville TN
Render of 3D point cloud of progress monitoring of construction site
Perfect union of hardware and software
Kaarta's achievement in developing a handheld scanner which operates fast and easily, but which also rivals the accuracy of conventional laser scanning equipment, is the result of the marriage of high-grade hardware with the advanced, proprietary algorithms in Kaarta Engine.
Kevin Dowling, CEO of Kaarta, says: 'Our specification for the operation of the inertial measurement unit in our products is very demanding. Our systems depend on minimizing drift at every stage of the signal chain, starting at the sensor. At the same time, we strive to make mobile handheld scanning a tool available for a broad range of reality capture uses and users. That means we have to offer it at an affordable price point.
'The Xsens MTi-600 Series module fits the bill perfectly – our product comparisons showed that it matches the best performing devices in its class for accuracy, stability, drift and output data rate, while being more competitively priced than any other IMU that met our performance criteria.'
Choosing your product
Want to know the right inertial measurement unit for your application? Try our recommendation tool and find out what MTi you need by answering just 3 questions.