AutonomouStuff is proud to provide the world's most innovative organizations with the best products, software and engineering services to enable robotics and autonomy. The company was founded with the goal of bringing together the world's best technologies to enable autonomy and increase safety. The top priority for the team at AutonomouStuff is customer success. Customers value the convenience of finding the most cutting-edge engineering services, perception, computing, GPS and interface components in one location.
Perception Kits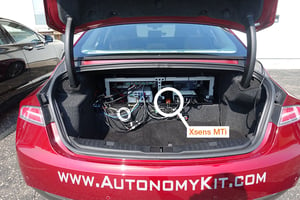 In addition to conveniently offering each component of autonomy individually, AutonomouStuff has made a place for itself in the world of autonomy by providing full kits (Perception Kits) to get your research and development really moving. These flexible vehicle kits for advanced safety and robotic research vehicles are based on years of experience providing technology solutions to thousands of customers throughout the world. The kits are designed to comply with customers' requirements, whatever they may be.
"We use the Xsens MTi-G-710 as a GPS as well as a Roll, Pitch and Yaw measurement unit. There are many options from which to choose when looking to design a system that provides accurate data. At the price-point and from a quality standpoint, the Xsens MTi-G-710 is by far the best option for GPS and IMU in a small, easy to integrate package"

Tim Swanson, AutonomouStuff
AutonomouStuff can offer the packages due to the flexibility of their software platform, PolySync. The range of options provides many benefits for those developing advanced solutions and looking to be up and running in minutes. AutonomouStuff can save you YEARS of development effort, enabling a fast track to testing and deployment. Each option includes a common set of sensors along with a pre-configured Polysync ECU enabling plug-n-play startup. They can customize any of the options to best fit the application requirements.
An example of the most advanced Perception Kit: