Coventry University's Centre for Mobility & Transport investigates safe and accessible design approaches, all based around the latest research into the realm of biomechanics.
The university itself has one of the largest automotive design course in the world – not to mention an international reputation for automotive and aviation engineering – so it's no surprise that it's one of the foremost institutions working in the area. The research department studies vehicle design and styling, vehicle electrification, structural optimisation and light-weighting, wireless sensing, vehicle dynamics and safety – a large list that continues to grow.
As part of a two person strong team, Principal Lecturer James Shippen works across each of these areas of research – and additionally has worked to develop a biomechanical modelling package for both research and commercial organisations.
It's a broad range of study across numerous areas, but all tied together by technology – technology such as Xsens MVN.
Using Xsens technology, the team has been able to explore new areas and increase research opportunities tenfold – taking the results to previously unattainable levels.
Ten years of BoB
Shippen's modelling package, named 'BoB' (Biomechanics of Bodies), works with motion capture data to automatically calculate internal body loadings, energy expenditure, reaction force, joint contact force and more across a huge variety of activities.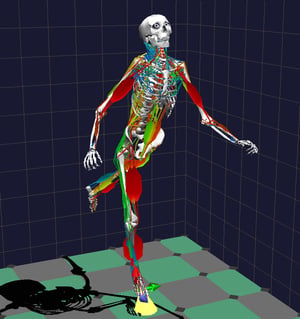 "What we do is analyse movement and mechanisms – it just so happens that the mechanism is a person," explains Shippen. "In short, we're using engineering principles to analyse the movement of a fairly sophisticated mechanism that we don't have the blueprints for. The material for human beings is absolutely horrendous, to be honest! Every single model is different – it's a real minefield."
BoB contains a model of the human skeleton, muscles, and joints, which can be applied to motion data to help users determine what's happening in the body during movement. Data can be imported from Xsens MVNx files – the BoB model is applied to that data for analysis.

"It's a package that we've been developing for around a decade," says Shippen. "We'll kit somebody out in the Xsens suit and get them to do some specific motions, depending on what we're looking into. We then grab that data, bring it into BoB and use that either for case studies or development data for the software."
On the commercial side, BoB enables new insight into various physical actions such as manual handling or – in the case of automotive companies – vehicle ingress and egress.
Whatever the use, however, BoB's core offering is providing analysis on movements that could present an ergonomical problem, giving data that can help alleviate or mitigate the cause of that problem.
Field experiments
Prior to adopting Xsens technology, the Coventry University team used optical motion capture to track movement. However, the solution ultimately presented a number of issues.
"With optical tracking, things like sunshine became a problem, uninhibited movement was a problem – there were lots of problems! Then Xsens came along and blew that technology out of the water.
"With the flexibility of Xsens we can get into places we never even considered before – and Xsens is about a third of the price too! It's a win-win."
Previously, the Centre for Mobility & Transport team attempted to recreate a subject's true environment within a laboratory, within the confines of an optical volume. This would often skew results, given the conditions were not accurate and could be expensive to set up.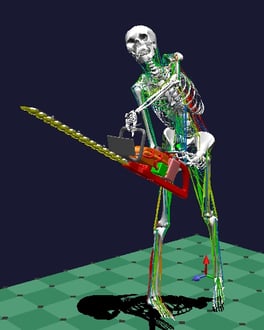 With Xsens, however, the Coventry University researchers can leave the lab and capture motion anywhere, enabling not just faster, but also more true-to-life and reliable results.
"Once the operator has donned all the equipment, they go off to do their usual work routine and forget about the suit. They barely even notice it. Meanwhile we're sitting at our desk watching the data flood in."
No muss, no fuss
As a leading academic institution in the field of ergonomics, Coventry University was one of the first establishments approached with the next phase of Xsens MVN technology.
"We received a beta version of the new system, and found it to be more robust, with calibration that is much more forgiving of changes in stance or posture. Xsens' data comes out clean," says Shippen.
"Thanks to that we can just grab the file and plug it straight into BoB for analysis. While we're not quite getting results in real-time, we are closely approaching that level of efficiency with this new technology. Comparatively, optical data requires days to clean up.
"Xsens is definitely changing our world in that respect – both the ease of post processing, as well as location independence. We just clamp BoB on the side of the Xsens and watch it go."

James Shippen
Reaching new heights – ten times as high
In the past, Coventry University's Centre for Mobility & Transport had to evaluate whether a biomechanical study was practical before they could launch into it. Now, with the newfound ease and mobility provided by Xsens technology, the team has been liberated. They can explore motion in countless environments, industries and applications, including areas that would never have been an option before the adoption of Xsens technology. No longer are some streams of study of reach due to logistical or monetary limitations.
"Xsens MVN means freedom," says Shippen. "We're actually talking to a company at the moment interested in doing mining, which we couldn't have considered with optical technology. Xsens equipment opens up many more applications for motion capture, and has magnified the applications of BoB by more than 100% – probably tenfold!
"It's very high quality, very clean data, which we can use it instantly," he concludes. "Xsens has changed the world. Well – the biomechanics world at least!"
Are you interested our solutions? Please click on the button below to contact us.