"Some of that sequence [casino battle] would be close to impossible with an optical setup, due to occlusion when using traditional cameras.
Xsens made mocap in that environment possible

Scott Meadows, Digital Domain
Black Panther is a box office phenomenon. Amassing a worldwide total of $1.3 billion, Ryan Coogler's take on the king and protector of Wakanda ranks as the 10th highest-grossing film of all time – and the number one solo superhero film.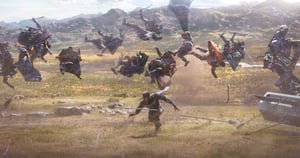 And it's easy to see why. Black Panther embodies everything that's made the Marvel Cinematic Universe such a joy to behold over the previous 17 installments. It's a constellation of humour, action and incredible spectacle, this time orbiting the afro-futurist setting of Wakanda.
A dizzying array of visual effects were required to bring this vision of Wakanda and its people to life. Black Panther is replete with imagination, from the coruscating cityscapes of the hidden city itself to thrilling chases through neon-striped Korea and an epic showdown across African planes and subterranean Vibranium mines.
The last section in particular was heavily worked on by visual effects facility Digital Domain. The studio is no stranger to VFX extravaganzas, with a seriously impressive credits list that reads like a who's who of CG milestones, from Titanic to Beauty and the Beast.
What was new to Digital Domain on Black Panther was a new, seamless, and simple way to capture motion, powered by recent enhancements to the Xsens MVN pipeline. The inertial motion capture solution endowed the previzualization team with all the power of T'Challa's own Vibranium superhero suit, resulting in a fast, fluid, and powerful production experience.
The grace of Black Panther
Scott Meadows is Head of Visualization and Virtual Production at Digital Domain. He and his team were originally brought on board to work on the previz for Black Panther's third act – a challenging stretch of narrative which sees multiple story-lines converge and a huge amount of action.
"There's a great deal occurring, with the Wakandan army fighting CG rhinos on the plains and Black Panther and Killmonger battling it out on the transport rails of the Vibranium mines below," explains Meadows. "It was in the mines where Xsens really came into play. We used it to define the overarching action beats of the hand-to-hand combat in the previz stage, the results of which would go on to inform the final look of the sequence."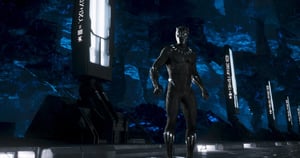 Black Panther's experienced stunt team were responsible for choreographing the fluid yet violent combat that occurs between the film's protagonist and his enemy. Using Xsens, Meadows and his previz crew were able to block out the actions for the scene in a much faster time frame than hand-frame animation would have allowed.
"We set up the stunt team with three Xsens MVN suits in their gym in Atlanta so we could capture the foundation for those fight sequences," remembers Meadows. "The stunt choreographer was able to rough out the scene and get the director's sign off fairly quickly. Thanks to the simplicity of the Xsens MVN suits and setup we could easily capture the fight choreography, get it onto our rigs, and then start working with cameras in Maya to deliver an early cut. That then informed the shoot and ultimately served to further the story."
Take a bet on Xsens
For Meadows, Xsens is a game changer when it comes to quick-and-easy previz. The software and hardware combined enable faster, more streamlined capture without the need for a complex optical camera setup. Indeed, that approach would not have been possible on another of Digital Domain's sequences: the Korean casino battle.
"Some of that sequence would be close to impossible with an optical setup, due to occlusion when using traditional cameras. Xsens made mocap in that environment possible," says Meadows.
"The simplicity of being able to run Xsens off a laptop over a Wi-Fi network is so incredibly useful, because you can show up anywhere and capture. It's plug-and-play!"
"When were first working on the casino sequence, there was an idea at the start of the production to create a choreographed one-er shot. We were able to put the suit on and walk through the space on the set. We could capture the data and see how everything would work within that environment. It was super easy."
One element of this process that particularly impressed Meadows was the lack of drift – an advancement made possible by MVN Animate 2018, which eliminates magnetic distortion on in-the-field capture data.
"Xsens has significantly improved performance in environments containing large amounts of metal," says Meadows. "Using Xsens, you can now capture in an area that has a lot of magnetic fields without concern for degraded data. It's data without drift!"
Sinking your claws into Xsens
Meadows has been hugely impressed by the cost and time reductions enabled by Xsens. "In the previz stage you don't always want or need a full capture stage. Thankfully, with Xsens its easy for people like the stunt team to throw on the suits and feel out a scene, blocking out rhythm and timings. It's quick and easy and you get solid results."
But it wasn't just the professionals that got involved with the Xsens MVN suits, as Meadows reveals.
"In one scene we needed previz of people dancing on Wakandan barges as they approach the waterfall for T'Challa's coronation ceremony. Myself and my coordinator put on Xsens MVN suits and acted out the movements. I really hope there's no reference footage of that…"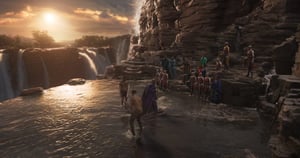 Ultimately, Xsens provided a robust and simple solution that Meadows and team could leverage across a variety of challenges. The result was quickly captured animation data that would go on to influence the final production of shots.
"Xsens were super supportive throughout everything," says Meadows. "They came over to Atlanta and helped set things up and give a demo – the result being that two extra suits were bought then and there on set!
"That's the power of Xsens. The benefits are immediately obvious. It's an awesome solution, and one we're definitely keeping in our production arsenal."
Are you interested our solutions? Please click on the button below to contact us.