Much of the car industry's attention to autonomous vehicle development has been focused on the technology in the cars themselves.
But infrastructure for autonomous driving is equally important – and now an innovative mapping company, Atlatec of Karlsruhe, Germany, is quietly building a network of high-definition 3D maps, so that when the cars' development is far enough advanced, accurate, up-to-date mapping data can guide them through the real world.
Atlatec conceives of its maps as a kind of 'virtual railway track' for autonomous vehicles. And thanks in part to the MTi-300 AHRS supplied by Xsens, it is able to build this software infrastructure for autonomous vehicles with the same accuracy, but much more cheaply, than any competitive mapping system.
Complex maps from streamlined mapping hardware
Today, almost all the world's roads have been mapped in 2D, in order to support in-car satellite navigation.
But autonomous vehicles require more information than these basic 2D maps provide. In particular, they need:
3D information – that is, information about the height of an objects such as a kerbstone or the mouth of a road tunnel, as well as its position on the surface of the earth
Information about road user signals and markings, such as traffic signals, and white 'Stop' lines.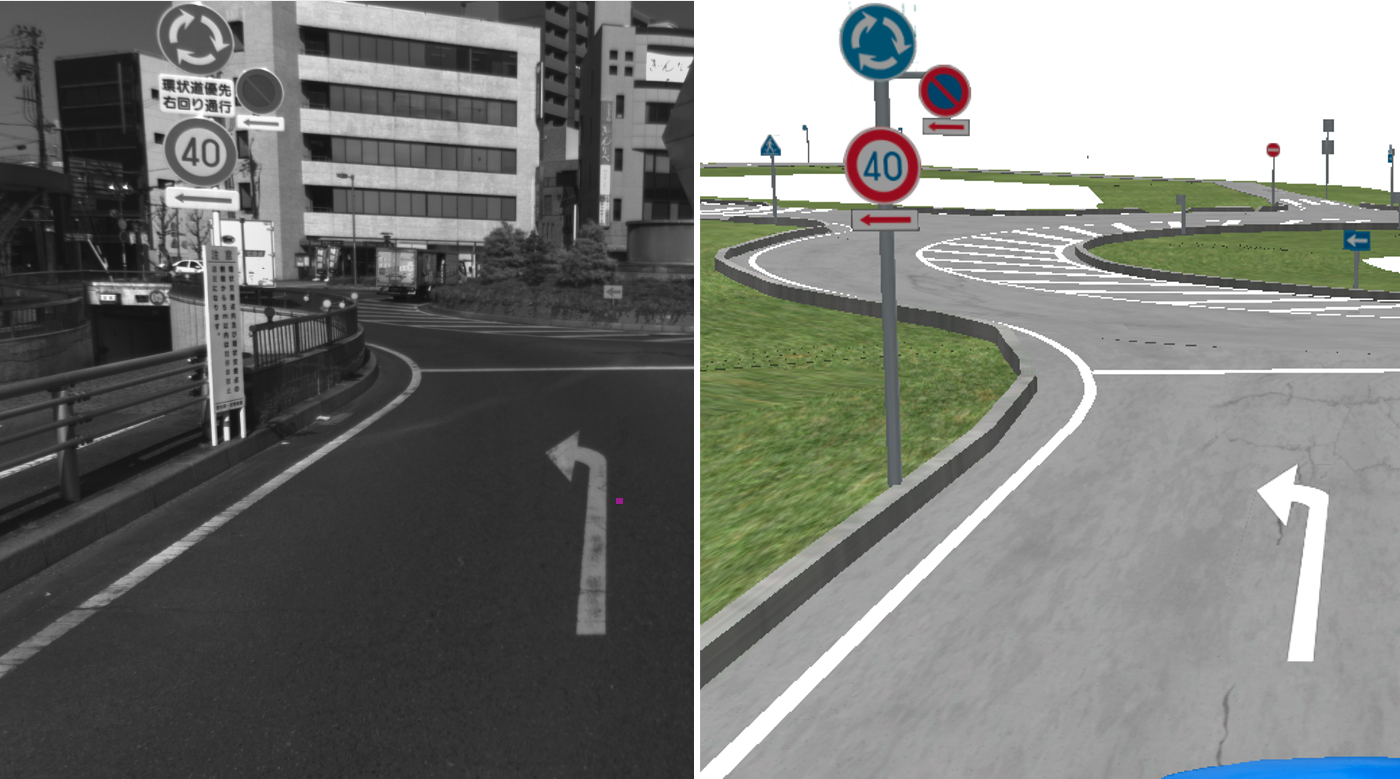 The real world (left) and an Atlatec 3D map's rendering of it (right)
Crucially, this 3D mapping information is continually subject to change, either temporary change for instance when roadworks take place, or permanent change, as when a new pedestrian crossing is built on an existing road. This means that the 3D road maps on which autonomous vehicles will depend not only needs to be accurate to within a few centimeters: it also needs to be regularly updated. Each map continually needs to be redrawn by a fleet of surveying vehicles driving every meter of road in both directions.
To equip a fleet of surveying vehicles with conventional high-definition 3D mapping equipment takes a huge financial investment, and this limits the number of vehicles which can be deployed at any one time, and hence the frequency with which the maps can be updated.
To solve this problem, Atlatec has developed a completely new solution for 3D mapping which dispenses with exotic and expensive technologies, such as LiDAR (infrared optical scanning) used by competitors, and instead uses a simple but astonishingly effective hardware set-up consisting of just three main components:
A dual (stereo) camera
A GPS (Global Positioning System) satellite receiver
An Xsens MTi-300 AHRS inertial sensor module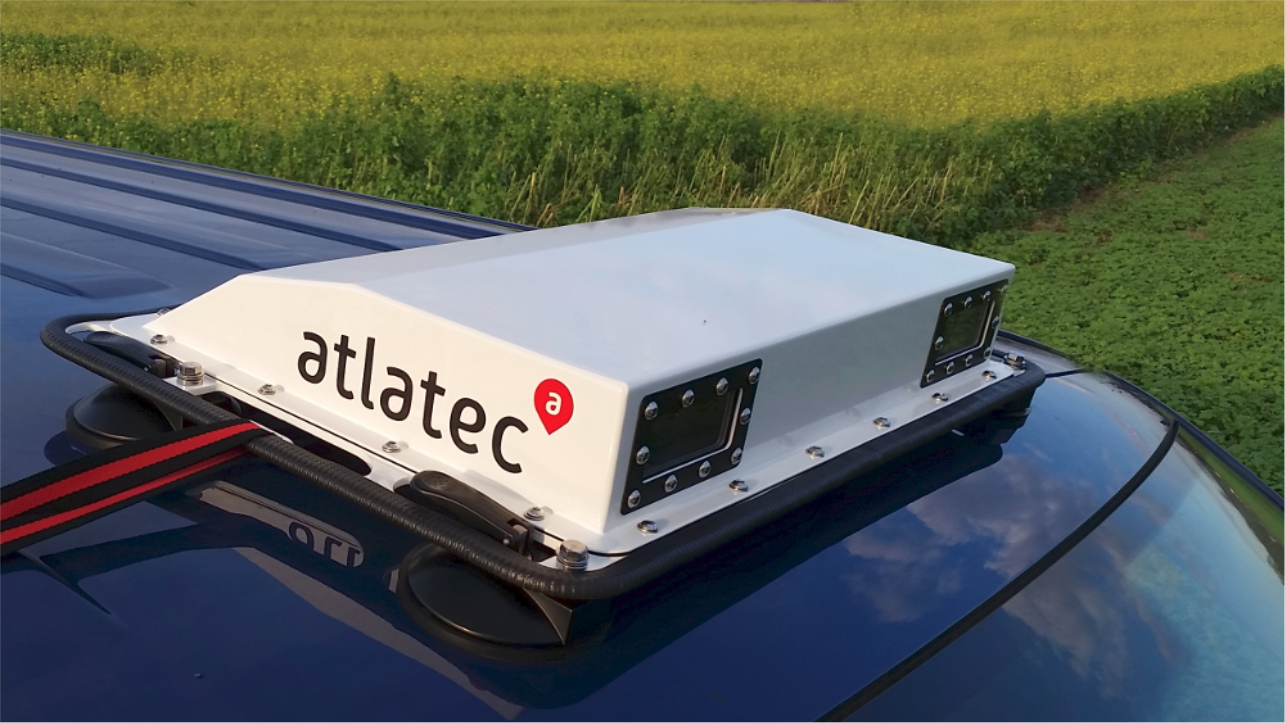 The Atlatec sensor unit is mounted on the roof of survey cars
The operation of the roof-mounted Atlatec sensor unit is simple: a timing signal generated by the ultra-accurate GPS clock controls the synchronisation of the three components. It triggers the cameras' shutters and the motion sensor to capture image and position information simultaneously at a frequency of 20Hz. This means that the survey car acquires a geolocated stereo picture of the road 20 times a second – and this information is tagged with synchronized information from the Xsens sensor about:
Heading – the orientation of the vehicle in relation to magnetic North
Attitude – whether the road is flat, or how much it is angled uphill or downhill
Acceleration – to support positional 'dead reckoning' in urban canyons or tunnels, where access to the GPS signal is lost
This ultra-accurate information is then turned into 3D maps for use by autonomous vehicles through a sophisticated computer post-processing operation at Atlatec's mapping data centre. The computer science underlying the conversion of the raw data inputs into rendered, detailed 3D maps is Atlatec's technological breakthrough, enabling it to do with conventional, low-cost vision cameras what other mapping companies can only do with expensive, complex LiDAR and RADAR systems.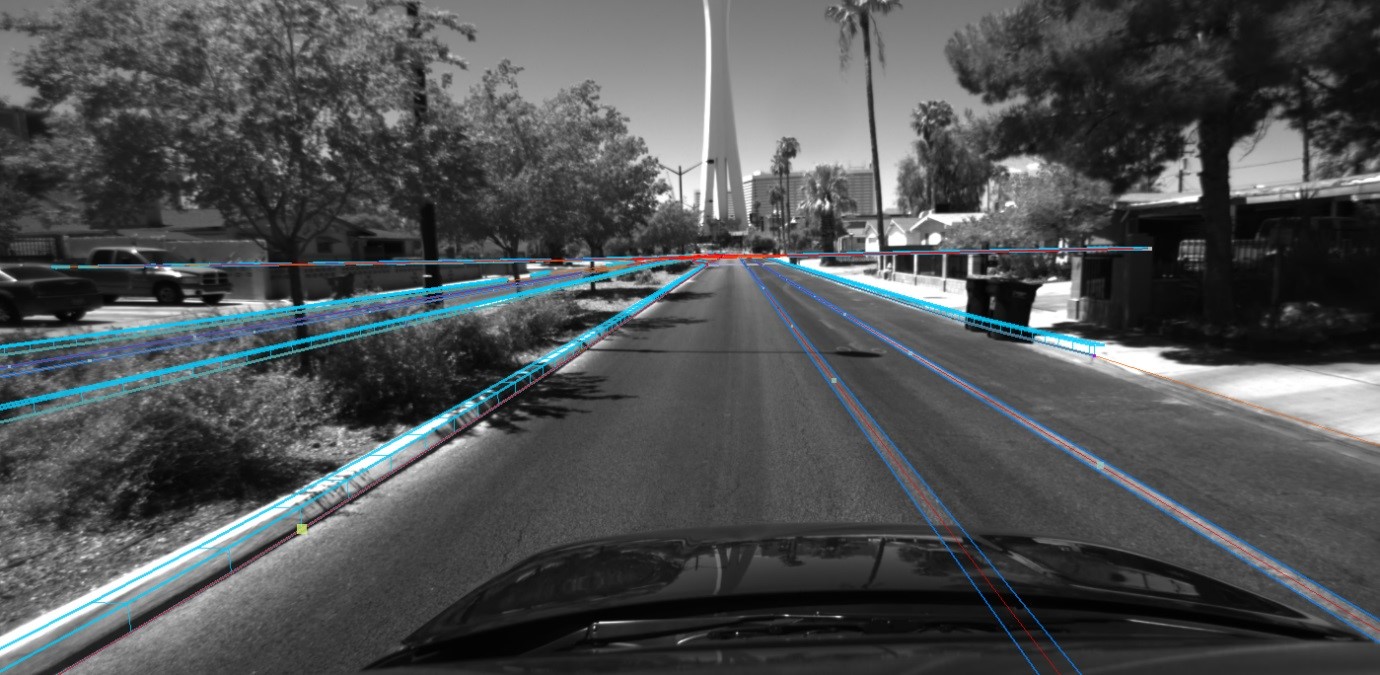 Atlatec's unique software interprets the visual and positional data captured by the sensor unit
This innovative approach to creating the infrastructure for mass deployment of autonomous vehicles will enable large fleets of survey cars to continually re-map the world's roads, ensuring that the 'railway tracks' are constantly updated.
Why Atlatec chose Xsens
The largest part of Atlatec's development effort was devoted to the post-processing software system. The company's goal for the roof-mounted mapping hardware for the survey cars was to keep development time to a minimum, while achieving the highly accurate position and mapping data outputs it required.
Its choice of an Xsens motion sensor module was driven by these twin requirements. Henning Lategahn, CEO of Atlatec, says that detailed evaluation of the Xsens product's real-world performance confirmed the specifications provided by Xsens: the module provides very accurate acceleration, rotation and orientation measurement outputs, and these outputs are stable over time and temperature.
Crucially, he says, 'the Xsens sensor was very easy to use. The configuration and development tool that Xsens supplies, the MT Software Suite, is absolute brilliant. It means that the sensor works straight out of the box, and it's really easy and intuitive to set it up for first-time use in a prototype design. When we needed to make configuration changes to tweak the device's timings or settings during the development process, that was easy to do using the MT Software Suite's graphical user interface.
'And in the real world, the MTi-300 AHRS has performed excellently. It's played an important part in proving that Atlatec's calculation – that we could create accurate 3D maps using only visual, GPS and inertial motion data – was 100% right.'
More information about Atlatec's 3D maps for autonomous vehicles can be found at www.atlatec.de.
Atlatec is offering real-time demonstrations of its 3D maps on the roads of Las Vegas, Nevada during the CES exhibition, 7-9 January 2020. To request a demo appointment, go to https://meetings.hubspot.com/schneider/ces-demo.
Choosing your product
Want to know the right inertial measurement unit for your application? Try our recommendation tool and find out what MTi you need by answering just 3 questions.