Xsens from the Netherlands, a company providing 3D tracking technology and Aerospy from Austria, a company providing all kinds of integrations for unmanned platforms are in a cooperation to offer customers in the field of (un)manned systems and platforms an even better value and even more easy to install solution.
The main solution provided by Aerospy is DiOS (Distributed Operating System). In short, this system offers the customers a ready-made operating system (autopilot) for (un)manned vehicles. One of the unique features is that the operating system can be programmed on a main computer in MATLAB and then easily be distributed to embedded platforms. For the orientation and position tracking, DiOS can use the Xsens MTi-G, a proven IMU/INS of which already 20.000 units are in service.
The Xsens MTi and MTi-G are Attitude and Heading Reference Systems (MTi-G is GPS aided), which output 3D orientation, 3D dynamic data and in case of the MTi-G 3D velocity and position as well. Typical use for MTi's and MTi-G's in unmanned vehicles and platforms are control and stabilization or navigation. Although the MTi and MTi-G are straightforward to use, Aerospy's DiOS allows for a faster integration of the complete operating system, including sensors and actuators.
About Aerospy and Xsens
AeroSpy is one of the leading technology suppliers in the field of navigation, motion tracking, and mobile robotics in the air, on the ground, and in the water. Since its foundation in 2006, we integrated several navigation and motion tracking systems for various customers. We do not simply provide products; we provide specific navigation solutions that are in line with your needs.
Xsens is a leading developer and global supplier of 3D motion tracking products based upon miniature (MEMS) inertial sensor technology. Thousands of motion sensors and motion capture solutions have successfully been deployed for 3D character animation, movement science, control of autonomous vehicles and stabilization.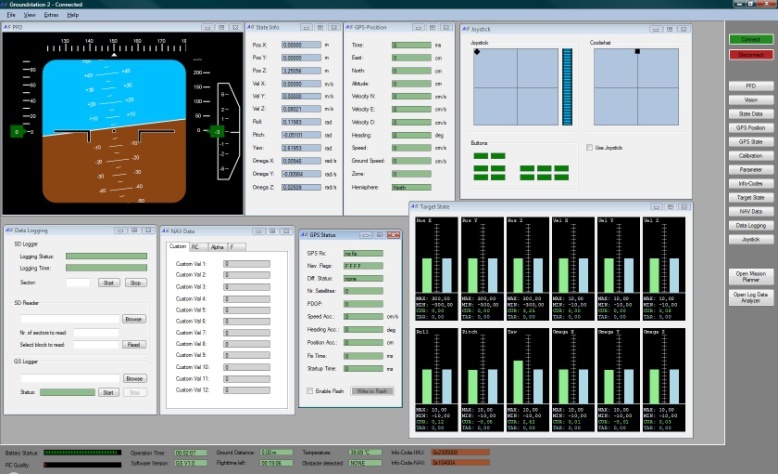 Are you interested our solutions? Please click on the button below to contact us.