We see many new creative motion capture projects that have a live on-stage performance. In that case it is crucial to prepare your setup to make sure your Xsens motion capture data has the best quality possible. Most of the time you will have a busy WiFi environment on-stage and there are some things to consider. In this blog we will explain what issues you can encounter and how to solve these by using the right tools and setup.
What is WiFi?
WiFi is a wireless protocol that was originally developed to replace Ethernet cables. Around 60% of the world is actually using Wi-Fi to connect to the internet at this point. Now in a typical home situation that would mean that there is a main router or modem with an incoming connection in your house. That router is in almost all cases connected by a cable to an outside network (your internet service provider). A typical modem/router often sends out two signals on two different frequencies, the 2,4 GHz band and the 5 GHz band. But no matter how the Wi-Fi is used or whatever the connecting source is, the end result should always be:
a wireless signal that lets other devices connect to the main transmitter for communication, like to transfer files or carry voice messages.
https://www.lifewire.com/what-is-wi-fi-2377430
http://bestwirelessroutersnow.com/2-4ghz-vs-5ghz-wi-fi/
The 2.4GHz band is the most used frequency around the world. Mostly based on its range. As the frequency of the signal is lower than with the 5 Ghz band, the range is better. The 5 Ghz band is much faster, has more channels but less range than the 2,4 GHz band.
The problems you'll face during a live shoot:
1. A studio is often a big place with WiFi blind spots and longer WiFi ranges.
2. Stuttering and connection loss due to congestion of the WiFi network and Wireless camera solutions overpowering other WiFi Routers
3. You have no control over the on-set WiFi connection
How to resolve the most common WiFi problems on set
1. Solving blind spots and range issues
Blind spots and range issues are among the most common problems found in WiFi networks worldwide. The Xsens system includes a pre-configured router which you can set up close to where you are shooting. It is important to note that when you are shooting high dynamic actions, we advise to put the router on 5 GHz mode and set it up within 10 meters (open space) of where the shoot is happening. If there are walls, ensure it is even closer.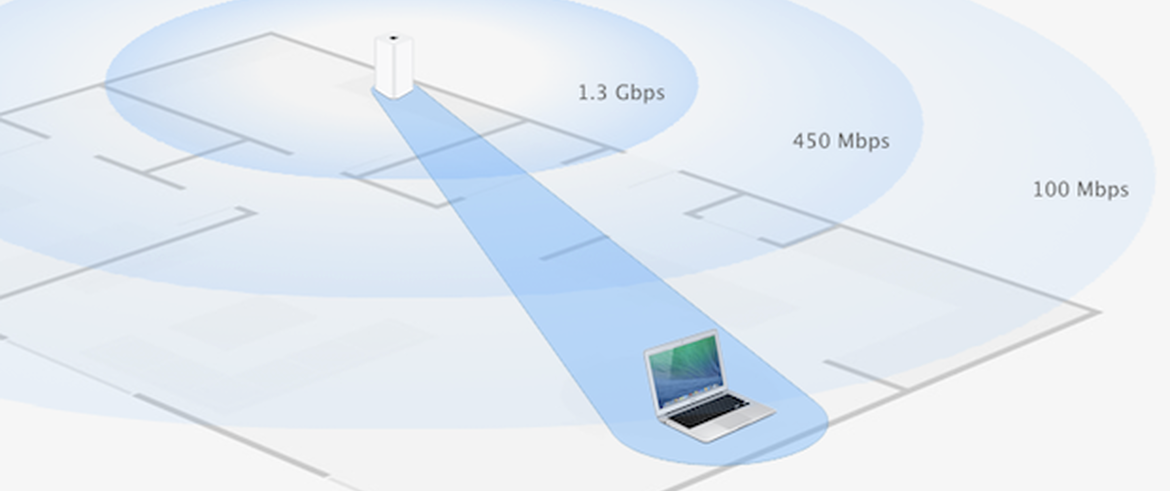 As seen in the image, even though a signal is received, the range and walls cause the network to work slower than you want it to. Dropping it from 1.3 Gbps to 100 Mbps is a very large difference in throughput. During a live shoot this would mean that the usable bandwidth of data is even lower due to the active movements of the subject. Putting the router within 10 meters ensures you will always be in the high speed section of the router.
2. Solving channel and network congestion
The two other problems often faced during a live motion capture shoot using WiFi are actually both caused by congestion on the network. As you are well aware, everything nowadays is using WiFi. This isn't much of a problem until too many WiFi devices try to connect to the same network. To counter this, both the 2,4 Ghz and 5 Ghz wifi network were split into channels.
2.4 Ghz
On the 2.4 Ghz band there are 11 channels defined. Each channel on this spectrum is 20 MHz wide and the total width is only 100 MHz. The channel centers are separated by only 5 Mhz, meaning there is a lot of overlap between the channels available. There are however 3 channels that do not overlap: Channel 1, 6 and 11.

https://www.metageek.com/training/resources/why-channels-1-6-11.html
5 GHz
Now the 5 Ghz band is a different story. In every router you'll instantly notice that there are a whole lot more channels readily available to select once you switch. To make it even better, there is virtually no overlap between these 20 Mhz channels. At 5 Ghz there are four 'bands' available within the spectrum. UNII-1 is designated for domestic use and is least likely to have interference from military, radar and other signals. This is the band you should use as the other ones require dynamic frequency selection and transmit power control functionalities on your router. Some network standards however enable broadcasting on wider spectrums. So instead of 20 Mhz you could use 160 Mhz. The overlap there is shown below as well.
https://www.maketecheasier.com/best-wifi-channel-for-5ghz-frequency/
As you can see in the images, congestion is a problem that you can 'easily' solve yourself by going to the studio WiFi network provider and asking them to not broadcast on the WiFi channel you want to use for your motion capture shoot. Also ensure you also communicate with the camera crew before hand to ensure they didn't plan on using the same channel either.
If you're still having problems with congestion after communicating and ensuring you have a clean WiFi channel. You can find clean WiFi channels using handy tools like wifi analyzer for android, or Nirsofts wifiinfoview on a windows computer. iOS currently doesn't support any wifi channel sniffers.
In this base post we describe how channels can be changed in the router supplied with our MVN Animate Link system. You can find how to change the channel of the MVN Awinda system here, it's important to note that the Awinda system only uses the 2,4 GHz band so the control you have is limited.
3. You have no control over the on-set WiFi connection, there are solutions!
In the scenario someone might be using a WiFi jammer and has no intention to turn it off. Or when you have no control over the Wifi network. Due to it being designed specifically for jobs like this, we've built in some options for you in the MVN Link system.
There are two options you can use within the Xsens system:
A) On Body Recording (OBR) - This option is ideal for shoots that are not for a live audience and you do not need to have a direct representation on the screen.
B) Ethernet port

The first option is On-Body Recording (OBR). With on body recording you can use the Xsens motion capture system in the live shoot and process your data in a later stage. Before On-Body Recording can be used it has to be turned on. You can find detailed instructions for this at our tutorial page. If you already have On-Body Recording enabled and you want to get right to it? Here's how it works:

If OBR is not an option, because you need a direct representation of the character on a screen and you have no control over the WiFi environment on the set floor. In this case you can use the Ethernet port in the Xsens Link system. You can connect the body pack to access point for a stable and controlled connection.

Do you have a live shoot coming up?
If you have an important live shoot coming up, and you want to have the most robust system available, don't hesitate to contact us!