Mo is our newest Xsens member and this is the story of the Statue of Mo.
In November 2017 we introduced MVN Animate and MVN Analyze. And with the introduction, we also introduced a new Avatar, but that went quite unnoticed.
Last week we finally gave the new avatar a proper introduction and name: Mo!
Statue of Mo
Since last Friday you can find the Statue of Mo in the lobby of Xsens headquarters in Enschede. When entering the building, the first thing you will notice is: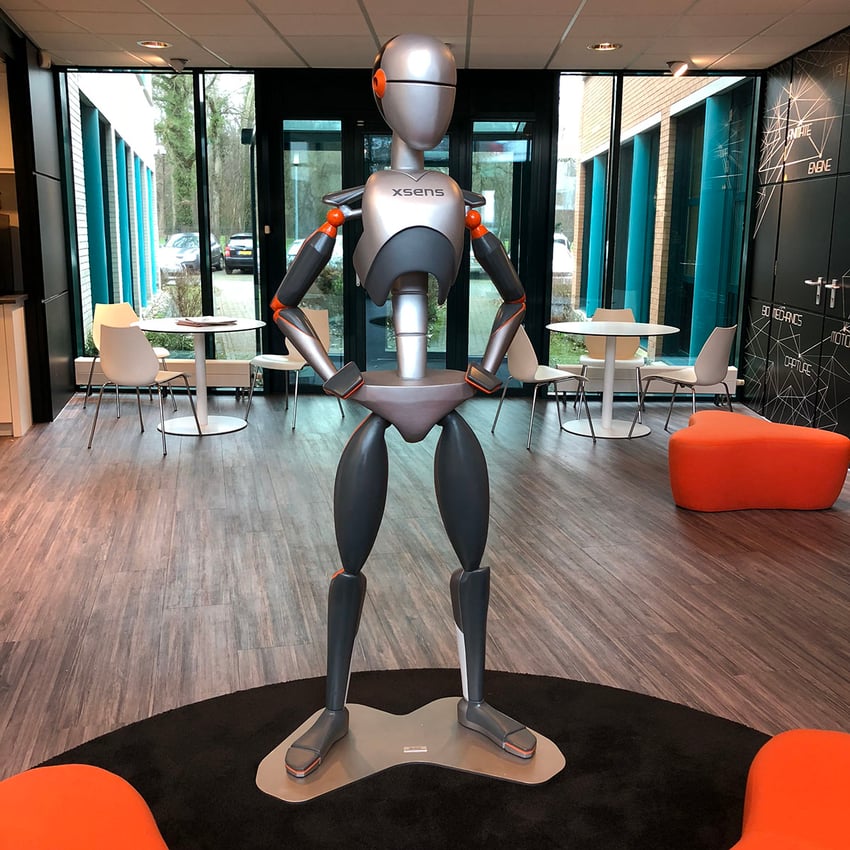 Our dear Mo is going to be a popular spot for meet-ups, social media posts, selfies and maybe just for small talk.
When you visit Xsens, feel free to:
Take a selfie

Post to social media

Ask Mo a question

Request the meeting to be on the seats in front of Mo
Creation of the Statue of Mo
The Statue of Mo was built by sculpture artist Roelien Eenkhoorn from Hengelo (Netherlands) and started in October 2017.
Step 1: The pose
The first step in creating this statue was selecting the right pose, it could be a welcome pose, or a wave, a cheer, or maybe a handshake. We decided on a strong, almost hero-like pose. And to get this pose, we, of course, donned our own Xsens MVN suit to get the fast result.


Step 2: The frame
This was the moment Roelien could really start with the build of the statue. She started with welding a frame from steel. The frame was the base for the pose and on top of this frame, several layers of foam and epoxy putty were applied. The first results looked like this:


Step 3: Sculpting
Now the sculpting could start on top of the foam layer. Roelien used an epoxy putty for the rough and more detailed layers. It gave her the freedom to sculpt and it became very strong material after drying. Sculpting is an intense phase and it takes a lot of time and effort to get all de details and dimensions right.


Step 3: Painting
At this stage, you could really see the end result coming into sight. The rough phase was over and once the sculpting was done, the next step was to do the painting. Many layers of paint were applied to make sure all the incredible details of the Xsens avatar were correct and reflected the real avatar in the software.


Step 4: The Reveal
Last Friday we finally revealed the Statue of Mo in the Xsens lobby. We started with the story of the build process by artist Roelien Eenkhoorn. After this, she had the honor to reveal her own creation to all Xsens colleagues. And they were honored to be the first selfie-takers with Mo!