With 20 years of experience in motion-sensing technology, Xsens understands movement. We have been leading developments in motion tracking solutions in applications related to 3D Character Animation, Human Motion Measurement and Inertial Sensor Modules for industrial applications. In this blog, Arun Vydhyanathan explains about why and how Xsens DOT has been built.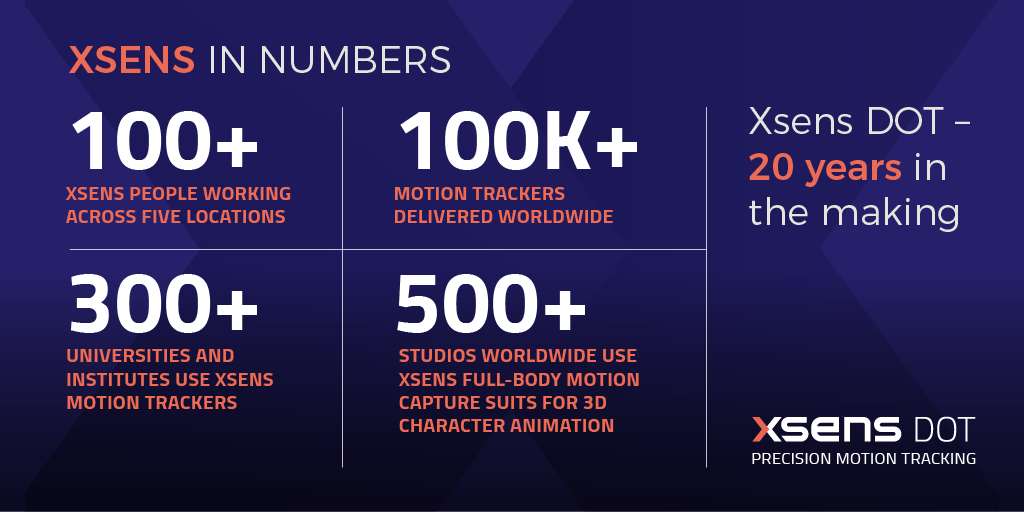 Xsens has been at the forefront of motion-tracking innovation, successfully introducing to the market motion tracking products using MEMS-based inertial sensors technology for applications spanning from human motion tracking to platform stabilization in industrial applications. Xsens solutions are widely adopted in different markets in a variety of applications, and our ever-growing customer base is a testament to our sensor fusion prowess and the quality of our products.
The use of MEMS-based inertial sensors to track human mechanics is quite intricate and complex. Calibrated sensor measurements have to be processed using sophisticated sensor fusion algorithms that should be mathematically correct and supported by robust modelling relevant to a specific application. Xsens invests significant resources, constantly refining and improving our sensor fusion technology. This constantly evolving sensor fusion technology has been the key to the triumph of our inertial based solutions for human movement tracking in applications of 3D Character Animation and Human motion measurement markets.
Being backed up by these 20 years of learnings and constant technology innovations and listening to our customers and market needs, we have introduced the Xsens DOT wearable sensor platform. It is an affordable, high-quality product targeted at Wearable Sensors market applications. The platform features high-accuracy wearable inertial sensors, an easy-to-integrate mobile SDK and community support from Xsens experts. Xsens DOT offers state-of-the-art technology that intelligently fuses sensor data streams sampled at high rates, combining them with accurate mathematical and application-related models providing accurate, high-fidelity motion tracking data of sensor fusion estimates and inertial data quantities ready to be integrated into your applications.
The product is designed for application where the sensor can be mounted on human body segments to monitor human mechanics. After less than 6 months since the launch of the platform in January, we have already received a lot of inspiring application ideas that developers currently bringing to life with the Xsens DOT: rehabilitation, gait analysis, player and fitness tracking, pre and post-surgery recovery, human-machine interaction …the list goes on…
Xsens DOT uses BLE 5.0 communication protocol to transmit sensor fusion and inertial data quantities to a host device. The Over-The-Air firmware upgrade option with our Xsens DOT app (Android and iOS) ensures that the developers will not miss out any new features. And we have lots of new features lined up for roll-out this year to make the platform even more flexible. Synchronization, ability to record data on the tracker, enabling the use of Xsens DOT with PC platforms, plug and play features to name just a few to enhance further the user experience.
We are on a mission to provide accurate and highly reliable motion tracking data that suits your application needs. However sophisticated the application you are dreaming of, we are ready with our infrastructure set-up for volume production to help accelerate your development and shorten your time-to-market.
5 DOTs, millions of applications, endless possibilities!
Arun Vydhyanathan is Business Manager for Wearable Sensors and Director Engineering for Shanghai Xsens team.
Let's talk
Want to talk through your ideas with an Xsens DOT expert? Get in touch!